Despite slimmer profits last quarter, Canadian Natural Resources Ltd. (NYSE:CNQ) delighted investors with much better-than-expected results and some reassuring signs for the remainder of the year and into next.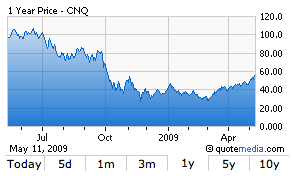 Thanks to lower costs and royalty fees, as the price of crude remains down almost two-thirds from its peak last July, Canadian Natural was able to enhance cash flow to C$2.80 a share in the first quarter, well above the consensus target of C$2.33.

Better still for investors, some analysts project CNQ to grow per-share cash flow by 13% this year and further 3% in 2010.

Why? Costs and royalty fees to government are expected to stay low (at least relative to last summer's torrid pricing), say equity researchers at Calgary-based Peters & Co. Ltd.

Production from new projects are coming on line slower than expected, notably at CNQ's touted Horizon project, which reported disappointing sales volume for April. However, CNQ's Olowi project began production in earnest in late April, flowing 5 million barrels a day and is expected to be churning out 20 million by early next year.

Further, the lower cost environment and subsequent cash flow means CNQ, which trades at a lower-than-average premium relative to its peers say Peters analysts, can dedicating more cash toward its C$2.35-billion line of credit due in October. It's already off to a good start, paying down C$705-million in the last quarter.

Peters analysts thusly maintained their Sector Outperform on CNQ stock in a note last Friday, with a raised price target of C$75.00.