One of the reasons that people are going to end up mad at the market again is the constant disconnect between the business news and economic reality. One is used to a divide between the stock market and the economy, as the two seem to intersect only occasionally, but when the market rise is accompanied by a steady chorus of voices singing the praises of both stocks and the economy, the feeling of being deliberately cheated ends up being the aftermath.
I can understand the short-term pressures that drive many on-air "editors" to describe events in a manner usually used by sellers of real estate. Rising markets mean better ratings. There also seems to be some sort of guideline in vogue that if the talking heads can be sufficiently positive, they might distill some of the magic elixir of confidence into people's minds and encourage them to spend and invest more, thereby making their talk of blue(r) skies come true.
I think it backfires, though. Imagine, for a moment, that you are a New York Yankees fan (mostly an urban myth around here, but I'm told they exist) and saw their ninth-inning victory Tuesday night. The next morning, you might anticipate with some pleasure listening to the recap of the sports news on the radio as you dress for work or travel there. Then the newscaster comes on and announces that star player Derek Jeter led the Yankees to another comeback victory before segueing into the weather. You look at the radio. Being a fan, you know that Mr. Jeter is injured, out for two or three more months at least. What in the world is that newscaster talking about? Maybe you should get your news elsewhere.
That might seem like a reasonable solution until you find out that "elsewhere" is getting their news from the same station that told you Jeter was playing. Now you have a problem. In a similar manner, I heard this morning - on a classical radio station, no less - that European markets were higher on stronger than expected American economic news.
Wrong on two counts, the first being that there was no "stronger-than-expected" news - except, perhaps, by reporters at the likes of CNBC and Bloomberg. Second, European markets were higher because their own news was worse. In a scenario that should surely be familiar to American market veterans, recent hints from EU members (including Germany) that the European Central Bank (ECB) might cut rates again at its meeting next week seemed assured after a raft of disappointing data hit the wires. EU purchasing manager surveys continue to wallow in the cellar, and the German business confidence index fell for a second month in a row. Ergo, rate-cut now in the bag, ergo, buy stocks.
The new home sales report that was supposed to have beat the consensus did and it didn't. CNBC and Bloomberg reported that the number (417K, seasonally adjusted) was above consensus of 414K and 415K. However, the Econoday website reported them as below consensus of 419K, and Seeking Alpha's Market Currents also had them below a consensus of 420K. This was the news that was supposed to have driven up European markets?
I also heard Bloomberg rave about consumer spending yesterday, with economics editor Michael McKee remarking the "strongest consumer spending in years (his emphasis)." But Michael, Derek Jeter didn't play.
According to the Commerce Department, which has released figures on first-quarter retail sales, the latter increased by 2.8% in the first quarter of 2013 over the first quarter of 2012. That is the slowest rate of increase since sales crashed in the first quarter of 2009, the second slowest rate since the recession year of 2002 (1.72%) and down nearly half from the first quarter's 20-year average of 4.8%. And, on the notion that a picture is worth a thousand words, here's a chart of the change in rolling 12-month sales: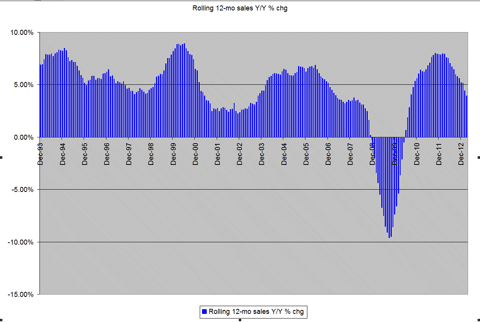 Click to enlarge
source: US Commerce Dept, Avalon Asset Mgmt
This doesn't look like the strongest spending in years. It looks more like we're nearing the end of the cycle.
Not to worry, gas prices are going to bail us out - or so I heard today again on the air. But guys, Mr. Jeter is injured. In fact, he's out for several months: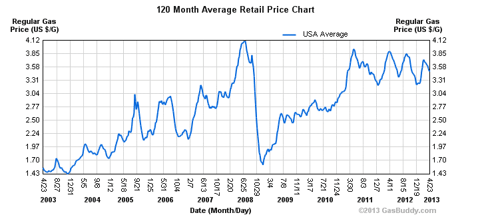 Click to enlarge
Easy to see why drivers must feel like they're stealing the stuff. What a break we're getting.
American businesses know who isn't playing. That's why they're not ramping up spending, as evidenced in the latest new orders data from the "non-defense capital goods excluding aircraft" category: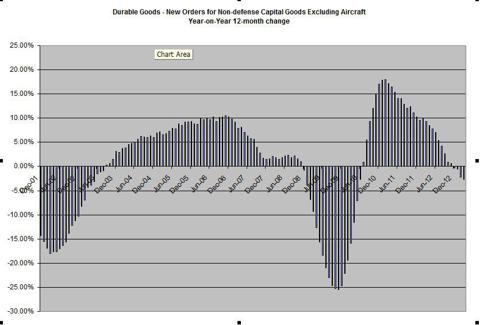 Click to enlarge
By contrast, Bloomberg threw up a graphic showing the "annualized three-month rate of business spending," which benefited from the January post-cliff rebound. A nice little sleight of hand, but it doesn't change the fact that new orders for business investment were down year-on-year in both the fourth quarter of 2012 and the first quarter of 2013.
Yet the regular news folk listen to the business news folk and repeat their stories. And our business news editors aren't alone in wishing the world was a different place. In its determination to avoid footing any of the bill for Europe's debt restructuring - while simultaneously enjoying all the fruits of a subsidized exchange rate - Germany has decided that its troubled neighbors are in fact, not poor, as Der Spiegel reports.
The real problem, according to Der Spiegel, is that the weak periphery is stuffed with rich people hiding their money from everyone, presumably in pots of gold guarded by sharp-tongued leprechauns. All these countries need to do is find the pots and expropriate them, and their problems will be over. And if they don't, well, it's because they're all in on it. That would explain the elevated number of suicides in places like Spain and Italy - it's not that they're poor and destitute, it's that the tax people tricked the leprechauns into revealing the whereabouts of the pots of gold.
Besides the more obvious significance that people are willing to blame any number of problems on mythical beasts - gypsies, "Polish plumbers," welfare queens, Keyser Sozie - the other implication is that Europe is going to remain an unrestructured, sagging boat anchor around the neck of the world economy until a major crisis forces Germany to change its tune. In 2008, we didn't want to believe our crisis either - why should they be different?
As we move through earnings season, it's clear that revenues and outlooks are being challenged. That will matter in time, but for now it's still tally-ho. Despite the poor durable goods number Wednesday, the S&P 500 and Nasdaq managed to eke out the barest of ticks upward. Business orders for capital goods are down year-on-year on both a monthly and quarterly basis (total capital goods orders in Q1 were also down from a year ago), but there was some consolation in that shipments appeared to have remained positive in both March and the quarter, which will help the initial estimate for first-quarter GDP due on Friday. Capital goods new orders were also initially estimated at a 0.2% gain in March.
If we can get past the GDP print without taking on water, then it could just be a matter of hanging on until the ECB's announcement next Thursday. There is an awful lot of data out next week, but central bank action still trumps all and the market likes to rally up to the day of such meetings, right through it when it can. So long as GDP isn't a stinker, the door is open to 1600 on the S&P over the next week.
That would bring us back to the top end of the range in the 5-year S&P chart below. At that point, I'm moving to the sidelines and waiting until prices are much more attractive. I dislike losing money far more than missing tops by a few ticks.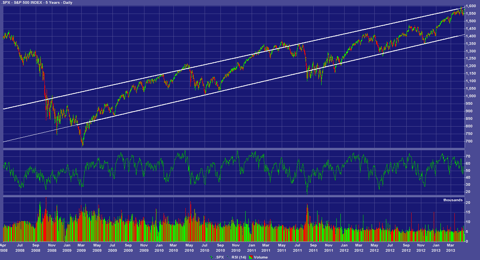 Click to enlarge
Disclosure: I have no positions in any stocks mentioned, and no plans to initiate any positions within the next 72 hours. I wrote this article myself, and it expresses my own opinions. I am not receiving compensation for it (other than from Seeking Alpha). I have no business relationship with any company whose stock is mentioned in this article.