Coffee giant Tim Hortons (THI) is ready for a difficult spring and summer for the food industry thanks to its strong business model, steady first quarter and push towards profitability in the U.S. market, a new Desjardins note says.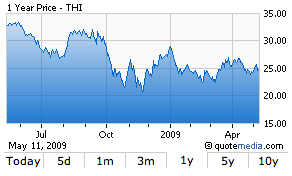 "The summer of 2009 is likely to go down in infamy in the restaurant industry," Desjardins analyst Keith Howlett wrote in a note to clients May 8. "Tim Hortons is as well-positioned as a restaurant company could be for such an 'inhospitable' environment."
Mr. Howlett credits the company with having one of the best same-store sales growth results of North American restaurant chains at 3.4% in Canada and 3.2% in the United States in the first quarter of 2009, thanks to a business model "based on eating and drinking occasions across all 24 hours of the day," he wrote.
Its earnings-per-share results, at $0.37 compared to $0.33 a year ago, also met consensus expectations, Mr. Howlett wrote.
Tim Hortons released its Q1 results and held its AGM on May 8.

As well, Tim Hortons has reduced its operating loss in the United States to $500,000 in Q1 2009 from $2.9-million in Q1 2008, as the company closed 11 unprofitable corporate stores in southern New England. Each of those restaurants lost about $100,000 in Q1 2008.
"We continue to forecast sustained profitability of the U.S. operations by 2010," Mr. Howlett wrote.
Tim Hortons opened 20 new locations in Canada this past quarter, and eight more in the United States. It also reduced the number of U.S. corporate restaurants to 19 from 40 in 2008. The total number of franchised restaurants in the United States is up more than 40%, to 508 from 359 at this time last year.
However, there may be a "modestly lower entry price" for investors this spring and summer as Tim Hortons must deal with a promotion-intensive market (nemesis McDonald's (NYSE:MCD) recently handed out free coffee for two weeks) and the suspension of its share buyback program while it moves its head office to Canada from the United States.
Mr. Howlett has decided to maintain his hold-average risk rating with a $32 price target.