Barrick Gold (NYSE:ABX) had a very painful drop this year. It is one of the worst performing gold mining stocks, dropping 50% year-to-date. The company delivered earnings that beat estimates, and the management is making efforts to cut costs. Gold stocks were pressured recently by plunging gold price, and the prospects for the company do not look good right now, as I will try to show in this article.
Earnings highlights
Barrick Gold reported adjusted earnings of $0.92, down 15% from the same period last year, but beating analyst estimates. Revenue was down 5% to $3.44 billion, missing analyst estimates of $3.56 billion.
Total cash cost is up 3.8% to $561 per ounce and all-in sustaining costs are up $10 to $919 per ounce. In the copper business, production increased 8.5% to 127 million pounds, average realized prices fell 5.8% to $3.56, and cash costs rose more than 20% to $2.46. The company has utilized the option collar hedging strategy, and protected the downside on approximately half of the remaining 2013 copper production at an average floor price of $3.50 per pound. It can participate on the same amount up to an average price of $4.25 per pound.
The company is making efforts to reduce costs; it will scale down capital spending to $5.2 billion from the previous range of $5.7 to $6.3 billion. Barrick will also reduce exploration spending to a $300 million to $340 million range, which is $100 million lower than before. All-in sustaining costs are now expected to be $950 to $1,050 an ounce, compared with a previous forecast of $1,000 to $1,100.
The company is facing hurdles with its Pascua-Lama project. The company suspended construction work on the Chilean side of the project while working to address environmental and other concerns, after a court shut down the mine. According to Barrick, Pascua-Lama is one of the world's largest gold and silver resources with nearly 18 million ounces of proven and probable gold reserves, 676 million ounces of silver contained within the gold reserves, and an expected mine life of 25 years. As of March 31, 2013, approximately $4.8 billion had been spent on the project.
Earnings cycle
Barrick is in midst of an ugly fourth stage of earnings maturation cycle. The fourth stage of the cycle is characterized by declining earnings and sales, shrinking margins and negative analyst estimate revisions. We can see all of the mentioned characteristics in Barrick Gold. You can see on the chart below that the price began to fall at the time the gross profit margins started to decline. Earnings and revenue growth peaked in late 2011, as earnings growth decelerated from 63% in Q3 2011 to 23% and 8% in the next two quarters, and the earnings have declined in the last four quarters. Analyst estimates have been tracking down in the last 90 days, from $1.16 to $0.91 for the current quarter (and Barrick reported $0.92), from $1.22 to $0.94 for the next quarter, and from $4.83 to $3.85 for the full year.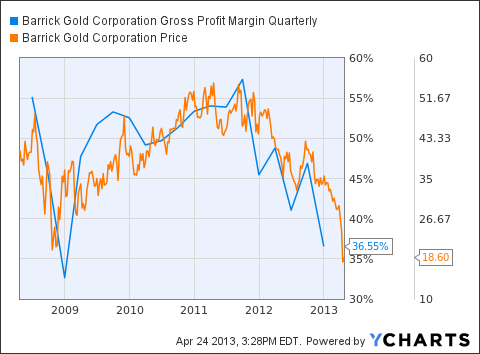 One more negative is Barrick's huge debt load, standing at nearly $14 billion. It may force the company to sell some of its assets, and it was reported few days ago that Barrick has put up three mines in Western Australia for sale. Those mines produced 452,000 ounces of gold last year.
Price action
Gold price and Barrick's stock price are deeply oversold right now, and a short-term bounce would not be surprising. However, there is severe technical damage in both spot gold and gold mining stocks, with Barrick being one of the worst hit with the decline in gold price. Barrick has underperformed gold in the last 5 years. A five-year chart below shows that if you had bought SPDR Gold Trust ETF (NYSEARCA:GLD), you would have a profit of about 60%, while you would hold a loss of more than 50% if you had purchased Barrick.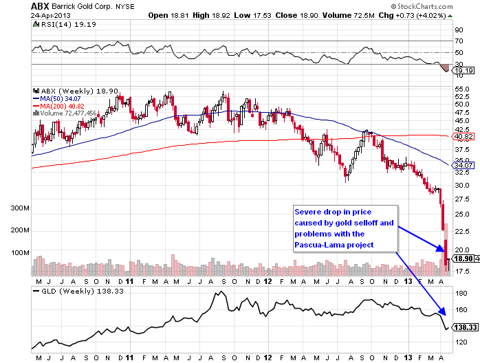 Source: Stockcharts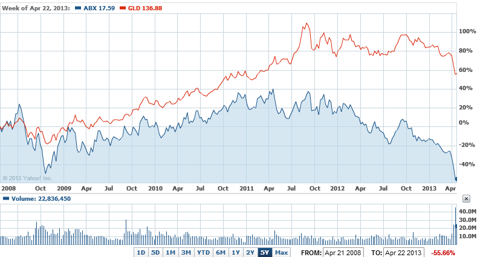 Source: Yahoo Finance
Conclusion
While there is a chance for a short-term bounce from the current oversold levels in both SPDR Gold Trust ETF and Barrick Gold, the damage caused by the selloff will take time to repair. A heavy debt load, negative earnings trends, lower price of gold and lower margins spell more trouble ahead. And given the gross underperformance, SPDR Gold Trust ETF is a lot safer and better way to get exposure to gold.
Disclosure: I have no positions in any stocks mentioned, and no plans to initiate any positions within the next 72 hours. I wrote this article myself, and it expresses my own opinions. I am not receiving compensation for it (other than from Seeking Alpha). I have no business relationship with any company whose stock is mentioned in this article.