On Wednesday, shares of leading consumer products company Procter and Gamble (NYSE:PG) took a sharp hit after releasing their fiscal third quarter earnings report. Shares declined nearly 5.9%, one of the biggest falls in years, on what was an alright report. Other names in the space also pulled back. Today, I'll briefly discuss the results, but show why a fall like this rewards long-term investors.
Third Quarter results:
For the quarter, the company produced revenues of $20.6 billion. That figure was a little light, as analysts were looking for $20.74 billion. Procter and Gamble becomes the latest in a long line of companies to miss on revenues this earnings season. Core earnings came in at $0.99, which beat analyst estimates by three cents. A list of key items from the report is below, taken from the company's executive summary.
Organic sales increased three percent for the quarter.
Core net earnings per share increased five percent to $0.99.
Core operating profit margin increased 10 basis points, including 260 basis points of productivity improvements and cost savings.
Core gross margin increased 20 basis points. Reported gross margin, including non-core restructuring charges, increased 50 basis points.
Core selling, general, and administrative expenses (SG&A) as a percentage of net sales increased 10 basis points. Reported SG&A costs, including non-core items, increased 40 basis points as a percentage of sales.
Operating cash flow was $3.9 billion for the quarter.
During the quarter, the company returned $1.6 billion to shareholders. The company bought back $1 billion in stock during the quarter, and announced that they expect to repurchase $6 billion in shares during the fiscal year, which comes in at the high end of their $5 billion to $6 billion range.
Guidance:
This is the one negative from the report, which most likely led to the decline in shares. You may remember that the company cut its fiscal year forecast two months ago. The company lowered its core earnings forecast to a range of $3.94 to $4.04. However, on this report, the company decided to increase the low end of the range by two cents to $3.96. However, this new range was still seen as a bit disappointing, because analysts were expecting $4.05.
The main reason for the guidance miss was their fourth quarter guidance. The company expects June quarter core earnings in a range of $0.69 to $0.77. That's well below the $0.81 that analysts were expecting, which is why the full year forecast was also light. The company stated that it expects to spend more on a new product push, which will impact earnings.
Recent pullbacks increase yields:
While nobody likes to see their stock fall, a fall like P&G's on Wednesday allows investors to accumulate more at lower prices, and investors may be looking to enter a chance to do so at a better price. When it comes to these high quality, dividend paying consumer names, you're not looking for the stock that will double in the next few months. You're not trying to pick the bottom in Apple (NASDAQ:AAPL) at $390 and hope it goes to $600 by the end of the year.
You are most likely entering these names because they generally are a bit safer, and adding a low-risk name to your portfolio is a good idea. You probably also are looking for some kind of income stream, and these names all pay solid dividends. When these names come down, their dividend yields increase, and that is beneficial to those looking to either start a position or accumulate more. The table below shows some recent pullbacks in high quality consumers and similar names, showing how their yields have increased from recent stock price highs (yield point lows). For this comparison, I'm including Colgate-Palmolive (NYSE:CL), Johnson & Johnson (NYSE:JNJ), and Pepsico (NYSE:PEP).

*Numbers may be slightly off due to rounding.
While a couple of basis points here or there might not seem like much, it adds up in the end. The investor that gets that extra few basis points each time one of these names comes down is the one that does better in the long run. A couple of quick notes. Colgate-Palmolive will report their earnings on Thursday, so there is the potential that this name could pull back even more. Also, Johnson and Johnson has their shareholder meeting on Thursday, which could be when they announce a dividend raise. The JNJ yield above could become even greater once they announce another dividend raise.
A rich dividend history:
Procter and Gamble has been one of the best dividend paying stocks in history. The company has a rich dividend history, and that history continued recently when they raised the quarterly dividend by 7%, from 56.2 cents to 60.15 cents. As you saw in the table above, the yield on this name was up to 3.12% after Wednesday's fall in stock price. At that yield, this stock is yielding about 25 basis points more than a 30-Year US Treasury bond. This dividend raise only continues the history of raises, and the past 10 years of quarterly payments can be found in the chart below, after the split in 2004.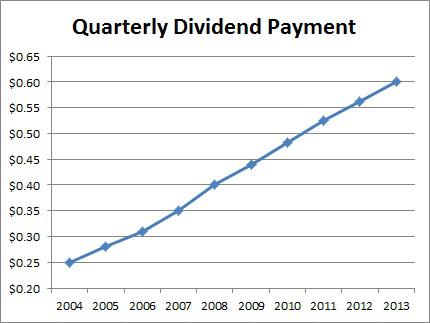 Erasing a month's worth of gains:
Wednesday's fall for P&G was not pretty. Shares dropped $4.82, or 5.88%, to close at $77.12. This was the lowest close since the end of March. As you can see from the chart below, the fall on Wednesday erased nearly a month's worth of gains. The more than 25.7 million shares traded was more than 2.5 times the 3-month average daily volume, and was the most shares traded in a single day in 3 months.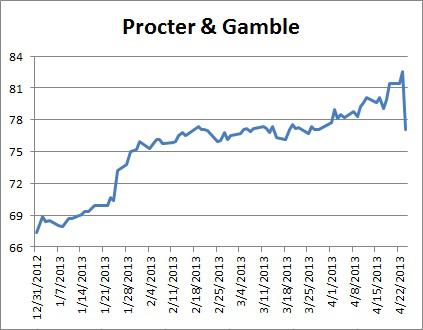 (Author created chart with prices from Yahoo! Finance)
Final Thoughts:
P&G's results on Wednesday were decent, but the guidance was a little soft. The market decided that a nearly 6% fall was necessary as the company will increase spending to push some new products. For long-term investors, this allows you to get in at a price not seen in a number of weeks. Additionally, you're getting a bit more in yield, now over 3.1%. Getting about 20 more basis points in yield than you were yesterday is a reason to again look at P&G, or other consumer names that have come off their highs. If you aren't in them already, you can probably look at starting positions and adding to them if we go lower.
Disclosure: I have no positions in any stocks mentioned, and no plans to initiate any positions within the next 72 hours. I wrote this article myself, and it expresses my own opinions. I am not receiving compensation for it (other than from Seeking Alpha). I have no business relationship with any company whose stock is mentioned in this article.
Additional disclosure: Investors are always reminded that before making any investment, you should do your own proper due diligence on any name directly or indirectly mentioned in this article. Investors should also consider seeking advice from a broker or financial adviser before making any investment decisions. Any material in this article should be considered general information, and not relied on as a formal investment recommendation.