Agnico-Eagle (NYSE:AEM) is a Canadian gold mining company with a market capitalisation of $5.6B. In 2012 they produced just over 1M ounces of gold for the first time in 60 years in the company's history. A production increase to 1.2M ounces within three years has been stated as a goal by Agnico Eagle. At present the company operates five mines in Canada (La Ronde, Lapa and Meadowbanks), Mexico (Pinos Altos) and Finland (Kittila). The company has a stated policy of operating in safe jurisdictions only and prides itself to take care of organic growth by acquiring projects early and developing them with their in-house exploration team.
Agnico Eagle's share price has been holding up surprisingly well despite the recent drop in the price of gold. The chart below shows a comparison of Agnico Eagle's share price with selected other Canadian peers including Goldcorp (NYSE:GG), Barrick Gold (NYSE:ABX) and New Gold (NYSEMKT:NGD) along with the price of gold (NYSEARCA:GLD). Agnico Eagle is the only company out of this group outperforming gold over the past year. Yahoo.com lists the forward P/E at 14.73 which is relatively high compared to peers. Analysts' median price target for Agnico Eagle is $52.00 and the share price sits at $32.43 at the time of writing.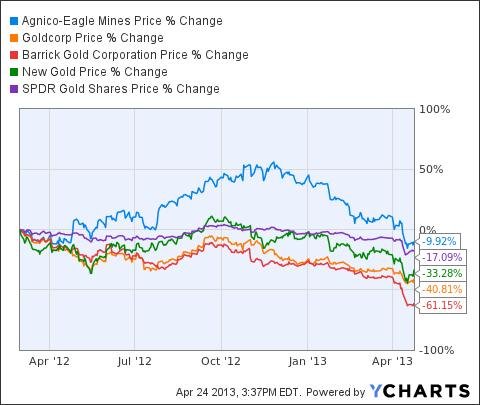 During the past two months Agnico Eagle has made a few very interesting investments in junior gold exploration companies. First up was the acquisition of an 8.48% non-diluted interest in ATAC Resources (OTCPK:ATADF) ($12.96M) followed by a definitive agreement to purchase Urastar Gold Corp (OTC:URNRF) outright for $10.7M. The details of these investments have been summarized in this article. Shortly afterwards a private placement by Sulliden Gold (SDDDF.PK) netted Agnico Eagle a 10% interest valued $24M in this near-term development company with a highly interesting heap leach project in Northern Peru.
Three investments were not enough and on April 23 2012 Agnico Eagle announced the subscription of shares from a private placement by Kootenay Silver (OTC:KOOYF) for a non-diluted interest of 9.96% in this company. This latest investment came with a price tag of $4.75M and also included warrants that would bring Agnico Eagle's interest to 14.23% if exercised.
Interestingly, Kootenay Silver's flagship project is a past producing silver mine in Sonora, Mexico, called Promontorio. This project has an open pit measured and indicated resource of 36M tons @ 51.35 g/t silver-equivalent resulting in 59.4M ounces of silver-equivalent with base metals lead and zinc making up almost 40% of the contained value. An additional 9.1M ounces in the inferred category bring the total open pit resource up to 68.5M silver-equivalent ounces. There is also a 7.5M ounce underground resource given in the NI43-101 report that can be downloaded from the Kootenay Silver website.
We were puzzled at first when we saw this data. Why would Agnico Eagle make an investment in a company developing a low-grade bulk silver deposit? Buried in the latest NI43-101 report the Promontorio deposit is "classed as a carbonate-rich, diatreme-hosted polymetallic silver,lead, and zinc gold deposit." There you have it: apparently there is gold also, but it hasn't been included in the resource statement. When looking at drill results we noted a consistent presence of around 0.5 g/t gold on average in all core assays. Using the tonnage given for the total open pit resource and using a rough assumption of 0.5g/t gold would amount to 700,000 ounces of gold on top of the stated silver resource. Chickenfeed this is not.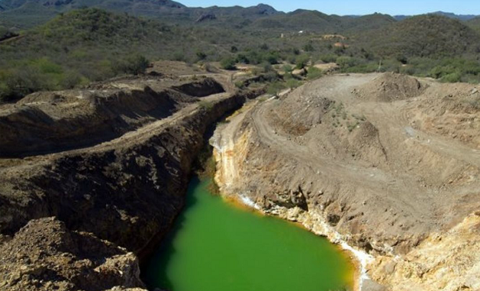 Click to enlarge
(Promontorio; source: Kootenay Silver website)
A news release by Kootenay Silver dated April 4 2012 states that a resource update including the gold content has been commissioned following successful metallurgical tests which indicated a recovery rate of 94.5% for the gold using a pressure oxidation process. James McDonald, CEO of Kootenay Silver, is on record commenting:
"We are very pleased to proceed with an updated resource calculation on Promontorio and to include the extensive gold assays found to be contained within the Promontorio diatreme system as part of our updated resource estimation. The gold in Promontorio is found to be evenly distributed throughout the silver resources and as such holds potential to further boost and enhance the value of the contained mineral resource going forward."
At present a 30,000m drill program is under way on the property with the aim at expanding the resource. The current NI43-101 report compares the Promontorio deposit as comparable in nature to the Penasquito deposit operated by Goldcorp further to the South also in Mexico. This particular mine is a flagship operation of Goldcorp, the largest gold miner world-wide by market capitalisation. Grades and metal composition published for Penasquito are indeed very similar to the data given for the Promotorio deposit.
It can be safely assumed that Agnico Eagle has performed extensive due diligence and has evaluated the existing results before making an investment. It is also worth noting that the Promontorio deposit is situated less than 200km from the La India project which is presently developed by Agnico Eagle to go into production in 2014. The Promotorio deposit is also in the same general area as the El Antimonio deposit which Agnico Eagle acquired through Urastar Gold.
This latest of investments brings the tally up to just over $51M in investments for Agnico Eagle this year so far. We are not aware of any other gold mining company being on a similar shopping spree. Considering the solid cash position of Agnico Eagle, and noting basement prices in the gold junior sector we are happy investors in this company trusting that these investments will provide for future earnings in some way or another.
Disclosure: I am long AEM. I wrote this article myself, and it expresses my own opinions. I am not receiving compensation for it (other than from Seeking Alpha). I have no business relationship with any company whose stock is mentioned in this article.