U.S. Crude Oil Inventory
The EIA (Energy Information Administration) reported a relatively modest 250Mbbl increase in domestic crude (NYSEARCA:BNO) inventories. The API (American Petroleum Institute) survey had indicated a greater than 5Mmbbl increase in crude stocks.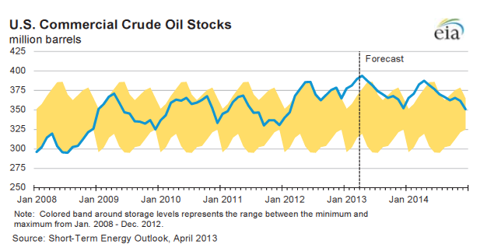 Despite the smaller build, U.S. crude inventories hit a fresh 23‐year high at 388.9Mmbbl and now remain only 3Mmbbl below the record high of 391.9Mmbbl set in the summer of 1990 during the run‐up to Operation Desert Storm. EIA expects that the Brent crude oil spot price, which averaged $112 per barrel in 2012 and rose to $119 per barrel in early February 2013, will average $108 per barrel in 2013 and $101 per barrel in 2014.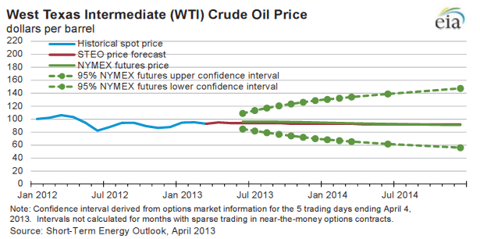 U.S. Natural Gas Inventory
U.S. natural gas (NYSEARCA:UNG) storage levels decreased by 14Bcf to 1,673Bcf. Notably, the five‐year average for the period ended called for a modest 15Bcf injection. However, colder temperatures continued to support natural gas consumption. Following the late‐season withdrawal, the seasonal storage deficit expanded to nearly 60Bc. The EIA should report the first injection of the year this week, which would mark the latest start to injection season since 2008.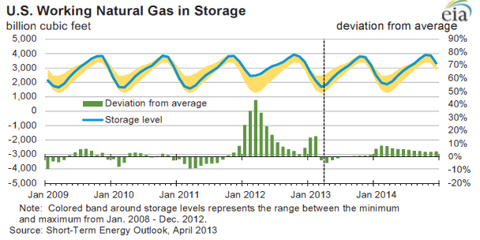 Based on historical precedents, we should expect a 40Bcf increase in storage levels. Nevertheless, temperatures remained on the cooler side in key consuming regions, likely setting up a much more modest injection or even or a very small withdrawal, which would further expand the storage deficit.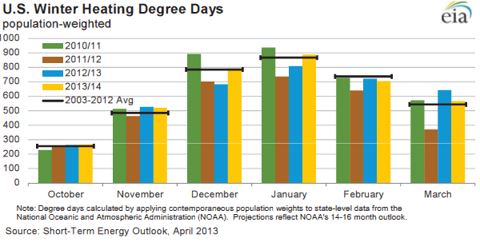 EIA expects the Henry Hub natural gas spot price, which averaged $2.75 per MMBtu in 2012, will average $3.52 per MMBtu in 2013 and $3.60 per MMBtu in 2014.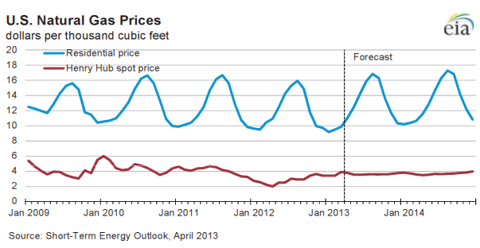 EIA April Energy Outlook
The EIA largely maintained its previous 2013 and 2014 U.S. domestic crude oil production estimates. The EIA forecasts 2013-14 output of 7.30Mmbbl/d and 7.87Mmbbl/d respectively, which represents significant growth from average 2012 production of 6.47Mmbbl/d.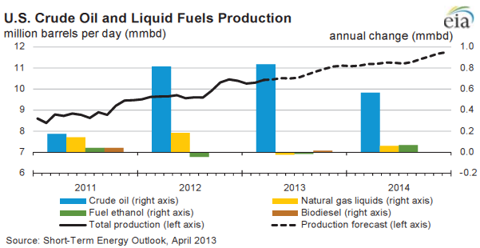 Drilling adds from the Williston, Western Gulf and Permian basins are expected to continue driving the bulk of the output growth, offsetting declines in Alaskan production.
The agency decreased its 2013 and 2014 global crude oil demand forecast by 130Mbbl/d and 200Mbbl/d to 90.00Mmbbl/d and 91.33Mmbbl/d, respectively. Although the EIA also moderated its emerging market demand forecast.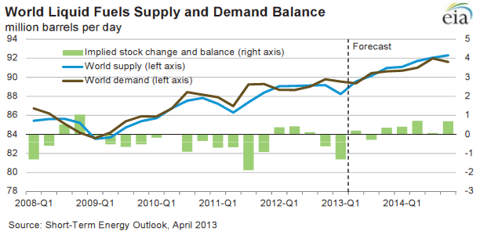 The EIA once again cut its global 2013 and 2014 domestic natural gas production forecast to 69.33Bcf/d for 2013 and 69.39Bcf/d for 2014.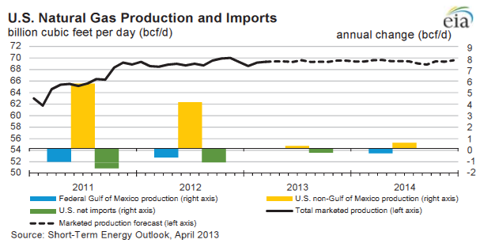 Production growth is expected to continue in the lower‐48 states, predominantly in the Marcellus shale, offsetting declines from the offshore Gulf of Mexico and Alaska.
The IEA cut its 2013 crude oil demand forecast by 45Mbbl/d to 90.58Mmbbl/d from its March Oil Market Report, with the decrease attributable to reduced OECD European demand. Once again, the agency cited a weak macroeconomic environment for the cut in demand forecast. The IEA also noted that milder February temperatures suppressed global distillate consumption.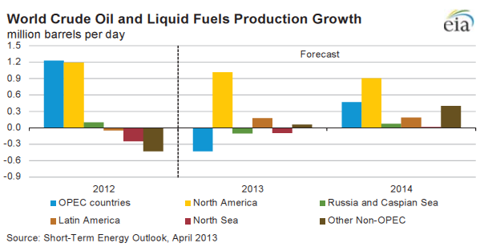 Global supply decreased by 120Mbbl/d in March according to the IEA, with lower OPEC output driving the decline. The agency marginally cut its non‐OPEC supply forecast for the first time this year following cyclone activity in offshore Australia and disruptively cold weather in North Dakota, which is expected to reduce Q1 2013 production.
The IEA maintained its current 2013 OPEC supply call of 29.7Mmbbl/d. The IEA also reiterated its earlier warnings that potential global supply threats remain elevated even by historical standards. Finally, the EIA noted that the security situation in Libya and Nigeria remains precarious.
Disclosure: I have no positions in any stocks mentioned, and no plans to initiate any positions within the next 72 hours. I wrote this article myself, and it expresses my own opinions. I am not receiving compensation for it (other than from Seeking Alpha). I have no business relationship with any company whose stock is mentioned in this article.