Bank of America (NYSE:BAC) shares recently experienced a pullback after the company reported earnings which disappointed some investors. However, it only took a few days for the stock to shake off the weakness and rebound back over $12.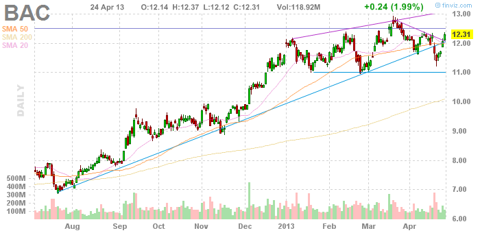 As the chart above shows, BofA shares briefly dipped below the 50 and 200-day moving averages and even below the upward trend line as indicated by the light blue line. This decline pushed the shares very close to $11, but it rebounded so quickly and sharply that the stock is back over $12 and once again, right around the key support levels (the 50 and 200-day moving averages). This is important if BofA shares can continue to hold this level, because that could mean the uptrend will resume. A couple of analysts have turned very bullish on BofA stock and the rapid and strong rebound from the recent selloff is another reason to take a bullish view on this stock.
After the earnings report, a Morgan Stanley analyst named Betsy Graseck upgraded BofA to overweight and set a $16 price target. She believes that the market is underestimating the benefit of expense reductions and dwindling litigation risks. Her views are summarized in a recent Barron's article which offers four bullish points to consider:
We see accelerating expense cuts more than offsetting remaining
litigation risk.

We see $16.1b in cost saves coming through over next 3 years. This is more than the incremental $5b in litigation expense we have in our base case.

Importantly, we expect cost saves will accelerate in 2Q13

BAC's 9.4% Basel 3 CT1 ratio is already above the FSB's minimum of 8.5%, suggesting BAC has the firepower to sizably ratchet up capital return in 2014.
Meredith Whitney is a well-known banking analyst who recently said that BofA is undervalued. Ms. Whitney also believes BofA is successfully implementing cost-cutting measures and saw the recent "stress test" results as a positive for the company. Just after the stress test results were reported, BofA announced a $5 billion share buyback plan. This is another bullish sign as it shows the company is confident enough to allocate capital to buying shares which appear undervalued for longer-term investors. Meredith Whitney predicted that in the next two years, the shares would go "into the $20s". That would offer investors who buy now a gain of nearly double.
BofA stock appears undervalued when considering book value, which is $20.30 per share. Analysts expect the company to earn about 98 cents per shares for 2013 and $1.30 in 2014. That puts the price to earnings ratio at just around 12 times, while the average stock in the S&P 500 Index (NYSEARCA:SPY) is trading for about 15 times earnings. Furthermore, earnings could grow as litigation expenses and mortgage losses fall in the coming years. These factors make BofA shares worth considering on pullbacks. With the U.S. economy showing signs of stability and the housing market improving, BofA could have limited downside potential and continue to trend higher. Of course, if China sees a real estate bubble collapse or if Europe's recession leads to another financial crisis, these events would likely create another recession in the U.S. and that is a significant downside risk to consider for all banking stocks, including BofA.
Here are some key points for BAC:
Current share price: $12.32
The 52 week range is $6.72 to $12.94
Earnings estimates for 2013: 98 cents per share
Earnings estimates for 2014: $1.30
Annual dividend: 4 cents per share which yields .3%
Data is sourced from Yahoo Finance. No guarantees or representations are made. Hawkinvest is not a registered investment advisor and does not provide specific investment advice. The information is for informational purposes only. You should always consult a financial advisor.
Disclosure: I have no positions in any stocks mentioned, and no plans to initiate any positions within the next 72 hours. I wrote this article myself, and it expresses my own opinions. I am not receiving compensation for it (other than from Seeking Alpha). I have no business relationship with any company whose stock is mentioned in this article.