Based on my analysis of recent economic reports that goes beyond polished up headlines and most positively-biased Wall Street financial reports, I have concluded that the economy is in trouble. You can see some of the previous evidence I have recently presented here and here. Not surprisingly, to me at least, more economic data reported this week is bolstering my bearish view.
Just yesterday morning (April 24), for instance, the durable good orders for March were released and came in at -5.7% vs. the -2.8% expected by Wall Street analysts. More concerning is that February's "robust" gain of 5.7% was revised lower to +4.3%. Even worse, if you strip out the volatile "transportation" component (volatile because of the "lumpiness" of airline industry orders) the February revision for durable goods orders went from -.5% to -1.7%. The March reading ex-transportation was -1.4% vs. +.5% expected. You can read the news report here. The trend in "core" durables orders/consumptions seems to be headed into negative territory.
Durables are goods that are manufactured and used over time that do not wear out quickly, like dishwashers, washing machines, consumer electronics and sporting equipment. Month-to-month the change in durables can be quite volatile, especially because of the aircraft order component. But as this chart sourced from Bloomberg shows, the trend in the monthly change in durables orders is quite troubling: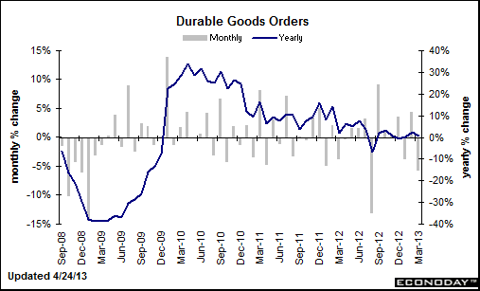 The dark blue line in this chart shows the % change in durables for each month compared with the same month the previous year. In other words, month to month readings might not be significant, but when you have a year-over-year trend showing a decline since April 2010, it should raise some concern about the real strength of the underlying economy, especially since this metric reflects the ability and willingness of the consumer to spend money - i.e. it reflects the variable representing 70% of U.S. GDP over time.
This evidence on consumer spending directly supports my thesis that the housing market is rolling over. Yesterday new home sales for March came in lower than expected. What went unnoticed by most, and unreported by the media, was the fact that the average price of a new home plunged 9.6% from $310k down to $280k from February to March. You can look over the data from the report here: Census Bureau New Home Sales [pdf]. Clearly, when the price of something falls this hard, it is evidence of weak supply/demand factors. Supply is going up - as the report shows it went from 4.0 months to 4.4 months - and relative demand is declining.
We saw the same trend with Monday's existing home sales report for March. The seasonally adjusted annualized number came in at a 4.92 million sales rate vs. the 5.03 million expected. Equally troubling, and signaling a new declining trend, is the fact that the previous month's sales number was revised down from 4.95 million to 4.92 million.
A new development that will affect home sales going forward, and one that most analysts are not factoring into their forecast models, is the fact that, as of April 1, the FHA is not only raising its mortgage insurance premiums (MIP) on all FHA loans but it is reversing its policy of allowing FHA mortgagees to cancel their mortgage insurance when the loan balance declines to 78% of value. MIP will now be required for the life of the loan - this policy kicks in June 3: New FHA MIP Rules. The affect of this new policy will be to further dampen home sales by raising the overall cost of a mortgage, especially considering that FHA financing has grown from about 2% of the mortgage market to over 20% since 2008.
In addition to durables and housing, there were a few more bearish economic data points released this week that I'll review quickly. First, the Chicago Fed National Activity Index came in at -.23 vs the previous month's .76 reading. The 3-month moving average slipped into negative territory at -.01. This indicator - not widely followed - has historically been a good leading indicator of trends. Next, the Richmond Fed Manufacturing Index registered a -6 for April, vs a +3 expected. Clearly the manufacturing sector in this country is in decline - a decline that will be accentuated by the advent of cheaper goods imported from Japan because of the recent dramatic decline in the yen.
Finally, in addition to disappointing revenue and earnings reports from GDP contributing companies like IBM, GE and CAT this week - with lower-than-expected revenues reported obviously indicative of an economic slowdown - Apple issued Q3 lowered revenue guidance that was nothing short of stunning. Analysts had been expecting a consensus Q3 revenue guidance of $39.2 billion. Instead, AAPL offered actual guidance of $33.5 - $35.5 billion. This is a shocking 21% drop from Q2 actual revenues of $43.6 billion and roughly 13% below what the Street was expecting. Given that AAPL's iPhone 5 alone was forecast by some Wall Street analysts to add 1% to the GDP this year, it would appear that the expectations for AAPL's impact on the economy has been extremely over-inflated.
My point with all this is that - in addition to the high likelihood that the economy could well go into contraction this year - clearly expectations for both the economy and S&P 500 corporate earnings are far too optimistic. This has translated into stock valuations that are bordering on the bubble levels observed in the 1999-2000 and 2008 periods, the last two times the SPX was flirting around the 1500 level before it crashed hard. Based on this, and based on the assumption my view has a high probability of being correct - and with the caveat that UNLESS the Fed re-ups QE - I think it's a good bet that smart investors should take profits in their long positions and aggressive investors can start shorting the stock market. My favorite plays in this regard would be to 1) short the SPY; 2) buy June-dated SPY slightly out of the money put options; 3) for aggressive speculators, get long the SPXS, which is 3x short the SPX.
Disclosure: I have no positions in any stocks mentioned, but may initiate a short position in SPY over the next 72 hours. I wrote this article myself, and it expresses my own opinions. I am not receiving compensation for it (other than from Seeking Alpha). I have no business relationship with any company whose stock is mentioned in this article.