Yesterday we saw one of our favorite names get taken out to the woodshed for disappointing the market, and it is important to note that those names which are priced for perfection best deliver something pretty darn close to perfection in order to please investors or the same shall happen to them. One new retirement account we set up this year and fully funded just before Tax Day is up almost 10% in as many days, not trading sessions but actual days, and that has us worried and doing some serious soul searching. Never look a gift horse in the mouth, but when we invest in solid, long-term names we rarely expect big initial moves such as that. It says something about our entry point picking ability, but one is forced to ask if it also says something about this market.
Chart of the Day:
This is one of three charts used in an article, located here, on CNBC.com which is supposed to show why the UK has it so bad. Well we recognize that the UK has problems, but so too does the US and this chart does highlight one issue which we find interesting. We understand that the Republicans have put a halt to deficit spending, and since Q4 of '08 it has been a long road back helped by the growth in the economy and minor spending cuts. As GDP grows budget deficits as measured by a percentage of GDP shrinks, pure and simple. But we find troubling the cap that has been put in place essentially which has kept the budget deficit moving sideways for the past year. We are close to 'no man's land' where we are on the precipice of a goldilocks economy but at the same time of falling back into recession. The Fed has done the hard lifting thus far, but a little help from Washington could help provide a pop for the economy.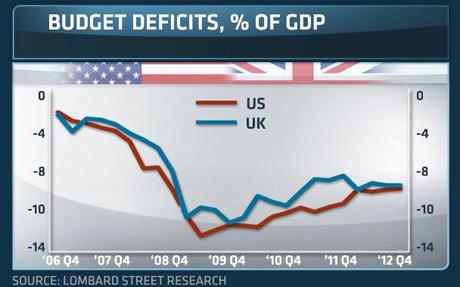 Chart courtesy of Lombard Research via CNBC.com.
We have economic news due out today, and it is as follows:
Initial Claims (8:30 a.m. ET): 351k
Continuing Claims (8:30 a.m. ET): 3060k
Natural Gas Inventories (10:30 a.m. ET): N/A
Asian markets finished higher today:
All Ordinaries -- CLOSED
Shanghai Composite -- down 0.86%
Nikkei 225 -- up 0.60%
NZSE 50 -- up 0.50%
Seoul Composite -- up 0.84%
In Europe, markets are higher this morning:
CAC 40 -- up 0.15%
DAX -- up 0.62%
FTSE 100 -- down 0.01%
OSE -- up 0.52%
Consumer Goods
Yesterday saw shares of Proctקr & Gamble (NYSE:PG) take a hit as the company delivered on the bottom line but missed on the top line, a trend which has become all too familiar lately for investors in the market. Shares finished the session at $77.12/share after falling $5.42 (6.57%) on volume of 25.7 million shares after the disappointment, but we view this as a buying opportunity for those who were worried that the shares had gotten away from them. We are within the 5-10% pullback area which we have looked for before being buyers of anything in this market and we have found ourselves recommending the stock to friends and family who have asked us where to place their retirement funds as of the close yesterday. We will admit that the revenue miss is a disappointment and the raising of the lower end of their earnings guidance for the year a bit underwhelming, but at the end of the day we think the turnaround plan is working and that as the world's economy turns for the better so too shall results in their emerging markets. Setting up an initial position here or adding to current positions is something we would look at.
Restaurants
After the bell today we have earnings due from Starbucks (NASDAQ:SBUX) which is one of our favorite names in the restaurant space as it pertains to the blue chip names. We were one of the first to be bullish the entire space and that paid off handsomely for those who took the advice, but now we believe it is time to focus the portfolio on those names which have shown an ability to compete over the long-term and not just outperform when the industry is on an upswing. Starbucks most certainly fits that description and with the shares closing yesterday at $59.83/share we think that the stock is set up perfectly for a big move around the $60/share level should the earnings not disappoint. This is a name we like long-term however for those who have owned it since we first went bullish almost 15 months ago we would recommend taking some money off of the table to lock in gains.
It has been a long road back after our initial rise above $60/share, so long time readers who have also been long-term investors here may want to take some profits and a little money off of the table, even though we think this name goes higher.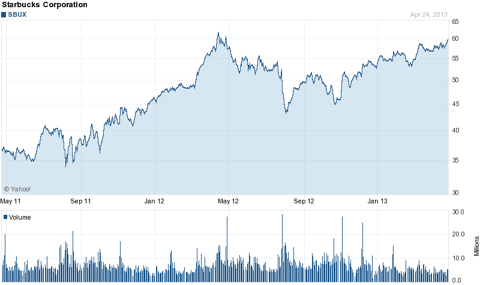 Chart courtesy of Yahoo Finance.
Manufacturing
We are looking at our Boeing (NYSE:BA) recommendation this morning and will have to get back to everyone regarding our outlook for the company as the shares have been quite resilient and bounced back strongly since the whole battery issue. Our perception on value here is a bit skewed and we think that in the short-term we may have gotten ahead of ourselves. This morning we are keeping put, but with yesterday's move higher (shares rose $2.65 or just over 3%) which got the shares to a close of $90.83/share we are looking at other options out there and weighing whether there is a better place to put this capital. Earnings were good, and long-term we still like the story, but short-term we are getting anxious and that usually requires us to retire to the sideline for a while. We will post when we have reexamined our numbers in regard to Boeing and looked at possible alternatives and whether a move is necessary and/or justified.
Finance
One of our trading ideas, Regions Financial (NYSE:RF), caught our eye two days ago as it traded just above $8.00/share and managed to close above the level which has served as both support and resistance over the past few months. We had previously told readers that if it fell below $8/share to walk away and come back only upon a move through $8/share which we thought could take it 10% higher. Well yesterday saw shares rise $0.21 (2.62%) to close at $8.22/share on volume of 16.02 million shares and this leaves approximately 7.5%, or roughly $0.60/share, upside for those trading. For those wanting to move in today, we would recommend tight stops being set up or at the very least one under the $8/share level if trying to mitigate risk.
Biotechnology
BioCryst Pharmaceuticals (NASDAQ:BCRX) had another run yesterday with shares ending the day up #0.21 (11.67%) to close at $2.01/share. Volume ticked up to 4.8 million shares as well as traders moved in to play this name as it bucked the downward move we saw in many of the biotech names we follow during yesterday's session. The stock has been enjoying renewed interest in the company's flu vaccine and the bird flu outbreak in China is most certainly helping to drive both these large moves higher as well as volatility. For those looking for a trading vehicle to play the bird flu outbreak in China, this is as good as any.
This one could move even higher if the bird flu in China spreads to South Korea, Japan, or Taiwan, all places which have utilized the company's flu vaccine successfully in the past, and BCRX's drug once again proves up to the challenge of fighting off an outbreak and saving those patients affected with the worst cases.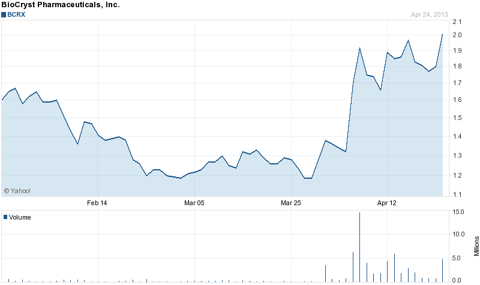 Chart courtesy of Yahoo Finance.
Disclosure: I have no positions in any stocks mentioned, and no plans to initiate any positions within the next 72 hours. I wrote this article myself, and it expresses my own opinions. I am not receiving compensation for it (other than from Seeking Alpha). I have no business relationship with any company whose stock is mentioned in this article.