On Wednesday, AT&T's (NYSE:T) stock was hammered after reporting weaker-than-expected earnings. The stock lost about 5% of its value on heavy trading. However, AT&T is still up nearly 10% YTD. This decline may be an opportunity to purchase AT&T at a discount. AT&T currently offers a $0.45 quarterly dividend. At current prices, the stock yields about 4.9%.
On April 23, AT&T reported its Q1 2013 results. AT&T saw EPS increase 12%, to $0.67, compared to $0.60 for Q1 2012. Adjusted EPS increased 9% to $0.64, compared to $0.59 for Q1 2012.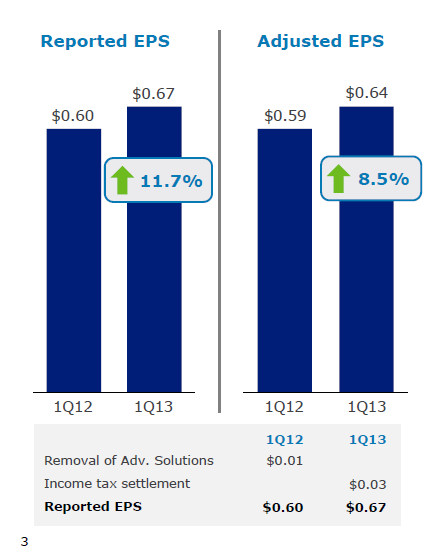 However, what really spooked investors was revenue. AT&T saw its total revenue decline 1.5% to $31.4B. Total wireline segment revenue declined 1.8%, to $14.6B. The biggest laggard was by far the wireline voice segment. Wireline voice saw its revenue collapse 10% to $5.3B. However, AT&T did see growth in its wireline data segment (mostly U-verse), with total data revenues increasing 4.5% to $8.1B.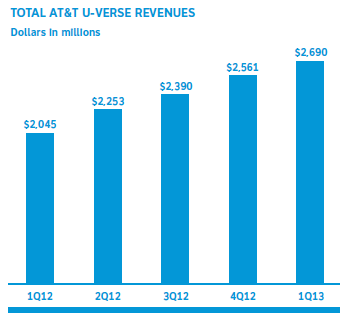 AT&T saw its total wireless revenues increase 3.4%, to $16.7B. The biggest growth area was wireless data, with revenues increasing 21% to $5.1B. However, wireless voice, text, and other service revenues decreased 3.8%, to $10B.
During the quarter, AT&T posted 296,000 wireless postpaid net adds. Tablets were what really drove these gains, with 365,000 postpaid tablets added in the quarter. However, AT&T saw prepaid lose 184,000 subscribers due to declines in GoPhones. AT&T added 1.2 million postpaid smartphone subscribers in the quarter, which now makes up 72% of AT&T's total postpaid phone subscribers. This is up from 61% last year. AT&T sold over 6M smartphones, and they now comprise 81% of postpaid device sales.
While revenues were weak for AT&T, cash flow was not. During the quarter, AT&T generated $8.2B in operating cash flow and $3.9B in free cash flow. With this cash and some debt, AT&T repurchased 168M shares for $5.9B and paid out over $2.5B in dividends. In the quarter, AT&T returned more than $8B to its shareholders in dividends and share buybacks. AT&T has about 61M shares remaining in its share repurchase authorization and it is expected to be completed in Q2 2013. After the current plan finishes, AT&T plans to slow the pace of its buybacks. This is partly due to an increase in its debt-to-EBITDA ratio, which is currently 1.68X, and near AT&T's target of 1.8X or lower.
Conclusion
AT&T was fortunate to have such a large share repurchase program in place, as it would have likely missed EPS numbers along with revenue. In response to the earnings miss, AT&T suffered several downgrades.
It is odd to see AT&T suffer so much due to its legacy wireline assets. A 10% Y/Y decline in wireline voice revenues is astonishingly bad. Luckily, wireline revenue made up only about 19% of AT&T's Q1 revenue.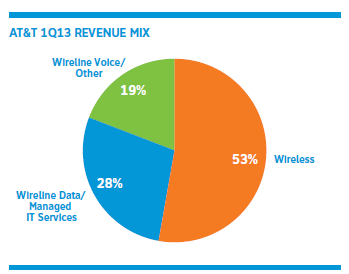 IMO, if you want to own a telecom stock, AT&T is your best bet. The company is extremely shareholder friendly, and seems to bend over backwards to provide both high dividends and share buybacks. However, declining revenues are hard to ignore. While the stock does offer a decent yield, I would wait for more of a pullback before starting a position.
Disclaimer: The opinions in this article are for informational purposes only and should not be construed as a recommendation to buy or sell the stocks mentioned. Please do your own due diligence before making any investment decision.
Disclosure: I have no positions in any stocks mentioned, and no plans to initiate any positions within the next 72 hours. I wrote this article myself, and it expresses my own opinions. I am not receiving compensation for it (other than from Seeking Alpha). I have no business relationship with any company whose stock is mentioned in this article.