There is little excuse for ChinaHybrid investors not to take a chance on Perfect World (NASDAQ:PWRD). A clue to buy is staring us right in the face.
Tracking the investment activity of reputable players who take large positions in ChinaHybrid companies can give us clues as to which companies will be next to go private or offer investors a chance to realize superior returns. We are all aware of the challenges that investors face when trying to determine which ChinaHybrid names are investment grade. However, this task is made a little easier when a major Chinese conglomerate is on your side. That is why we are intrigued by Fosun international's investment in Perfect World.
Fosun has been snapping up shares of PWRD at prices ranging from $9.33 to $12.48.
In an email we sent to our premium members on April 11, 2013, when PWRD was trading around $10.20, we stated that 13D and 13D/A filings showed that Fosun International (HK:00656, OTCPK:FOSUF) had increased its stake in PWRD from 8.3% since July 6, 2012 to 12.12% as of April 9, 2013. Since then, Fosun has continued to add shares, as shown in an April 22, 2013 13D/A filing revealing that Fosun further increased its stake to 13.17%.
Fosun's Success Investing in U.S. listed Chinese companies:
Fosun took Tongjitang Chinese Medi Co Ads (NYSE:TCM) private in April 15, 2011 for $4.50, a 19.1% premium over TCM's then current price.
FSUN took a 28.65% stake in Focus Media Holdings (NASDAQ:FMCN) from November 17, 2008 to March 25, 2009 at average price around $8.00 per share amid accusations of fraud and at a time when FMCN's business prospects were in doubt. Its investment in FMCN has since tripled. A deal led by Chairman and CEO of FMCN, Mr. Jason Nanchun Jiang, to take FMCN private at $27.50 is currently in the works.
A subsidiary of Fosun, Yu Zhen Industrial Limited, took a 6.98% stake in Lj Intl (NASDAQ:JADE), a company that is in the midst of its own going private transaction led by JADE Chairman of the Board, Mr. Yu Chuan Yih. Yu Zhen is dissatisfied with the going private terms and may look to thwart the transaction.
The fact that Fosun has invested in three companies that have or are in discussions to go private provides some credence to its ability to invest in real companies that the market is mispricing.
This is precisely why we are intrigued by its investment in ChinaHybrid PWRD, a leading online game developer and operator in China that completed its IPO in July 26, 2007, and that:
Pays a regularly quarterly dividend, and
Just paid a special dividend.
Who is Fosun?
"Fosun is a multi-billion entity that mainly invests in sectors that would significantly benefit from the growth in domestic demand of China, such as consumption and consumption upgrade, financial services, resources & energy, and manufacturing upgrade, with a view to participating in the rapid development of China's economy."

"Fosun has been tapping into PE investment in large scale since 2007. As of 31 December 2011, Fosun has invested in more than 60 companies, of which 17 companies have been successfully listed. Fosun's investments mainly focus on China's growth momentum and take place by means of M&A"
Investors can also read about the successful investments Fosun has made here and here, including companies based in China and countries that wish to gain exposure to China.
Why Fosun Is Buying PWRD?
1. PWRD is so cheap, selling at a meager P/E of 6.4 on 2013 EPS estimates.
Perfect World Co. released its 2012 fourth quarter earnings release on March 11, 2013. The company exceeded analyst EPS by 18%, while revenues were in line with estimates. However, PWRD issued 2013 first quarter financial guidance that was well below analyst estimates. It seems to us that the unimpressive guidance is the result of a temporary issue stemming from product launch delays, as opposed to weak business conditions. Fosun may have seen the negative market's response as an opportunity to add shares, prompting it to increase its PWRD holding by over 4%.
Valuation
A Look at Comparables:
We have compared select PWRD financial metrics with some of its competitors that are listed in the U.S. market as well as in the Hong Kong and China mainland markets in an attempt to identify the valuation difference between these companies; Giant Interactive Group, Inc. (NYSE:GA), Shanda Games Limited (NASDAQ:GAME), Changyou.com Limited (NASDAQ:CYOU) Tencent Holdings Ltd. (KH:0700), NetDragon (HK:0777), Kingsoft Corporation Limited (HK:3888), Shenzhen Zqgame Network Co., Ltd. (SHE:300052).
| | | | | | | | | |
| --- | --- | --- | --- | --- | --- | --- | --- | --- |
| TTM | PWRD | GA | GAME | CYOU | HK:0700 | HK:0777 | HK:3888 | SHE:300052 |
| EV/Sales1,2 | 0.2 | 3.4 | 0.6 | 1.7 | 9.8 | 4.5 | 5.8 | 6.8 |
| P/E | 5.2 | 8.3 | 3.8 | 5.4 | 26.3 | 13.0 | 14.8 | 103.9 |
| P/tang. BV | 0.9 | 3.3 | 1.5 | 3.6 | 9.9 | 3.4 | 3.1 | 2.2 |
1 All ratios are calculated based on stock price as of 04/23/2013
2 Company financial data denoted in currencies other than USD are converted into USD using the foreign exchange rate as of 04/23/2013
Clearly, PWRD is trading below the EV/Sales and Price/tangible Book Value of its competitors and its P/E ratio is also among the lowest levels. We believe it is possible that Fosun is aware of this valuation gap, realizes an attractive investment opportunity, and perhaps views PWRD as a going private candidate
2. PWRD As An Asset Play: Hidden Real Estate Assets In PWRD's Balance Sheet
PWRD's property:
"In anticipation of the continuing business growth trend and the demand arising from staff expansion, we purchased office premises with an area of approximately 4,500 square meters in November 2007. We also purchased additional office premises with an area of approximately 2,700 square meters in January 2008. Both premises are located in Beijing, China, and the total purchase price is approximately RMB73.7 million (US$10.8 million). These premises are currently used by for customer service and game operation purposes."

"In March 2008, we entered into agreements for the purchase of the office buildings with an area of approximately 55,000 square meters in Beijing. The aggregate purchase consideration is approximately RMB700.0 million (US$102.6 million), and we have paid RMB672.0 million (US$98.3 million) as of March 31, 2009, with the remaining consideration expected to be paid in 2010. The purchased office buildings will be used as our principal executive offices to meet the demand arising from our recent business expansion and headcount increase."
Therefore, between November 2007 and March 2008, PWRD spent $112.4 million for its office buildings.
Following US GAAP, PWRD's depreciation method is as follows:
"Property, equipment and software are stated at cost less accumulated depreciation and impairment."
Property, equipment and software are depreciated at rates sufficient to write off their costs less impairment and residual value, if any, over the estimated useful lives on a straight-line basis. The estimated useful lives are as follows:"
| | |
| --- | --- |
| | Estimated useful life |
| Office building | 33 - 40 years |
| Office furniture | 5 years |
| Computers & office equipment | 4 years |
| Game servers | 4 years |
| Motor vehicle | 6 years |
| Office improvement | 20 years |
| Leasehold improvement | Lesser of the term of the lease or the estimated useful lives of the assets |
| Software | 5 years |
So evidently, regarding the $112.4 million office building, PWRD depreciated its properties:
"…at rates sufficient to write off their costs less impairment and residual value, if any, over the estimated useful lives on a straight-line basis."
Therefore, due to depreciation assumptions, the office building's value on the balance sheet is lower than $112.4 million, when in reality; the fair value of PWRD's office building has doubled over the past five years.
Based upon DTZ Research from November 2007 to March 2008, in Beijing the DTZ office price index was around 120 as compared to the office price index at the end of 2012 of around 240. Thus, the average office price in Beijing has increased around 100 percent.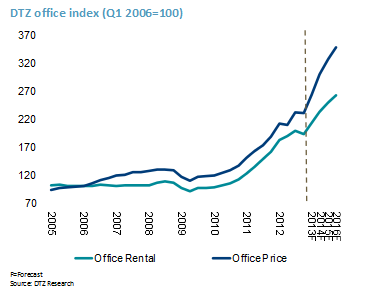 Disregarding the fact that PWRD made substantial improvements to its office building after its purchase, the real value of PWRD's office building has increased around 100%. A valid current fair value for PWRD's office building should be more than $220 million. Considering the use of PWRD's straight-line basis depreciation, the real book value for PWRD's office building should be at least $110 million more than its current book value, or more than $2.20 per share.
As of December 31, 2012, PWRD's total cash and cash equivalent restricted cash and short-term investments were $513.6 million, or approximately $10.60 per share.
So, from looking at the PWRD's indisputable assets, shares are worth a minimum of $12.80 without taking into account other facets of its operation.
3. Upside To Asset Value Will Depend On The Success Of Growth Initiatives: In 2013, PWRD Is Launching Several Important New Games.
As stated by PWRD chairman Mr. Michael Chi in its 2012 fourth quarter earning press release:
"During the past year of 2012, we decelerated in-game promotional activities and primarily focused on longer-term projects in our pipeline and content enhancements for our existing titles in order to maintain a healthy life cycle of our portfolio and sustainable growth of our business. As such, our 2012 results came in softer than our previous year's results."
However, in 2013, PWRD plans to release several important games. These new games could lead to an increase in cash flow and profit for PWRD in the near future.
On October 19, 2012, PWRD and Valve, a leading entertainment software and technology company based in the United States, announced an agreement granting Perfect World exclusive rights to operate DOTA 2 in mainland China.
On April 28, 2012, PWRD will be able to beta test its newly acquired Chinese servers for DOTA 2, according to Perfect World CEO Robert Hong Xiao. This step is very significant for DOTA 2 in introducing the game to an eager Chinese audience.
In fact, according to a report by DFC Intelligence, DOTA 2 has surpassed League of Legends as the most played "core" PC title in the West through the first quarter of 2013. It is expected that DOTA 2 can also be one of the most popular games in China after its official launch.
In addition to the potential launch of DOTA 2 in China, PWRD has several other big games in the pipeline slated for release in 2013, including but not limited to:
Launch of "Adventure in the Three Kingdoms"
On January 23, 2013, Perfect World launched "Adventure in the Three Kingdoms" in China and Southeast Asia. "Adventure in the Three Kingdoms" is an RPG web game based on the Three Kingdoms, a well-known period in ancient Chinese history. The game is a 2D turn-based cartoon-style web game with automated battle features.
"Battle of the Immortals" Expansion Pack - "King of the Gods"
On December 11, 2012, Perfect World released the expansion pack "King of the Gods" for its 2.5D mysterious adventure MMORPG "Battle of the Immortals." First launched in Mainland China in April 2009, "Battle of the Immortals" has been licensed to dozens of countries and regions.
Launch of "Zhu Xian" and "Chi Bi" in Southeast Asia Through the Company's Subsidiary
In December 2012, Perfect World began to operate "Zhu Xian" and "Chi Bi" in Southeast Asia through its overseas subsidiary. "Zhu Xian" is Perfect World's 3D MMORPG based on a popular Internet novel with the same name. First launched in Mainland China in May 2007, "Zhu Xian" has since been successfully licensed to dozens of countries and regions. "Chi Bi" is Perfect World's 3D MMORPG also based on the Three Kingdoms, and was first launched in Mainland China in January 2008.
Launch of "Battle of the Immortals" in Korea Through the Company's Korean Subsidiary
In February 2013, Perfect World began to operate "Battle of the Immortals" in Korea through its Korean subsidiary.
Launching DOTA 2 and other important games in 2013 can increase PWRD's top line in 2013. Therefore, we predict that beginning in the second quarter of 2013, PWRD's revenue can increase significantly.
Conclusion
The attractiveness of PWRD as an investment opportunity stems from a combination of:
Following the lead of a China-based company that has had success investing in U.S. listed Chinese companies in the past, and
The knowledge that regardless of the PWRD growth profile, the company is selling below the value of its most identifiable assets, or $12.80 per share.
Investors that believe PWRD can also grow its business would likely value its shares above this level. The fact that Fosun paid as much as $12.48 could support this assumption.
Disclosure: I am long PWRD. I wrote this article myself, and it expresses my own opinions. I am not receiving compensation for it. I have no business relationship with any company whose stock is mentioned in this article.