Shareholders received some good news late Monday, when Winn Dixie (NASDAQ:WINN) released better than expected third quarter results and ramped up guidance. Its shares soared more than 12% in after hours trading after smashing earnings estimates of 12 cents, by delivering a "awe inspiring" 159% beat of 30 cents. The company also ratcheted up its fiscal 2009 EBITDA outlook range substantially - lifting the bottom of its prior range to $145 million (a 32% increase) and its top end to $152 million (a 22% increase).
Operational improvement evident: WINN's gross profit margin improved 90 basis points from 28% to 28.9% due to beneficial product mix changes, lower transportation outlays and reduced LIFO costs. Identical store sales increased .2%, aided by a 4.5% transaction count gain coupled with a 5.3% basket size increase. On the negative side, the company's operating and administrative expense category went the wrong way, increasing 50 basis points from 26.6% to 27.1% on higher payroll and utility costs. WINN's income tax rate didn't help matters either, spiking 250 basis points from 40.9% to 43.4%
The future seems brighter: The company is on track to complete one half of its remodeling program by the end of fiscal 2010 and the balance of its stores by 2013. The company's cash position is strong, and it does not expect to utilize its credit line in 2010, citing ample current liquidity of $662 million. WINN is also making nice progress with its corporate brands program by delivering a 21.8% improvement in its penetration rate.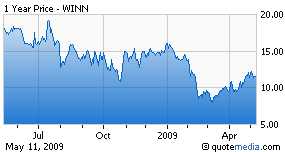 Share price outlook: Although the shares have nearly doubled from last March's lows, they still possess further upside. In fact, a run to the $20 mark by summer is not out of the question, especially with the aid of short covering. If we sprinkle in, a little technical analysis in to break up the monotony, WINN's price chart shows its 200 day moving average line near the $15 vicinity, and penetration above that key area, would likely confirm another leg up and virtual destruction of any remaining short positions.
Disclosure: Long WINN.