When Silicon Motion (NASDAQ:SIMO) reports 1Q results after the close in a few hours (conference call Friday 8am EST), we expect shares to trade up if it maintains full-year guidance of revenue growth of 10-20%. Then again, we also expect shares to trade up if guidance is reduced. Shares currently trade at just 3x EPS 2013 EPS ex-cash of $5 per share, offer a 5.6% dividend and there is a buyback in place. Barring an unmitigated disaster, a scenario we don't envision, shares should move higher, and return 30-60% over the next few months.
The ideal time to buy a semiconductor stock
Virtually any experienced semiconductor analyst will tell you the ideal time to buy a semiconductor stock is when margins have bottomed (and conversely, to sell when margins are peaking). For example, Intel's (NASDAQ:INTC) recent shares price move higher can be attributed to the view that margins have now bottomed. In our experience, the following attributes are found in the ideal semiconductor long:
Margins at bottom
Revenue at bottom
New product cycles about to launch
New customers to be added
Cash rich/debt-free balance sheet
Cheap valuation
It is unusual to find a stock that meets all these criteria. Typically, semiconductor stocks move in anticipation of these events. For example, shares will often trade higher as the pace of deterioration begins to slow. To be able to buy shares of a stock precisely at a bottom is very unusual, but we believe that's what's currently being offered by SIMO.
How did SIMO get so cheap?
When SIMO reported 4Q results on Feb. 5th, shares traded slightly higher and closed at $14.99, despite setting 2013 guidance slightly below prior Street estimates. The company guided that 1Q revenues would be down 15-25% due to seasonality, tight NAND supply for cards (although it noted loosening), and Samsung (OTC:SSNLF) phone product transitions. It also guided that gross margins would be 44-46%, versus 44.6% in 4Q, but guided that margins would move up to 48-50% in 2H. It commented that it was confident about Samsung over the course of 2013, but that like 2012, the business could be lumpy. Management also noted its expectations for explosive growth of eMMC controllers, which will likely grow from 10% of revenues to 20% in 2013. Overall, they guided 10-20% y/y growth for 2013, although clearly the revenue growth would be very weighted to the second half.
Since earnings, there are two things that we believe have taken shares lower. First, reports at the end of February indicated that SIMO's LTE transceiver was not in Samsung's flagship Galaxy IV smartphone. Second, continued tightness of NAND means that upside to card/flash drives over the course of 2013 could be limited.
Should we be worried about SIMO and Samsung
The evidence suggests little reason to be concerned about SIMO's ongoing LTE transceiver relationship with Samsung. LTE grew 65% in 2012, and management guided to 2013 growth of 50-75%. While it would be great for SIMO to be in the Galaxy IV, it doesn't mean that SIMO won't be in numerous other models. Specifically on their 4Q conference call, CEO Wallace Kou stated, "the timing and roll out of Samsung's products may vary by geography and carrier, even for the same flagship model." Simply put, we should not extrapolate a loss of Samsung due to initial Galaxy information. Further, with it being widely reported that Samsung is experiencing critical component shortages, and with expectations for a plethora of new models in coming quarters, we think it is extremely likely that SIMO will have multiple important wins in the quarters ahead.
In addition, should this concern hold real merit, we would expect a significant increase in short interest. Instead, throughout the first quarter, we have seen short interest remain low.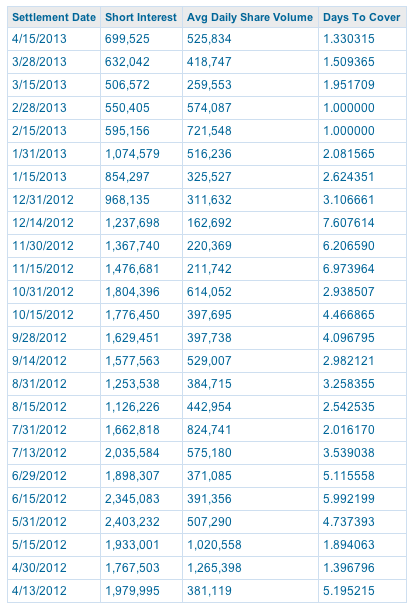 Source: Nasdaq.com
More likely, with concerns regarding Samsung, and little reason to expect near-term upside, a few longs decided to exit, creating an excellent entry point for investors like ourselves.
Regarding the tight supply of NAND, we believe that could modestly impact card and USB volumes. However, the reason NAND is tight is because of the explosive growth of smartphones and tablets. Notably, the gross margins SIMO has on these high-growth segments is approximately 500bps above those of older products.
Our expectations for 1Q results and outlook
On April 1st, management set its 1Q earnings date, and reported that 1Q would be down approximately 20% from 4Q, in-line with the down 15-25% it had guided.
We expect management to maintain or slightly reduce full-year guidance of 10-20% revenue growth, although we note that the sell-side is already at the low-end. Specifically, 2013 consensus revenue is $309 million, up 10% from the $281 million in 2012. While it is possible that revenue growth expectations could be tempered, we feel very comfortable regarding gross margin improvement. Specifically, management noted on its 4Q call that it was transitioning product from older technology nodes 110 nanometer and above, to 55 nanometer, resulting in a significant cost savings beginning in 2Q. This cost savings will increase over the course of 2013, as the company expects 55nm to represent a third of product by year-end. In addition, the rapid growth of the eMMC market should also enable faster than expected growth of this higher margin segment.
The street currently expects $1.84 in EPS for 2013. While we are optimistic this estimate will remain intact, should it be reduced to $1.50, shares would still be trading under 4x 2013 EPS, ex-cash, with several potential catalysts in the months ahead.
Could SIMO be the next HIMX?
SIMO in many ways reminds us of Himax (NASDAQ:HIMX) in 2012. Himax, also based in Taiwan, is a small-cap company that supplies LCD-driver ICs. In 2012, Himax saw margins improve as they shifted their mix and introduced new products. Similarly, SIMO expects its mix of new products to increase from 31% in 2012 to 40-45% in 2013 (and over 50% in 2014). And with that, margins should also move up significantly.
Himax, like SIMO, was also unbelievably cheap. Despite Himax management's constant refrain regarding its confidence in the company's prospects, a P/E multiple of 3x ex-cash, a generous dividend, and a buyback, an investor could have bought virtually as many shares as they wanted under $2 a share for most of 2012.
Himax Shares Jan 1, 2012 - November 14, 2012

Source: Y-Charts
Sometimes solid companies stay cheap for a long time. In the case of Himax, in November, an institution finally took notice, and started building a position. Over the next 3 1/2 months, shares appreciated 70%.
Himax Shares November 14, 2012 - March 4, 2013

Source: Y-Charts
Since March 4th, shares of Himax have risen dramatically, in large part due to the work of Seeking Alpha writer Mark Gomes who identified Himax as being an LCOS supplier for Google (GOOG) Glass.
Himax Shares March 4, 2013 - April 25, 2013

Source: Y-Charts
Could anyone buying Himax last fall at $1.80 have expected a triple? Our point is that when you buy a high quality, cash-rich technology company at 3x EPS, a lot of good things can happen, especially given the numerous opportunities created by the rapid pace of technology change.
Currently, SIMO is out of favor. Numbers could go down. That said, we believe this is a high-quality supplier where a lot could go right. Despite the slowing of the flash card and USB markets, SIMO's controllers have had 12 consecutive quarters of ASP increases. Each succeeding generation of memory demands higher performance, and SIMO has delivered.
Over the next few months, we'd expect to find SIMO's LTE transceivers in a number of Samsung models, which could very quickly change the psychology on the stock. Later this year, we expect SIMO to announce a relationship with another major NAND manufacturer - likely Micron (NASDAQ:MU) as a supplier of eMMC controllers. After all, management specifically said on their 4Q call that another NAND player wants to engage them for eMMCs, and that SIMO has been too R&D constrained to engage with them yet.
With a company of SIMO's market cap, as we have seen with HIMX, all it takes is some relatively modest institutional sponsorship to get shares moving. And a move just to 5x-6x earnings could yield a 30-60% return. Of course, new technologies are always emerging. We don't know what new applications for NAND may develop in a year or two, but we'd certainly expect SIMO to be there - who knows, down the road SIMO may eventually have its equivalent upside surprise of Google Glass.
Disclosure: I am long SIMO, MU. I wrote this article myself, and it expresses my own opinions. I am not receiving compensation for it (other than from Seeking Alpha). I have no business relationship with any company whose stock is mentioned in this article.
Additional disclosure: We conduct thorough research on our ideas, but our views are our own. Please do your own research.