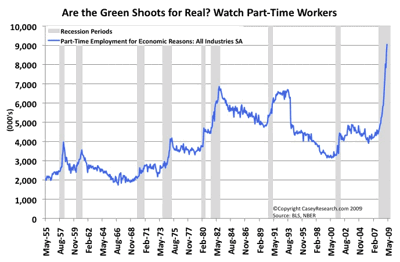 Click to enlarge
All I have to say is wow! I knew we had a problem with the underemployed, which in my opinion is a more serious concern than the unemployed. Why? It's like having a society of the walking dead, without the social safety nets of Europe. Now, I didn't say I liked the socialist policies in Europe, but I also don't like to see a sharp spike of 100% over the last 18 months. Somehow over the last 30 years we ended up with both spouses working and nobody getting ahead.
So, we have this info, but what does if have to do with the price of tea in China (or, more specifically, the price action in the market)? I think if I had seen these numbers earlier, I would have lost more money being short. The bottom line is that we need more jobs. This week's Business Week addressed the issue in a piece by Michael Mandel who suggests that Obama cut the corporate tax rates for multinationals. I agree with his comments here.
The tax system will get another layer of complexity—effectively a 'stimulus package' that benefits tax lawyers and accountants who find new loopholes. And to the degree that the new proposals bite, U.S.-based multinationals will find themselves at a bigger tax disadvantage compared with multinationals based outside the U.S. that operate under a different set of tax rules. In essence, the Obama proposal is a tax increase on companies headquartered in the U.S. The end result could well be fewer good jobs in the U.S.
Now that we know the problem, what is the trade? I still say retail is going to be weak, and is one of the few places I want to be short for longer than 3 hours. Second, with jobs not on the mend, we may continue to see weakness in housing prices, but it is not clear if existing homes are going to start to move at lower prices. Meaning, you can still get some movement for the 3 out of 4 households that are not underwater on their mortgage. So, services that help people buy and sell homes faster and cheaper are worth a look. Monday we initiated a position in MOVE and will give some updates on this position in later posts. Staples, if we don't see a recovery, could remain decent dividend payers opposed to the talking heads on CNBC that suggest you dump anything defensive and go for growth. Folks, we are not going to see it for a while.
Disclosure: Long SCC, MOVE.