The share price of Wal-Mart (NYSE:WMT) has appreciated by 33% over the past 12 months and just reached its 52-week high at $79.50. While the stock still offers a decent 2.4% dividend yield, investors should be cautious at this level as the elevated valuation has notably diminished the investment's margin of safety. There are three reasons supporting my view.
1. Wal-Mart shares are fully priced relative to Target (NYSE:TGT), the company's closest peer (see chart below). While Wal-Mart's consensus 2-year revenue and EBITDA growth rates are higher than those of Target, its 2-year and 5-year EPS growth estimates are significantly below the peer benchmarks. On the profit side, Wal-Mart's various profitability margins are below Target's but its capital return ratios outperform. In terms of leverage and liquidity, Wal-Mart carries a lower debt load but the firm has a lower free cash flow margin. Due to the lower leverage, Wal-Mart is able to maintain a higher interest coverage ratio. However, both the firm's current and quick ratios are below Target's levels, reflecting a mediocre balance sheet condition.

Click to enlarge
Wal-Mart's current price multiples at 8.2x forward EBITDA and 14.6x forward EPS (next 12 months) are just marginally below the same multiples of Target. After accounting for both firm's 5-year EPS growth estimates, Wal-Mart's PEG ratio of 1.5x is 25% above Target's figure at 1.2x. Wal-Mart's considerably larger size and better capital return performance are supportive factors to the PEG valuation gap. But considering the firm's weaker long-term earnings growth potential as well as its lower profitability and free cash margins relative to those of Target, the valuation gap appears to be somewhat stretched (see chart above).
2. Despite the 33% price run-up in the past 12 months, the market's consensus revenue, EBITDA, and EPS estimates for 2014 and 2015 have experienced an almost flat performance over the period (see charts below). The consensus estimates trended up slightly 6 months ago, but recently dropped back to the levels that they were at exactly a year ago. Since there have been no significantly positive developments in the company itself over the period, the price appreciation suggests the valuation has actually become increasingly frothy.

Click to enlarge

Click to enlarge

Click to enlarge
3. Of the total 28 analyst ratings compiled by Thomson One, there are 7 strong buys and 5 buys. However, analysts' average 1-year price target at $79.63 is only 2.1% above the current share price. Based on the capital asset pricing model, Wal-Mart's cost of equity should be at least 6.0% (see chart below). If the theory holds, sell-side's average price target would suggest Wal-Mart shares are fully valued at the moment or even slightly overpriced.

Despite the above negativity, I believe the following facts should justify a hold recommendation for existing shareholders:
1) Wal-Mart shares are currently trading in line with the S&P 500 Index in terms of the forward P/E multiple (14.6x vs. 14.6x), and the company's significant size, above-market long-term earnings growth potential (9.8% vs. 8.2%), and solid return on investment performance are the supportive factors.
2) The company has been able to sustain a stable capital return and margin performance over the past 3 years (see charts below).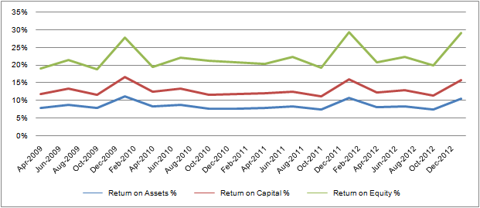 Click to enlarge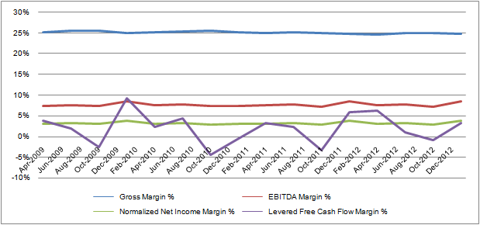 Click to enlarge
3) The stock's 2.4% is still decent under the current low-interest market environment and it is comparable to the average yield for the S&P 500 Index. The firm is also committed to a double-digit dividend growth rate. Since 2010, Wal-Mart has raised the dividend 3 times by 21%, 9%, and 18%, consecutively. In addition, the stock price also gets somewhat supported from the share repurchase program, which retired approximately $7.6B value of shares in the past fiscal year.
For potential buyers, I would recommend waiting for a pullback or selling out-of-money puts for a better margin of safety.
All charts are created by the author except for the consensus estimate tables, which are sourced from S&P Capital IQ, and all financial data used in the article and the charts is sourced from S&P Capital IQ unless otherwise specified.
Disclosure: I have no positions in any stocks mentioned, but may initiate a long position in WMT over the next 72 hours. I wrote this article myself, and it expresses my own opinions. I am not receiving compensation for it (other than from Seeking Alpha). I have no business relationship with any company whose stock is mentioned in this article.