As most of you are already aware, I am a big fan of the agency mREIT sector. Specifically, Annaly Capital (NYSE:NLY) and American Capital (NASDAQ:AGNC). While I hold shares currently of NLY and not of AGNC, that does not mean that AGNC is not as good a stock as NLY. Truth be told, AGNC has outperformed the "grand-daddy" (Annaly) of the business for the last 3 years or so.
I believe that any dividend seeking investor who understands the risks involved in this sector can easily hold both stocks with a risk allocation of up to 4% in each. Personally, I would not allocate more than 10% in total to the entire sector, as any major fluctuation in interest rates, or in the yield curve spread could have a mostly negative impact on these stocks.
All of that being said, I believe that there are indications that this sector will return strong shareholder value, in terms of dividends for the foreseeable future.
Do Not Let The Red Herrings Scare You
There is plenty of fear in the markets and plenty of risks within this sector already. I believe we are all acutely aware of the majority of them. Recently, Fed Governor Jeremy Stein started looking at the growth of the mREIT sector, and spoke about it in a recent speech he gave:
Fed Governor Jeremy Stein pointed to the expansion of mortgage REITs, which have amassed almost $400 billion of the debt, during a speech last month on risky behavior in credit markets influenced by the central bank holding borrowing costs near zero for a fifth year and investors searching for high-yielding assets.
If you glance at the following chart from Morgan Stanley, the "players" in the MBS sector shows that the REITs are way down on the totem pole: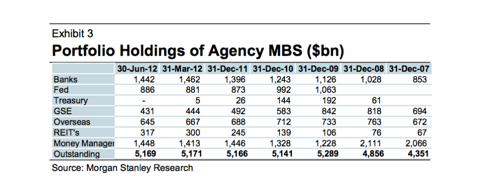 Just as the situation arose in 2011 about the IRS tax status of these securities, I do not believe anything will come of this "look-see." As a matter of fact, in 2011, after the SEC opened the issue for comments from anyone, nothing was ever heard from again. I believe it was politically motivated back then, and this "feels" like more of the same. Maybe the Fed does not like competition, but it appears that the competition is an insignificant amount, to interfere with anything the Fed can do.
More Evidence That Favors This Sector And The Dividends Paid
The Mortgage Bankers Association releases a weekly report showing the mortgage applications activity. In their most recent report, mortgage applications have increased once again. One point of interest is that refinances actually picked up a bit in this report, more than likely due to the announced extension of the HARP program through 2015.
Mortgage applications increased 0.2 percent from one week earlier, according to data from the Mortgage Bankers Association's (MBA) Weekly Mortgage Applications Survey for the week ending April 19, 2013...The HARP share of refinance applications increased from 31 percent last week to 32 percent this week, the highest level since MBA began tracking HARP applications in February 2012.
Normally, I would keep a closer eye on this metric, but then we have the MBA mortgage finance forecast for the next few years just released. Take a look at it: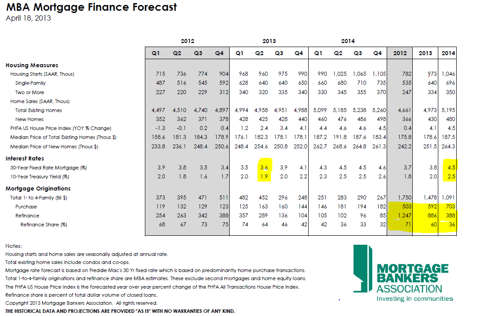 The highlighted areas are indicators to me, that under the current Fed programs, the Association sees a significant drop off in the refinance (prepayment) area, and more first time mortgages written at higher interest rates (even with the Fed policy of spending $85 billion per month of longer-term treasuries, and mortgage backed securities).
Even the 10-year Treasury yield is forecast to be at about 2.5%, and as long as ZIRP remains in place, both NLY and AGNC will have a significantly wider yield curve spread to profit from.
If these forecasts are accurate, more profits will mean higher dividends for shareholders under the IRS rules pertaining to the entire mREIT sector.
My Opinion
For dividend seeking investors, I believe that the current share prices are more than fair entry points. I would break up purchases into bite-sized pieces, perhaps 1/4 at a time and stick to a risk allocation.
I also believe that before the end of this year, both companies could raise their dividends. I have been wrong before of course, but the signs I am seeing point in that direction.
Disclaimer: The opinions expressed by the author in this article is not a recommendation to either buy or sell any security. Please do your own research prior to making any investment decisions.
Disclosure: I am long NLY. I wrote this article myself, and it expresses my own opinions. I am not receiving compensation for it (other than from Seeking Alpha). I have no business relationship with any company whose stock is mentioned in this article.