Industrial Machinery Stocks Outlook
Analysts forecast a healthy outlook for industrial production, but they also expect limited cyclical upside and potential multiple compression risk for construction rental and aerial platform this year. Crane manufacturers, rental companies and wallboard suppliers are significantly earlier in the cycle in U.S. construction.
The chart below shows machinery stocks trading at a sharp discount to the S&P 500 against the historical range P/E multiples.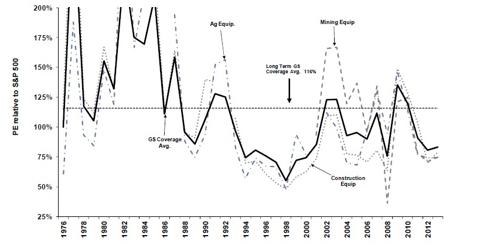 Source: U.S. Census Bureau data
Goldman Sachs expects a mixed earnings outlook for the Construction & Mining Equipment stocks, with sharp expected upside for Manitowoc (NYSE:MTW) and Oshkosh (NYSE:OSK), and balanced risk-reward for Joy Global (NYSE:JOY) and Terex (NYSE:TEX). The investment bank reiterates its Buy rating on MTW as it expects "beat-and-raise" in the early stages of the crane capex recovery. The recovery can drive multiple expansions, while order risk is limited ahead of the Bauma trade show in mid-April this year.
Production Backlog
Given JOY's current levels of backlog and still solid international aftermarket demand, the company has relatively good visibility in 2013. Analysts forecast revenue growth will be flat, down to mid-single digits in the current economic environment. Despite the slowing of Chinese coal production, JOY continues to anticipate good equipment demand from its legacy businesses in China. JOY's larger mining customers in this region have not materially curtailed equipment spending.
Aftermarkets
JOY's aftermarket business in China remains solid given the intensity with which the company's equipment tends to be used.
A typical UK mine might produce 90 thousand tons of coal per week, while a similar-sized Chinese mine may produce 250 thousand tons, driving significant machine parts-related demand for JOY in China.
There are very few cancellations in the current cycle. This trend is likely to continue given JOY's practice of collecting around 20% down payment on most original equipment orders.
The graph below illustrates that JOY's aftermarket business is already 75% of its profits.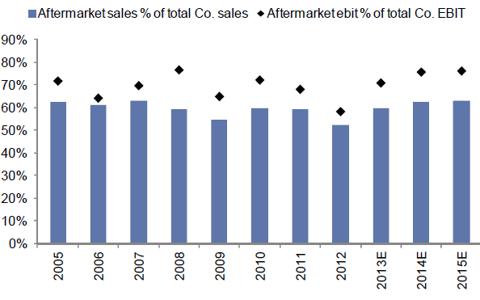 Source: Company Data, Goldman Sachs Research Estimates
JOY has an opportunity to improve the IMM unit's operating margin over time. The Chinese market for road headers and shearers has weakened over last few quarters and IMM's margins have suffered with increased competition from Chinese equipment makers. JOY's management could significantly improve its IMM business.
JOY bought its first local Chinese equipment manufacturer Shengda about five years ago with very low profit margins during that time. Shengda's margins rose to JOY's legacy underground equipment business in China when JOY took out cost in the business and improved Shengda's technology. Shengda's margins increased to 50% of JOY's Chinese revenues, coming in above the company's legacy underground equipment business. China is still viewed as a very difficult place to generate aftermarket sales; IMM only records about 30% of its sales from the aftermarket there. However, management is confident that it can achieve that percentage over time.
Solid Bookings
Bookings remain strong at an estimated $1.1 billion, roughly in line with previous-quarter levels. This reflects an ongoing bottoming process in U.S. coal and some resilience in international markets like China. Despite that, there is no perceived near-term pickup in bookings; the company has mentioned that it is currently working on four or five larger OEM opportunities.
Moreover, visibility around JOY's order book may be a little better than some investors may think because JOY actually booked a record amount of electric mining shovels in 2011, which together with still decent surface equipment orders in 2012, should lead to a situation where JOY is mostly sold out of surface production slots for 2013 by the end of its fiscal 2012.
Despite the weaker U.S. coal market, management is still confident that a majority of its production will be sold out due to JOY's solid pricing. The company sticks to its pricing strategy of moderate but consistent annual price increases, as opposed to a more volatile approach that involves more significant price increases during strong demand. These factors should help the company prepare for possible steep earnings shortfall.
Valuations
The aftermarket business of JOY now accounts for a significant share of its earnings. JOY is now trading at 12.5X aftermarket P/E. Investors expect a structural capital allocation shift towards returning cash to shareholders through buybacks by the second half.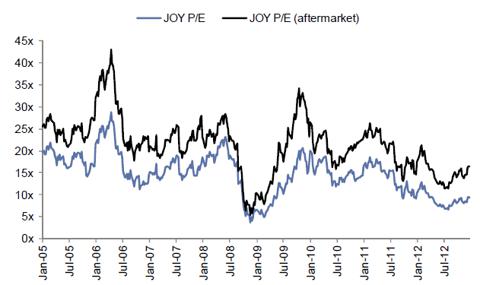 Source: Company Reports
Analysts have a consensus "Buy" rating and also expect some compelling factors for the stock to trade at a 12% free cash flow yield and at under 15X aftermarket P/E. JOY is on track to deliver future earnings in line with consensus estimate and leave 2013 guidance unchanged - a more resilient earnings profile than what the stock is discounting.
Disclosure: I have no positions in any stocks mentioned, but may initiate a long position in JOY over the next 72 hours.
Business relationship disclosure: Black Coral Research is a team of writers who provide unique perspective to help inspire investors. This article was written Hans Centena, one of our Senior Analysts. We did not receive compensation for this article (other than from Seeking Alpha), and we have no business relationship with any company whose stock is mentioned in this article.
Disclaimer: Black Coral Research is not a registered investment advisor or broker/dealer. Readers are advised that the material contained herein should be used solely for informational purposes. Investing involves risk, including the loss of principal. Readers are solely responsible for their own investment decisions.