Since the "great recession," yields on low risk fixed income instruments have plunged to near zero levels. This is the result of the Fed's ZIRP (zero interest rate policy), which was intended to provide liquidity to the economy and stimulate growth. Liquidity for the housing sector and small businesses is a goal of ZIRP. Congress has also provided favorable tax treatment for REITs and BDCs (business development corporations) in an effort to provide liquidity to those sectors. The zero interest rate policy has helped the U.S. economy to resume growth, although tepid.
As ZIRP has reduced the costs of some borrowing, it has deprived lenders, including retirees who live on the yields of their savings, of meaningful income from interest. The graph below illustrates the severity of the drop.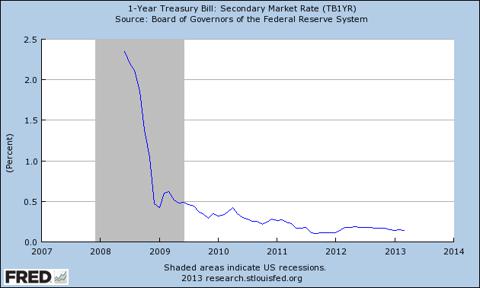 Click to enlarge
Yield-starved investors unwilling to accept a 90% reduction in income have been forced to look elsewhere for yield. One sector that still provides double-digit returns is mortgage REITs, known as mREITs. While yields on fixed income instruments have plunged, the mREIT sector has provided excellent returns to income-seeking investors for the past several years.
mREITs buy mortgages using ZIRP-fueled low cost short-term funding and substantial leverage. Many articles on Seeking Alpha explain the basic economic model of the mREIT sector, so I won't recap here. The major risks relate to changes in interest rates, flattening of the yield curve and exposure to the value of the underlying real estate assets.
Given the Fed's public commitment to continuing ZIRP until employment levels improve, many investors chose to accept those risks and collect the double-digit yields. The mREIT sector has grown at a torrid pace with many companies raising new capital through frequent secondary offerings. Dealogic reports that after averaging annual equity issuance of $4.9 billion from 2005 to 2010, they raised a record $16.5 billion in 2011 and $13.4 billion last year.
REM, the iShares NAREIT Mortgage ETF, is a basket of mREITs designed to track the leading index for the sector. It shows that mREITs provide double-digit yields with moderate volatility. REM currently trades at $15.25 and yields 11.4% with a beta of .79. REM's holdings are market cap weighted, so 38% are in Annaly Capital Management (NYSE:NLY) and American Capital Agency (NASDAQ:AGNC). Total return for the trailing twelve months is a gratifying 29.96%. Those numbers are typical of leading players in the sector such as NLY, Two Harbors (NYSE:TWO), AGNC, etc. REM is directed by Blackrock, which acts as investment advisor. There is also a new mREIT that offers double leverage. This new entrant is MORL, ETRACS' Monthly Pay 2XLeveraged Mortgage REIT ETN, which offers an amazing 19% dividend yield. MORL may raise concerns that the sector is getting too speculative, since it piles leverage upon the already heavily leveraged mREITs.
These attractive mREIT yields are now facing a threat. On Friday, April 19th, the Wall Street Journal ran two articles that suggest the mREIT sector is about to face regulatory action. In an article titled "Regulators Worry Mortgage REITs Pose Threat to Financial System", Deborah Solomon wrote:
A panel of top financial regulators is targeting mortgage real-estate investment trusts as a potential risk to the U.S. financial system, the latest example of Washington's growing concern with market bubbles.

Next week, the Financial Stability Oversight Council, a panel comprising the top U.S. financial regulators, is expected to cite mortgage REITs as a source of market vulnerability in its annual report, according to people familiar with the matter, a distinction that could set the stage for stricter oversight of the industry.

Eager to avoid the mistakes of the past, regulators are attempting to identify overly frothy activity before it poses problems. Even though the economy continues to recover only slowly, regulators see potential bubbles forming in a range of financial markets, in part because of the Federal Reserve's easy-money policies, which have driven interest rates to near-record lows and prompted investors to seek higher returns elsewhere.
These warnings are repeated and expanded upon in another article, which begins with "Regulators are casting a skeptical eye on a fast-expanding corner of Wall Street amid worries about the risks posed by mortgage real-estate investment trusts."
My belief is that mREITs provide useful liquidity to the housing market and do not pose a threat to the financial system as a whole. In fact, they move risk from the "system" to individual investors because nobody would say that mREITs are "too big to fail." Nonetheless, regulators and legislators who were burned by the housing crash and subsequent great recession are apparently on a path to increase regulatory requirements on the industry which could derail the mREIT gravy train.
Disclosure: I recently sold my portfolio of nine mREITs. I have no positions in any stocks mentioned, and no plans to initiate any positions within the next 72 hours. I wrote this article myself, and it expresses my own opinions. I am not receiving compensation for it (other than from Seeking Alpha). I have no business relationship with any company whose stock is mentioned in this article.