$189. That's the amount of money Apple (NASDAQ:AAPL) makes on average when it sells one of its products. Whether Apple sells an iPhone 5 or MacBook, the company earns $189 in operating income on each item.
Now $189 is an outrageous amount to make. In fact, it's much higher than the other guys. They'd kill for unit profits like that. Samsung (OTC:SSNLF) makes $92 on each sale. Nokia (NYSE:NOK) and BlackBerry (NASDAQ:BBRY) literally are drooling: They make next to nothing on each of their sales.
$189 would be nice if it weren't for one simple fact. That $189 unit profit is down almost 30% from a year ago. That's right. Last April, Apple took in a whopping $263 a device. Apple's unit profits have been dropping faster than an apple falls from a tree. It's as if gravity is pulling Apple's sensational unit profits back to earth.
The trend has been building, gradually at first. It began last year - just a little, but worrisome. It bothered me so much I dumped all of my Apple back in October, stock I'd held for years, and I began warning investors off the shares. You see when Nokia and Blackberry's unit profits began to go down, those stocks started to crash.
Here are the quarterly Apple unit profits. You can see the extraordinary rise and subsequent fall in unit profits. It will take a ton of unit sales to make up for plummeting unit profits.
For instance, if Apple's unit profit continues to drop at the current pace, next year's Q2 would dive to $132 in operating income per device. To maintain the same income, the company would need to sell 95 million iProducts, a 43% increase over this quarter's 66.5 million. It's doubtful Apple next year will lift its unit sales by 43%. If Apple boosted its unit sales by a still incredible 21%, the declining $132 unit profit would result in EPS of $8.54, well under this quarter's $10.09.
Falling unit profits do kill the bottom line. Just like I said last year, this dismal decline in unit profits isn't done.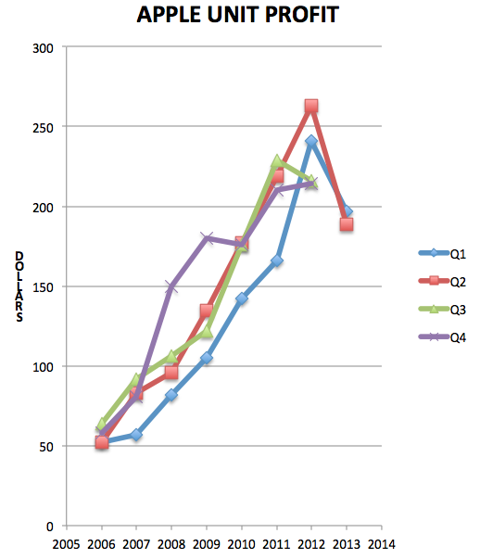 Click to enlarge
(Click to enlarge)
Disclosure: I have no positions in any stocks mentioned, and no plans to initiate any positions within the next 72 hours. I wrote this article myself, and it expresses my own opinions. I am not receiving compensation for it (other than from Seeking Alpha). I have no business relationship with any company whose stock is mentioned in this article. The opinions in this document are for informational and educational purposes only and should not be construed as a recommendation to buy or sell the stocks mentioned. Past performance of the companies discussed may not continue and the companies may not achieve the earnings growth as predicted. The information in this document is believed to be accurate, but under no circumstances should a person act upon the information contained within. We do not recommend that anyone act upon any investment information without first consulting an investment advisor as to the suitability of such investments for his specific situation.