The volatility of the international indexes is persistently low this year. Because of all the money flowing into stocks, every down move in the indexes is corrected quite rapidly. The United States and Japan each are adding $85 billion a month to the money supply. Safe havens like gold, as we saw it tumble recently, and savings (ask the Russians in Cyprus) seem not so safe anymore in the eyes of investors. Therefore, a lot of money flows into high yielding dividend stocks.
For the stock market, it means the bull-run started back in March 2009 has further upside potential. If the economy expands, stocks will profit from it. But if the economy contracts, the chance of more monetary easing will increase. And (decent dividend paying) stocks will also profit.
This week we saw the German PMI (Purchase Managers Index, an important measure of economic activity in the near future), come in below expectations. The reaction of the markets was remarkable: at first downwards because of the figure itself, later in the day up 2% because investors realized this figure would justify another rate cut.
A political or military event
So for the bears, fighting the Fed has, as always, been costly. If the economy is expanding quite slowly, like it does right now, Central Banks will keep easing. Interest rates will stay low and stocks will be very attractive for quite some time. Apart from higher interest rates, there's only one real danger for the stock market in the near future: a political or military event. North-Korea, Iran, Syria, there are plenty of countries to keep an eye on. And then there's Europe, of course. Needless to say that the political changes in countries like Italy, Germany and Spain can have an enormous impact on the survival of the eurozone.
VIX-Futures historically low
To protect your stock portfolio against sudden shocks from such an event, you could take a long position in the VIX-index future.
The VIX-index, often referred to as the fear index, measures the implied volatility of S&P 500 index options. The 20-year moving average or the VIX-index is around 20. The highest VIX reading in 20 years was 89 in 2008 (Lehman event). The lowest was 9.3 back in 1993. At the moment the VIX is fluctuating between a low of 12 and a high of 16.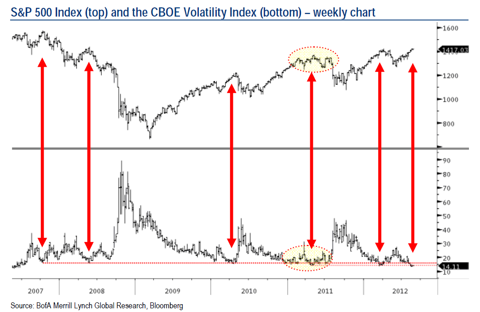 Click to enlarge
VIX index from July 2010 until October 2011
Buy the VIX around 12-13
Just buy the VIX every time it trades around 12-13. There is not much downside risk. A VIX-index close to zero would mean put and call options would be given away for free. That of course will never happen. We can just sit on our position and wait for something to occur. In the current environment, there'll always be something which moves the stock market.
When it shoots up to 16-20, which is the average level of the past 20 years, you can decide whether to take a profit or to keep the position for insurance.
The VIX-Index is listed at the Chicago Board Options Exchange (CBOE). On April 4th the CBOE announced that trading hours for VIX futures would be expanded. On May 30th In Europe, VIX futures are tradable from 3 am. until 4.15 pm. Later this year the CBOE intends to expand trading hours to 24 hours a day, 5 days a week.
The VIX-index can be traded through futures, options and ETF/ETN's. There's actually quite a list of suppliers for these products. Most traded is the iPath S&P 500 VIX Short-Term Futures ETN (NYSEARCA:VXX).
In Europe, VIX Futures can also be traded through leveraged financial instruments issued by commercial banks like the Royal Bank of Scotland (NYSE:RBS) and Commerzbank (NYSE:CBK).
Disclosure: I have no positions in any stocks mentioned, and no plans to initiate any positions within the next 72 hours. I wrote this article myself, and it expresses my own opinions. I am not receiving compensation for it (other than from Seeking Alpha). I have no business relationship with any company whose stock is mentioned in this article.