Taking a new look back at the five-year volume trend for no-debt, no-hedge income stocks, we raise our estimate of Net Present Value (NPV) to $32 from $24 a unit for Dorchester Minerals, L.P. (NASDAQ:DMLP) and to $60 from $47 a unit for Sabine Royalty Trust (NYSE:SBR). At the same time we lower estimated NPV to $26 from $34 for hold-rated San Juan Basin Royalty Trust (NYSE:SJT) and to $32 from $42 for unrated Cross Timbers Royalty Trust (NYSE:CRT).
DMLP and SBR appear to be registering no decline in volume recently while SJT and CRT appear to be registering a decline of about 3% a year (see charts below, Volume – Revenue Royalty Trusts and Volume – Profits Royalty Trusts).
Meanwhile, continuing low natural gas price limits current cash flow illustrated in minimal distributions for buy-recommended Hugoton Royalty Trust (NYSE:HGT) in the next few months. A 2% decline rate contributes to NPV of $28 a unit for HGT. The range of McDep Ratios has narrowed for U.S. Royalty Trusts. As a result, we believe that all six of the U.S. Royalty Trusts and DMLP, which has similar characteristics, are attractive commitments. Yet, despite our positive view, five of the seven stocks are among the most out of favor in our coverage measured by stock price to moving average. Investors may need to be patient and have tolerance for possible unfavorable stock price surprise.
Minimal Distributions, Better Value for Hugoton Royalty Trust
On the downside, low natural gas price and low distributions are depressing stock price. On the upside, the price structure in the futures market illustrates a possible recovery pattern. Beyond the latest futures price of $3.60 a million btu for May 2009, the average for the twelve months ending in April 2010 is $4.70 and for the next six years ending in April 2015 is $6.60. Moreover we believe natural gas futures are underpriced relative to six-year oil futures at $69 a barrel, which implies an energy equivalent price for natural gas of more than $11. On the latter basis our long-term natural gas price of $10 for calculating Net Present Value for HGT of $28 a unit looks reasonable to us. Looked at in reverse, current stock price of $10 a unit implies a long-term natural gas price of $4, which is less than the 12-months futures quote.
Some Ratios Too Low for Estimating NPV
Looking to our final comparison, the stable volume trends for SBR and DMLP are strong evidence as to why some reserve ratios are too low for valuation purposes. Similarly, because Ebitda excludes amounts spent by others for revenue royalty beneficiaries, cash flow multiples like EV/Ebitda could be misleadingly high.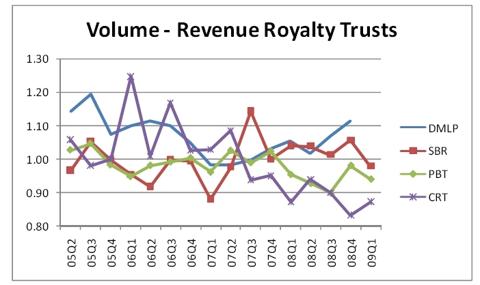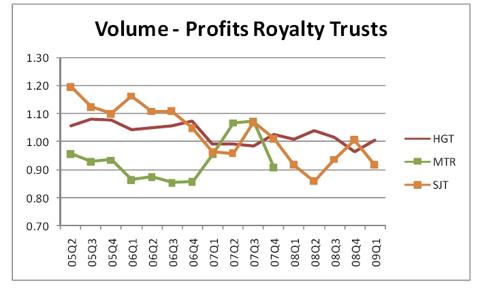 Originally published on April 17, 2009.