In my last article, I discussed the vast amount of upside that gold has in the next few years. After further research, there is another gold-related sector that could experience some upside over the next few months: the gold miners.
Obviously there are many different companies in this space, so I've decided analyze two of the better looking ones within the industry. In no particular order, let's start with Goldcorp (NYSE:GG).
Goldcorp recently just reported first quarter EPS of $.40 a share vs. analyst estimates of $.32 cents a share. The company earned $290.9 million in the quarter that ended on March 31st. This was up from $229.5 million, or 32 cents, in the year-before period. Gold production for Goldcorp climbed 18.1 percent to 616,500 ounces and gold sold rose 17.4 percent to 607,900 ounces.
Chief Executive Chuck Jeannes stated in their conference call,
We remain confident in our existing production and cash costs guidance of approximately 2.3 million ounces of gold at a total cash cost of approximately $365 per ounce on a by-product basis and $400 per ounce on a co-product basis.
From a cost outlook, this is good news for Goldcorp, as gold prices continue to look bullish for the foreseeable future, and as long as they can keep this forecast, we should see a nice jump in revenue over the coming quarters.
What's more is that Goldcorp has forecast output to rise to 3.5 million ounces in 2013. It looks bullish however you look at it.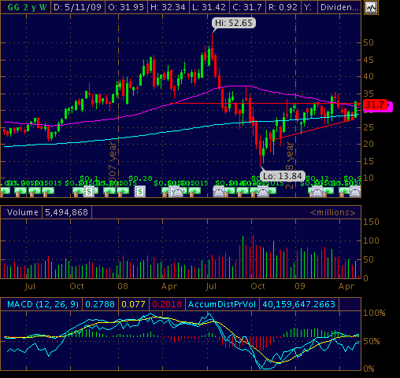 (charts courtesy of thinkorswim)
Looking at a chart, the picture appears very interesting. GG is in the process of forming what looks to be an ascending triangle over the past six months or so. As long as GG can hold the 50-day moving average, we could well be in for a break of resistance at 31.7. The first target on the way up would be $35. Anything above that, and GG could be headed for a retest of the highs set last July.
Another miner that caught the eye was Yamana Gold (NYSE:AUY). They recently reported Q1 EPS of $.12 vs. analyst estimates of $.06 a share. Net earnings rose 33% to $86 million in the first quarter ended March 31, compared with the same period of 2008. Revenue for Q1 came in at $224.3 million.
In the conference call, Yamana stated,
The Company continues to focus on containing costs and ensuring effective management of capital expenditures… With total cash and available credit at approximately $347 million, supplemented by robust cash flow in addition to assets with additional cash value, Yamana is well positioned financially to fund its strategic growth plans. Yamana continues with its plan to increase annual production.
Again, the fact that Yamana is focused on growth in a time of recession is very bullish. Should they be able to keep costs level while gold and other precious metals continue to rise, Yamana should be well positioned to reap the rewards in the next few years.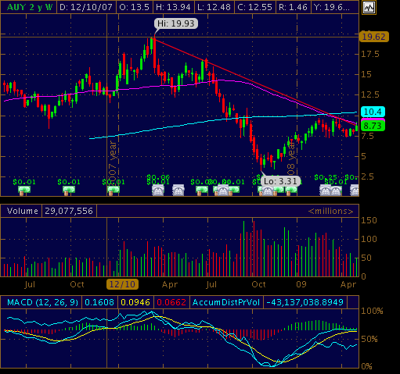 Looking at a chart, there is a clear inverse head and shoulders in the final stages of forming on the AUY weekly chart. Should we break out from $9, the path looks clear for a run at $12.50.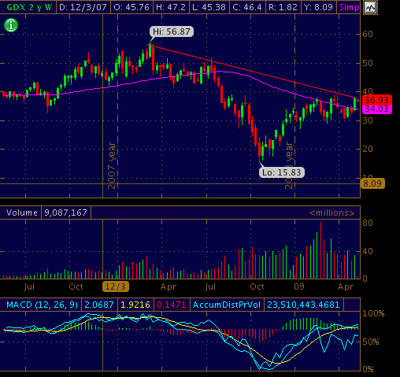 (charts courtesy of thinkorswim)

The same can be said with the GDX (Gold Miners ETF). A break above $37 would seemingly lead to a test of $50 in the next few months.
Of course, much of this analysis rests on the foundation that Gold will rise over the next few months, which I believe it will.
Good luck and comments/criticisms are welcome.
Disclosure: I am long AUY June $8 calls, and AUY July $9 calls.