We all know the Fed has short-term rates pinned to the floor. So I'm not saying we'll see rates surge higher anytime soon. And I don't expect the FOMC will raise rates at its meeting next week.
But even a minor adjustment higher in rates should make prices retreat enough for a trade. I think we could see 30-year bond prices fall back near 144'00 in the coming weeks. June futures are breaking their 9-day MA (light blue line) as I write and stochastics are starting to roll over.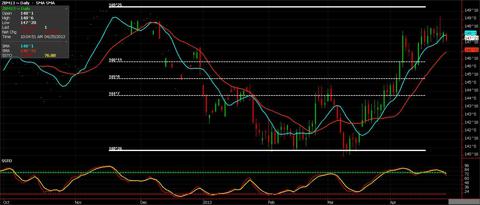 A toppy 30-year Treasury echoes the "risk on" theme I wrote about yesterday. Capital flows go into risk assets -- commodities and equities -- and out of the perceived safe haven of Treasuries when the market is confident. It appears this is where we are now.
There are several ways to construct a bearish Treasury trade. I would be willing to have bearish exposure in both the long and short ends of the curve.
Trade Ideas:
1.) Short June 30-year bond futures and sell out-of-the-money puts 1:1.
2.) Short one (1) 30-year bond and buy one (1) 10-year note futures -- NOB spread.
3.) Back Ratio Spread -- Sell one (1) June 30-year bond 147'00 put and buy four (4) June 30-year bond 145'00 puts. The cost of this spread should be between $775 and $800. The idea is to catch a 2-point move and liquidate sometime in the next two weeks. Do not hold until expiration unless prices collapse.
4.) Sell short long-dated Eurodollar futures (2015 and 2016 contracts).
Risk Disclaimer: The opinions contained herein are for general information only and not tailored to any specific investor's needs or investment goals. Any opinions expressed in this article are as of the date indicated. Trading futures, options, and Forex involves substantial risk of loss and is not suitable for all investors. Past performance is not necessarily indicative of future results.
Disclosure: I have no positions in any stocks mentioned, and no plans to initiate any positions within the next 72 hours. I wrote this article myself, and it expresses my own opinions. I am not receiving compensation for it. I have no business relationship with any company whose stock is mentioned in this article.