Allegheny Energy Inc. (AYE) is engaged in both regulated electricity and natural gas distribution utility operations, as well as in the unregulated wholesale energy markets.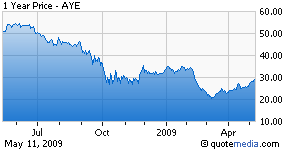 Going forward, AYE's positive investment factors include higher generation rates in Pennsylvania and Maryland, higher residential usage, approvals for transmission projects, and steady progress with scrubbers.
Looking ahead, we expect that the company's regulated delivery utility business will provide steady earnings growth while the disposal of retail distribution operations in Virginia will provide much needed liquidity infusion. This would be partially offset by higher emission and hedging costs, higher taxes, lower commodity prices and higher coal prices.
Accordingly, we maintain a BUY recommendation on AYE common stock with a six-month target price of $31.75. Coupled with the regular quarterly cash dividend of $0.15 per share, which we deem sustainable and secure, this represents an annualized total return potential of 28.1%.