Zynga (NASDAQ:ZNGA) is a leading provider of social game services with 253M average monthly active users over 175 countries. With declining revenue and a disappointing forecast, it may still be too early to dump ZNGA.
The Good and Bad
For Q1, Zynga reported net income of $4.1M (break-even on a per share basis) compared with a net loss of $85.4M (loss of 12 cents per share) for the same period last year. Adjusted net income was $9.1M (1 cent per share) for Q1. However, revenues declined nearly 18% to $263.6M while bookings fell to $229.8M. Analysts were expecting revenue of $264.5M with a loss of 3 cents per share.
ZNGA generated $230M in bookings, exceeding the management's expectations. FarmVille 2 outperformed with audience engagement and bookings hitting near peak levels in the quarter seven months after launch. The FarmVille 2 team was able to drive multiple days with growth bookings exceeding $1 million per day, including the amount retained by Facebook (NASDAQ:FB). Web bookings were down 37% year-over-year and 15% quarter-over-quarter driven primarily by lower web user pay. On the other hand, mobile bookings were up 21% year-over-year, but down 8% quarter-over-quarter driven by a light slate of new game launches over the past two quarters that would normally offset aging live games.
However, 2013 remains a transition year and a significant decline in Q2 bookings is expected, reflecting the challenging environment on the web.
Expecting Mobile Growth
Mobile remains the best growth opportunity right now. Draw Something 2, a key mobile franchise opportunity, is launching now. Zynga is building the leading game network, offering the best distribution and the best player liquidity. Zynga registered 3.5M MAUs in the first few weeks after launching of Zynga.com. In terms of profitability on mobile, advertizing bookings per DAU and average bookings per paying user both more than doubled year-over-year. According to comScore's mobile metrics, Zynga was one of the top mobile game developers in terms of daily reach and time spent in the U.S. in March, 2013. Zynga ranked no. 6 in total time spent on mobile with 11.2B minutes behind only Facebook, Apple (NASDAQ:AAPL), Microsoft (NASDAQ:MSFT), Google (NASDAQ:GOOG), and Pandora (NYSE:P). Zynga continues to shift toward mobile games and shut down underperforming games, such as The Ville, Empires & Allies, Dream Zoo and Zynga City on Tencent.
Real-Money Game
In April, Zynga launched first ever real-money games in the UK. Zynga Plus Poker and Zynga Plus Casino are powered by Bwin.party, one of the largest real-money gaming operators in the world. The management expects to launch real-money games in the UK on Facebook and mobile later this year. However, the management only expects modest bookings and the results should not be significant for 2013.
Balance Sheet Strengthened
A total of $23M of free cash flow was generated as the firm continues to rationalize capital expenditure. As a result, ZNGA now holds cash and marketable securities around $1.7B, which was up $19M from Q4, 2012. Due to the strength of cash balance in April, ZNGA retired $100M of debt on the balance sheet, which will decrease interest expense after Q2.
Weak Forecast
ZNGA projected a revenue range of $225M-$235M for Q2, well below analysts' forecasts of $258.1M. Bookings for the period are expected to come in the range of $180M-$190M.
Analysts' Calls and Estimates
Analysts currently have a mean target price of $3.80 for ZNGA, suggesting 13.43% upside potential based on the current closing price of $3.35 on April 24, 2013. Analysts, on average, are projecting an EPS of -$0.05 with revenue of $949.70M for 2013, which is 17.20% lower than 2012. However, for 2014, analysts are predicting an EPS of $0.01 with revenue of $1.04B, which is 10% higher than 2013.
Fundamentally, with $23M of free cash flow generated, ZNGA's balance sheet is further improved. With $1.7B worth of cash and marketable securities, ZNGA should have sufficient capital resources for the transition period into the mobile end.
Technically, the MACD (12, 26, 9) indicator is showing a bearish trend. The momentum indicator, RSI (14), is picking up and indicating a neutral momentum at 51.10, as seen from the chart below. However, with the weak forecast, more volatility is expected. It is important to see if ZNGA can hold above its 200-day MA support at $2.99 to determine its short-term direction.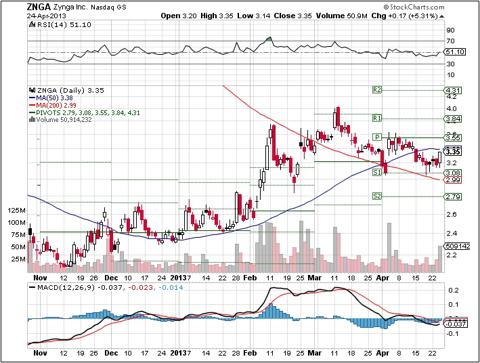 Source: StockCharts.com
Bottom Line
The picture remains mixed for ZNGA with declining web bookings and increasing mobile bookings as ZNGA continues to shift toward mobile. The near-term revenue is expected to suffer during the transition. However, ZNGA continues to execute and control its bottom line to improve profitability. With the addition of real-money games and positive development into the mobile end, supported with strengthened balance sheet, it may be a good time to set up a long-term position when the price stabilizes. Investors can also review the following ETFs to gain exposures to ZNGA:
Social Media Index ETF (NASDAQ:SOCL), 4.34% weighting
ISE Cloud Computing Index Fund (NASDAQ:SKYY), 3.88% weighting
Note: Investors and traders are recommended to do their own due diligence and research before making any trading/investing decisions. ZNGA is not suitable for conservative investors.
Disclosure: I am long ZNGA. I wrote this article myself, and it expresses my own opinions. I am not receiving compensation for it (other than from Seeking Alpha). I have no business relationship with any company whose stock is mentioned in this article.