By now pretty much everyone is familiar with the booming Texas unconventional oil play called the Eagle Ford.
But only two years ago, it was hardly known to people who don't closely follow the energy industry.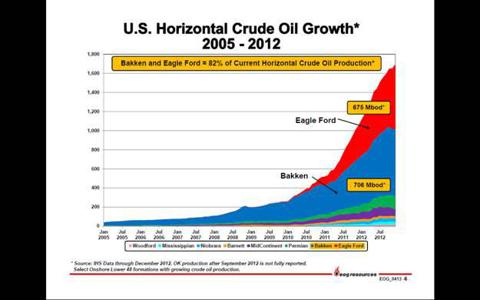 From basically no production at the beginning of 2010, production in the Eagle Ford has exploded upwards and is now pushing 700,000 barrels per day. EOG Resources (NYSE:EOG) captures this phenomenon in the graph above.
The Eagle Ford and the Bakken ARE the American unconventional oil revolution. All of the other unconventional plays are rounding errors next to these two big boys.
These two plays alone have changed the global oil markets and given North America a big competitive advantage through lower oil prices.
Canada has its own version of the Bakken where innovative young companies like Crescent Point Energy (CSCTF.PK) and Petrobakken (PBKEF.PK) have led production growth.
Canada may also have an "Eagle Ford" of its own.
The play is called the Duvernay and while it has been on the radar for a few years, it has been very hard to get any information about the play from the companies involved.
We have known that companies have been racing to lock up acreage in the play, but we haven't heard much in terms of drilling results.
Last December, the Duvernay became a little more "real" when Encana (NYSE:ECA) and PetroChina (NYSE:PTR) struck a blockbuster joint venture deal:
The details of the deal were as follows:
Encana Corporation (Encana) has entered into a joint venture arrangement with Phoenix Duvernay Gas (Phoenix), a wholly owned subsidiary of PetroChina, to explore and develop Encana's extensive undeveloped Duvernay land holdings in west-central Alberta. Under the terms of the agreement, Phoenix will gain a non-controlling 49.9% interest in Encana's approximately 445,000 acres in the Duvernay play for total consideration of C$2.18 billion.
That is C$2.18 billion for 222,500 acres (half of 445,000 acres) or roughly $10,000 per acre.
Now I think the large state owned companies tend to pay a premium when securing assets, after all their mandate is more about securing resources than it is securing profits. But clearly Encana was able to show PetroChina something interesting in the Duvernay to receive $10,000 per acre.
I own a bunch of companies with exposure to the Duvernay, so this week I read Encana's Q1 conference call transcript with great interest, hoping to gain some insight on this big emerging play.
The most useful information came from this question and answer exchange between an analyst and Encana:
Andrew Potter - CIBC World Markets, Inc.

First a few questions on the Duvernay, and then on Gordondale. But first on the Duvernay, can you just confirm that the 1,400 barrels a day, was that just fuel liquids or does that include other NGLs as well? And then maybe we can talk a little bit about how you're viewing Duvernay type curve now and how that's changed since your Investor Day?

Michael G. McAllister - Executive Vice President-Encana Corporation and President-Canadian Division

Hi, Andrew, it's Michael McAllister speaking here. Yeah, that was 1,400 barrels a day that was fuel condensate. so that didn't include any NGL recovery, which we'd see it about 60 barrels per million and I said, it was about 4 million a day of gas that well is producing. So that's giving us, I guess even more confidence in our type curve and probably strengthening our expectations around the type curve in the Duvernay.

Andrew Potter


What would you say, I mean, what would you expect now for typical IP in the Duvernay, given what you've seen so far in Willesden?

Michael G. McAllister

Well, there's a high degree of variability in the Duvernay when you move from the north down to the south, from Kaybob down to Willesden Green. so it's hard to say we got a typical - where I have a typical IPs that are going to talk about, but this well has given us significant confidence, and we have up to 600 locations in the Kaybob area.

Andrew Potter

Is it fair to say that Northern area, the Kaybob area is performing better than the south, or is it Duvernay?

Michael G. McAllister

Well, as I've mentioned before I think that we're seeing up to 350 barrels per million in the North, and we're about 45 barrels per million in the South in Willesden Green, so we probably safe to just leave it at that.
That brief exchange is actually very useful, as it shows a pretty clear difference in the amount of liquid content in Duvernay wells in the Kaybob area versus Duvernay wells further south in Willesden Green.
A high liquids content of course being good.
Encana's Duvernay acreage split between Kaybob, Edson and Willesden Green is shown in the slide below.
If Kaybob is the area to be in the Duvernay, the best way to play this directly may be through Canadian junior Yoho Resources (OTCPK:YOHOF), which has a large position in the Kaybob Duvernay relative to the size of the company.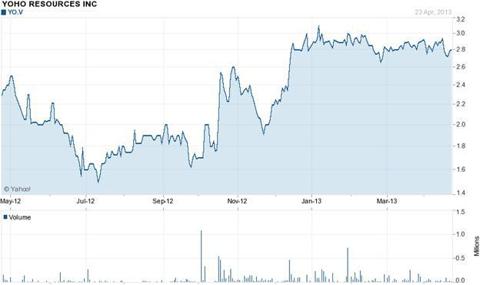 Yoho is focused directly on the Duvernay in the Kaybob region, where the company estimates it has at least 150 net drilling locations.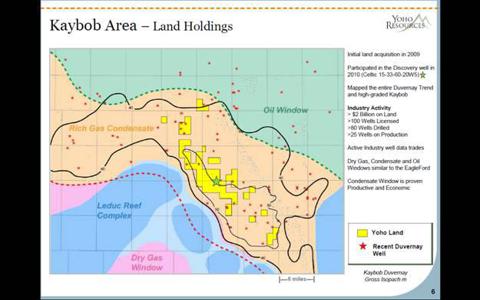 Because of the high liquids weighting of production in this region (as Encana indicated), Yoho believes that it can generate netbacks of almost $40 per barrel of oil equivalent even in a low cost natural gas environment.
If natural gas prices go up, then all the better.
The key liquid, of course, being condensate, which in Canada actually sells at a premium to WTI because of the demand for that product that stems from the oil sands' need for it.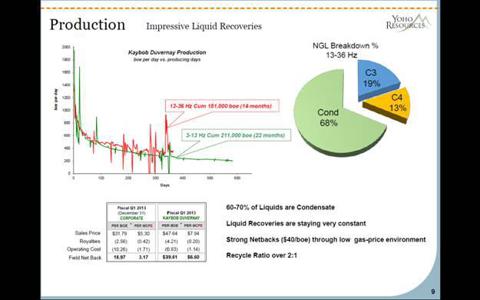 As this year goes on, the market is going to get a lot more detail on wells being drilled in the Duvernay. If those wells prove the play to be as economic as Yoho suggests, then this particular company is likely to get snapped up by a bigger company better able to handle the $10 million per well cost of drilling in the Duvernay.
It is still early days in the Duvernay, but it seems the best parts of the play are becoming clear.
Disclosure: I am long PBKEF.PK. I wrote this article myself, and it expresses my own opinions. I am not receiving compensation for it (other than from Seeking Alpha). I have no business relationship with any company whose stock is mentioned in this article.