With the market sitting at virtually all-time highs, everyone is starting to wonder when the next correction will set in. Every slight 2% stumble in the major indices is widely heralded by the bears as a market top. You can literally see them puffing out their chests on CNBC and fighting for the chance to tell everyone how they predicted this very outcome would occur. Never mind the fact that they have been losing money for months while the market grinds out steady positive returns.
They will proudly boast that it's better to have "lost opportunity than lost money." While that very well may be, I would gladly trade the opportunity for losing a small amount of money for the ability to see my portfolio value marching higher. That is what trading and investing is all about. Seeking out those opportunities that you believe will contribute to positive returns rather than just standing on the sidelines and watching the world pass you by. Or worse yet, trying to call a market top and putting on short positions only to watch your hard earned money slowly dwindle.
The bulls on the other hand continue to remain steadfast and have been richly rewarded for their capital investment. Nearly every sector of the stock market remains in a strong up-trend with several dividend paying defensive sectors hitting new highs nearly every day. As I was flipping through charts today I noticed that the Utilities Select Sector SPDR (NYSEARCA:XLU), Financials Select Sector SPDR (XLF) and Consumer Discretionary Select Sector SPDR (NYSEARCA:XLY) are all on their highs, while the charts of the consumer staples and healthcare sectors are in good shape as well. There is not a single major S&P sector that is below its 200-day moving average.
If you look at a chart of the percentage of individual S&P 500 stocks above their 200-day moving average you can see that we are sitting at the top end of the range over the last 3 years. This may be a signal that the ride is nearing its end. However, it's also important to note that this barometer can stay peaked at this level for a very long period of time as we saw back in 2011.
If there are two lessons I have learned over the last 5 years, they are: (1) don't fight the Fed and (2) don't fight the trend. Right now the long-term trend in stocks is still clearly intact and therefore I would not be aggressively lightening up on my portfolio until we see a distinctive change in direction that is accompanied by a spike in volume. That would signal that institutional traders are heading for the exits which is typically a good sign that you should too.
I have always loved the John Maynard Keynes quote that "markets can remain irrational longer than you can remain solvent." And clearly that is exactly the psychology that we are witnessing in the financial markets today. What we are seeing is the market climb a wall of worry and ignore all rational arguments for a pullback in favor of continued growth. This has the bears pulling their hair out and is why it's important to not get too dedicated to a single outcome whenever you are investing.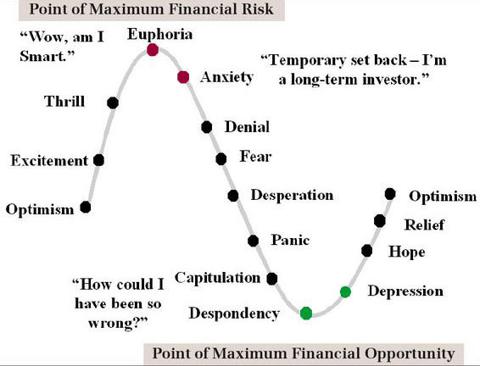 Market news is typically most exuberant at market tops and most desperate at market bottoms which is when even the most ardent bull or bear throws in the towel. According to Keynes, they are no longer able to remain solvent given the fact that their predictions are not matching the global reality. Thus they turn on their own long held beliefs and capitulate only to see the market finally give in and reverse course. This constant cycle of greed and fear only exacerbates the frustration among those who take a firm stance on either side of the bull/bear fence.
Instead of riding this roller coaster of emotion, I would recommend a different approach. Stay humble and balanced with your portfolio. Don't take on too much risk and don't ever say that something can't happen such as "the market can't go higher (or lower) from here." Because it can, and it will.
Believe me, you don't want to be the last bear to creep out of the cave and walk into the sunshine only to realize that you are left holding the bag. Just ask those that bought Apple Inc (NASDAQ:AAPL) at $700 or Market Vectors Gold Miners (NYSEARCA:GDX) at $55.
Where to Find Value
If you are in the deflationary camp you may be considering moving at least a portion of your portfolio to the sidelines to ratchet down the risk of the "sell in May" effect. You may want to even consider a short term bond fund like the Vanguard Short Term Corporate Bond Fund (NASDAQ:VCSH) or the Pimco Enhanced Short Maturity ETF (NYSEARCA:MINT) to hide out in for a period of time.
While I am not a fan of buying new highs in the market, I am stalking several ETFs for an entry point on a modest pullback. One of my favorites is the PowerShares S&P 500 Low Volatility ETF (NYSEARCA:SPLV). This fund has had very steady price movement, pays a monthly yield, and should be an excellent long-term core holding. Another fund on my radar is the iShares High Dividend ETF (NYSEARCA:HDV). This fund is made up of 75 high-quality companies and currently has a 30-day SEC yield of 3.24%.
I always recommend having an exit strategy in place for every single position in your portfolio and urge you to be disciplined in the execution of your risk management plan. In addition, it's just as important to have a plan in place to purchase stocks or bonds even when conditions are not perfect. If you are carrying too much cash you should be constantly monitoring new investment opportunities and looking at pullbacks as a way to add to your portfolio. Trading the highs is never easy, but then again there is no set expiration date for a bull market either.
Disclosure: I have no positions in any stocks mentioned, and no plans to initiate any positions within the next 72 hours. I wrote this article myself, and it expresses my own opinions. I am not receiving compensation for it. I have no business relationship with any company whose stock is mentioned in this article.
Additional disclosure: David Fabian, Fabian Capital Management, and/or its clients may hold positions in the ETFs and mutual funds mentioned above. The commentary does not constitute individualized investment advice. The opinions offered herein are not personalized recommendations to buy, sell or hold securities.