The Halloween Indicator in the stock market sometimes defined as "sell in May and go away" is a strategy that is based on the difference in the performance of the market during May to October vs. November to April. The strategy is to invest in the S&P 500 during "the best 6 months" and switch to bonds during "the worst 6 months" to avoid the summer doldrums of small to negative returns. Since January of 1950 the average returns for November to April ("good months") is 7.9% compared to the 2.5% average return delivered from May to October ("bad months").
Although there is a significant spread in returns between the good and bad months, does this mean you should convert to bonds and go on a vacation until September? There are several views for and against market timing but we feel it is too difficult to identify when to be out and when to be in the market. If you dig deeper into the market performance since 1950, you will find that 20 good and 20 bad months make up a significant part of the market performance. For more information read the following market timing strategy filled with pitfalls.
The market has been up in those worst 6 months 60% of the time since 1989, not as profitable as the best 6 months but still positive. I believe 2009 is a good lesson for many, with all of the inefficiencies and irregularities in today's market, the mixed macro economic reports, and the belief we are headed toward a recovery, jumping out of the market could mean missing out on making up for some of the losses the market handed us in 2008
However, being invested isn't enough, identifying quality companies and a good value will put you in an even better position to outpace the general market. Listed below are companies that should be considered as potential investment opportunities. These companies all have a valuation attractiveness near the top of their sector in addition to expected improvement of profitability (Economic Margin) above their sector, and do not follow a wealth destroying strategy defined by AFG's management quality score.
click to enlarge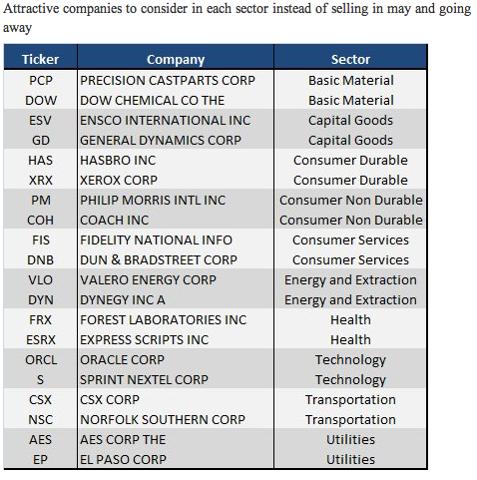 A brief description of AFG's buy criteria variables is below:
• Economic Margin - A corporate performance measurement that addresses the gaps in GAAP, eliminating distortions caused by accounting policies to measure what a company is truly earning above or below their cost of capital.
• Valuation Model - Using AFG's modified discounted cash flow model to measure the intrinsic value of a firm compared to its peers.
• Management Quality – Assess management's ability to make wealth creating decisions.