The main bear argument about Microsoft (NASDAQ:MSFT) died yesterday when Strategy Analytics published a report that showed Windows tablets gaining 7.5% of the tablet market even though they have existed only about six months.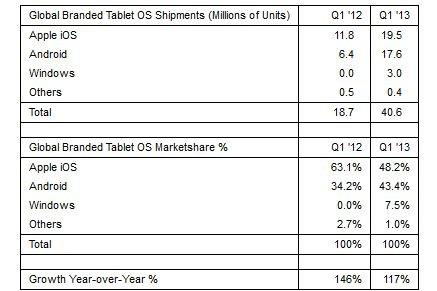 According to prnewswire.com Strategy Analytics also mentioned that:
Microsoft captured a niche 7.5 percent global tablet share in Q1 2013. Very limited distribution, a shortage of top-tier apps, and confusion in the market, are all holding back shipments.
This means that Microsoft's 7.5% market share by OS is definitely going to grow going forward as these "childhood" problems are resolved. Limited distribution is only a matter of time as OEMs confirm the popularity of Windows tablets and Microsoft gains enough experience to solve its own problems with Surface's distribution.
As for apps things are improving every day as more and more developers find it worthy to create an app or transfer an existing one, to Microsoft's ecosystem. So far Windows tablets have about 50,000 apps available to them without taking into consideration that Windows 8 tablets can run any one of the millions of programs out there that are designed for Windows PCs.
Besides all that there is more good news coming Microsoft's way around June. Intel's Haswell chips will be available by the end of Q2 making Ultrabooks and high-end tablets more power-efficient with longer battery lives. Moreover by the end of the year its tablet targeted Bay Trail will have launched too.
The aforementioned good news for Microsoft seem also to be the reason behind the stock's latest move from $28.5 to almost $32. I expect this move to continue and reach its top around the end of the first quarter of 2014 when the market will have clearly seen what great potential Microsoft has in the tablet market.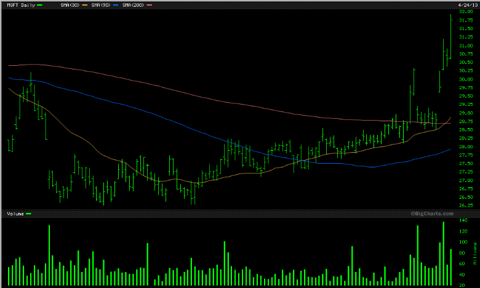 My target price for the stock is between $36 and $51. Here is an excerpt from a previous article of mine that explains why.Valuation
The average analyst estimate for Microsoft's fiscal 2013 EPS is $2.87, which at yesterday's close ($27.21) gives us a forward P/E ratio of just 9.5. Microsoft has $7.60 surplus cash per share and if we discount it from its stock price the 2013 P/E ratio drops to 6.9.

To calculate its fair price we can assume 0% to 5% average EPS growth over the next decade and we'll end up between $36.30 and $51.60. To get some perspective about how conservative this 5% growth projection is, keep in mind that Microsoft can accomplish that, solely through stock buybacks. The average 10-year FCF it generates is 8% of its current $230 billion market cap.
What do you think? How far up could the stock go?
Disclosure: I am long MSFT, INTC. I wrote this article myself, and it expresses my own opinions. I am not receiving compensation for it (other than from Seeking Alpha). I have no business relationship with any company whose stock is mentioned in this article.