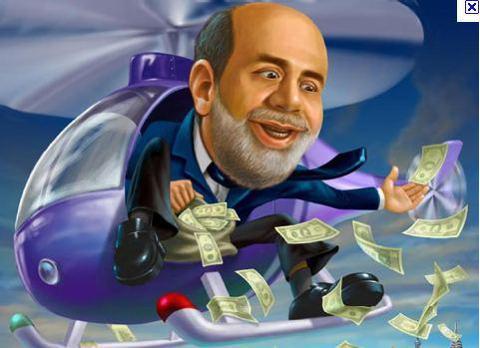 One of the major themes driving precious metals is that central banks printing money are inflating their prices. That theory is being challenged by the most recent correction in gold and silver. Silver recently traded as low as $22.015 on the day following the crash, and had a close as low as $22.685 on the day of the crash.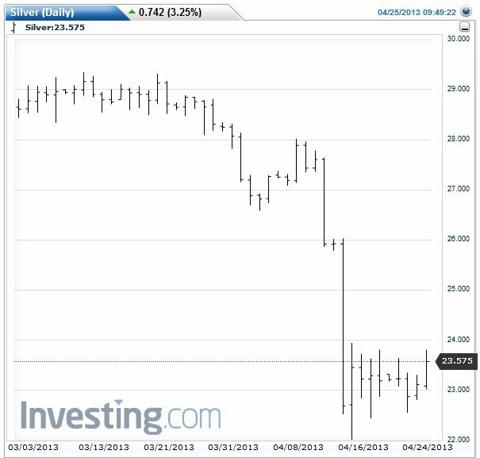 The fact that we are having a crash in gold so soon after Cyprus rocked the banking world, Kim Jung Um turned up the geopolitical heat and Japan announced its plans to accelerate its aggressive monetary policy also threatens the theory that gold and silver are safe havens.The Bitcoin also poured cold water on the alternative currency theory as well.
Silver traded slightly below $21 back in March 2008. With the most recent low being $22.015 and recent low close of $22.685, silver traded within 10% of its pre-QE peak.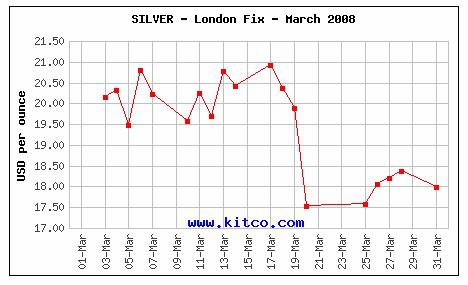 The longer term chart of silver shows the 2008 peak level, as well as the likely support level that silver is approaching.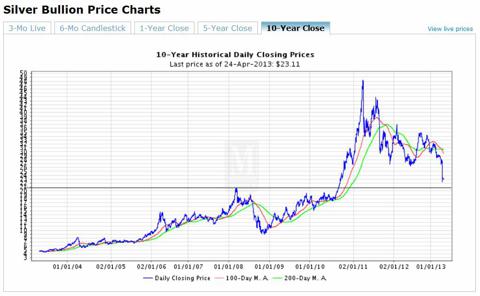 Another interesting note is that there is a divergence between gold and silver developing over the last month.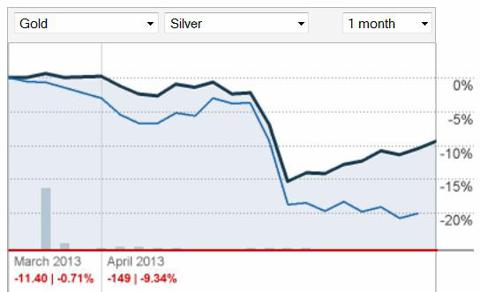 Gold dropped over 15%, but has rebounded to be down less than 10%.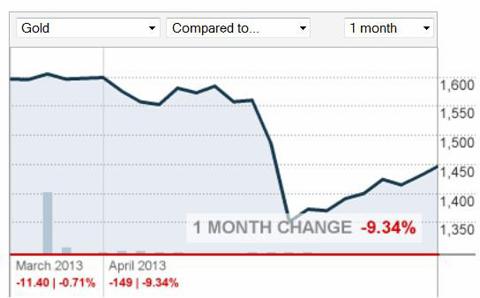 Silver has not had such a rebound, and fell much more, remaining down more than 15% for the past month.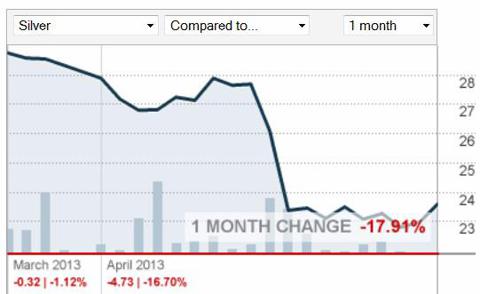 Comparing the two charts highlights the divergence that has developed over the last month.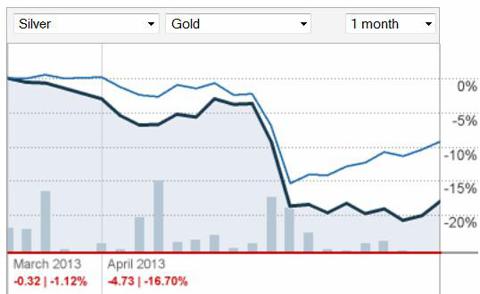 Going back one year, divergences do occasionally develop between gold and silver, but they also trend closely together for periods of time as well. Gold tends to be less volatile, being down about 12% over the past year, whereas silver is down almost 24%.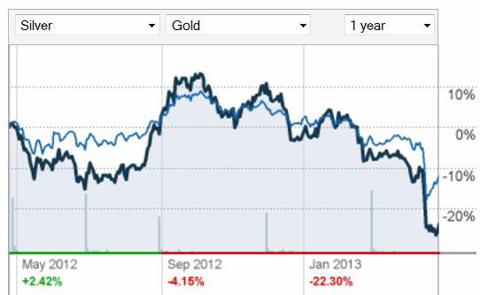 Gold peaked about $1,000 back in 2008, so there is still a sizable gap between gold's current price and its pre-QE peak. But recent market actions prove that gold can erase years of gain in a very short period of time.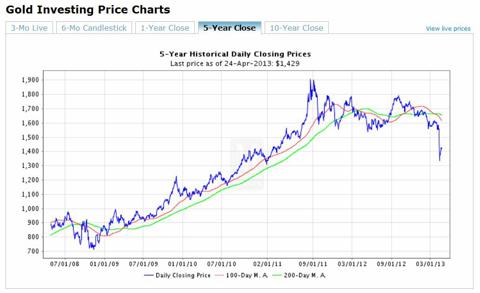 In conclusion, one of the psychological supports for precious metals is that central bank printing of money justifies their lofty price levels. Silver however traded within 10% of its pre-QE peak. If silver continues to trade lower, and break below the pre-QE 2008 peak, the central bank theory will be invalidated, at least for silver. With silver trading below the level it traded at before all this money was printed "out of thin air," it makes it kind of hard to blame the printing of money. Maybe the theory will turn to being that the Fed simply didn't print enough money. Keynesians often use that argument when government spending doesn't lead to a recovery. I guess it is easier to make excuses than it is to admit you are wrong.
In any case, if precious metals continue to correct, they may take out their pre-QE peaks. If that happens in both gold and silver, a main pillar of support, the central bank theory will be invalidated. If that were to happen, I would imagine the entire psychology of the precious metals market will change, likely resulting in even lower prices for the precious metals. With the safe haven, central bank and alternate currency pillars toppled or weakened, the only remaining major support will be the inflation theory pillar, and in my opinion we are far more likely to see deflation than inflation in the foreseeable future.
ETFs of Interest:
SPDR Gold Trust (NYSEARCA:GLD)
iShares Silver Trust (NYSEARCA:SLV)
Disclaimer: This article is not an investment recommendation. Any analysis presented in this article is illustrative in nature, is based on an incomplete set of information and has limitations to its accuracy, and is not meant to be relied upon for investment decisions. Please consult a qualified investment advisor. The information upon which this material is based was obtained from sources believed to be reliable, but has not been independently verified. Therefore, the author cannot guarantee its accuracy. Any opinions or estimates constitute the author's best judgment as of the date of publication, and are subject to change without notice.
Disclosure: I have no positions in any stocks mentioned, and no plans to initiate any positions within the next 72 hours. I wrote this article myself, and it expresses my own opinions. I am not receiving compensation for it (other than from Seeking Alpha). I have no business relationship with any company whose stock is mentioned in this article.