I am not the first writer to compare Apple to Microsoft, an opinion which is opposed by articles like this. Apple is not like the Microsoft of 2013, a company which has struggled to stay current with technical developments, and has failed in most of its attempts at innovation over the past ten years or so. But Apple (NASDAQ:AAPL) is beginning to resemble Microsoft (NASDAQ:MSFT), as it was in the year 2000. At that time, the era of double-digit growth in the PC market was coming to an end, the software upgrades that Microsoft was introducing were only marginally better than what was already in use, and the prospects for continued high growth in revenue and earnings were looking decidedly weak.
In 2000, the entrepreneur responsible for the rapid rise of Microsoft, Bill Gates, resigned and handed over the running of the company to a more operations oriented CEO.
Apple has also changed its CEO, though it was a forced change resulting from the untimely death of Steve Jobs. However, the effect is the same, the company is now run by an operations oriented CEO, rather than an entrepreneur.
Below is a chart of Microsoft's share price since its IPO in the early 1980's. Note the peak of $58.38 in December 1999, and the rapid fall to $31.28 by May 2000. This happened before the bursting of the dot.com bubble. Since then the long-term price of Microsoft has been flat, and the share price today is around $30.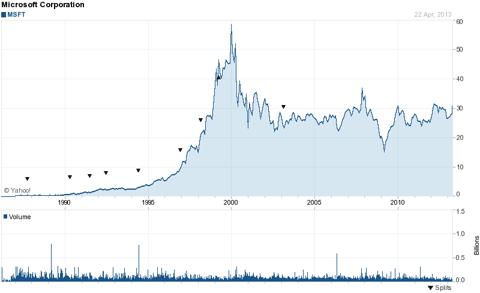 Cut the Microsoft graph off at year 2001, and Apple's share price graph looks strikingly similar.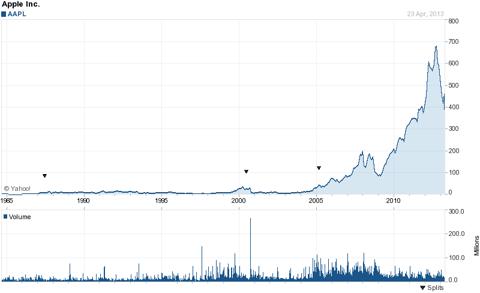 Microsoft's first decline in profits came in 2001, shortly after the collapse in its share price. Microsoft at that time was awash in cash, and had just been through a period of rapid revenue and profit growth. There is also a lot of similarity between the Microsoft revenue and profit curve prior to 2001, and the Apple curve up to today. Both curves show rapid revenue growth, but with revenue rising at a faster rate than profit.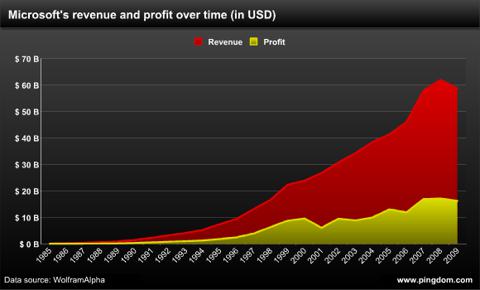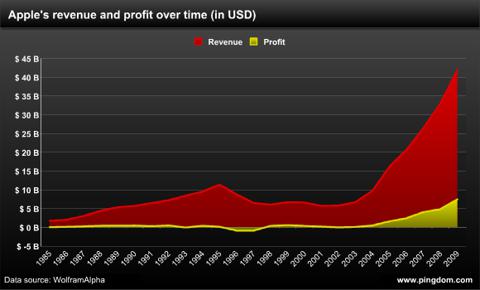 Since 2001, Microsoft's revenue and profit have grown steadily, but the share price has remained flat. Microsoft has transformed from a high-growth tech stock, to steady-growth dividend stock, a factor which is reflected in its valuation.
Microsoft paid its first dividend in 2003, and now has a yield of around 3%. Apple's recently increased dividend will give it a similar yield.
Apple recently announced a major repurchase of stock, Microsoft has been buying back its own stock for several years, with little or no effect on the share price.
Apple is in a very similar position to that of Microsoft in 2001. The transformation from a high growth tech stock to a dividend stock has begun, and the share price has moved downwards to reflect that transformation.
How do the two companies compare, when evaluated by the traditional yardsticks applied to dividend stocks?
Microsoft trades at a forward P/E ratio of just under 10 and pays out 45% of its profits as dividends. Apple trades at a forward P/E of 8.3 and pays out less than 20% of its profits as dividends. Microsoft is in a business which is definitely in decline. PC sales are falling, as users move towards mobile computing, where Microsoft's Windows operating system is only a bit player at best. On the other hand, Apple is the major player in mobile computing and derives most of its profits from sales of its very popular iPhones. There is still plenty of growth left in the mobile computing sector, where smartphone use is expected to double to 2 billion phones by the year 2016.
Therefore, based on a comparative evaluation of the two companies, it would be easy to conclude that Apple is undervalued relative to Microsoft, and should be trading at $500+/share. However, there is one major factor that is present in today's smartphone market that did not exist in Microsoft's market in 2000.
That factor is competition.
Microsoft Windows is still the dominant operating system for the PC, and its Office software suite is virtually unchallenged in the marketplace. Today, Apple is facing stiff competition from a myriad of companies, including low cost Chinese and Taiwanese manufacturers (Huawei and HTC), giant Korean and Japanese conglomerates (Samsung (OTC:SSNLF), LG and Sony (NYSE:SNE)), and once dominant names trying to make a comeback, Nokia (NYSE:NOK) and BlackBerry (NASDAQ:BBRY).
The US market is close to saturation and the opportunities for selling high margin phones in other countries are more limited. Take a look at the graph below which compares the total cost of a smartphone with a two-year contract in the US and the UK.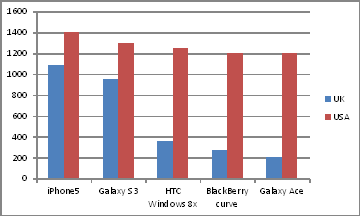 The price difference between the Apple iPhone 5 and cheaper phones such as the Samsung Galaxy Ace is hardly noticeable in the US, whereas in the UK the cost of the iPhone is 400% more than that of the low-end phone. This kind of pricing structure is more typical of the kind of competition Apple faces outside of its home country. Subsidies from carriers help to support the profit margins on the high-end phones in the USA, much more than they do in the rest of the world.
The kind of price competition which is prevalent in the UK will eventually reach the USA if the major carriers are challenged and start to lose market share. Also, the advances in technology are slowing, and the phones from all of the major companies are hardly distinguishable from each other in terms of features and capabilities. As phone models become more similar, price will become the dominant factor in consumer choice.
There are wealthy people in other countries who will pay a high price for a premium product, and will buy an iPhone as a status symbol. BMW and Mercedes sell lots of cars in India and China, but they are selling to a few rich people. Apple has to sell 40 million iPhones per quarter to keep its revenue growth and its position in the market. To do that, Apple will have to engage in price based competition and sell at lower margins, which will put pressure on profits. That is the reason Apple shares are trading at such a low multiple of earnings.
There isn't very much downside risk left in Apple. The share buy-back should put a temporary floor under the stock price decline, and the increased dividend will provide some support going forward. However, it will take a major new and innovative product to drive the shares back to the $700 mark.
Disclosure: I am long BBRY. I wrote this article myself, and it expresses my own opinions. I am not receiving compensation for it (other than from Seeking Alpha). I have no business relationship with any company whose stock is mentioned in this article.
Additional disclosure: I have a small long interest in BBRY, gambling on what could be the comeback story of the year. I won't lose sleep if it fails