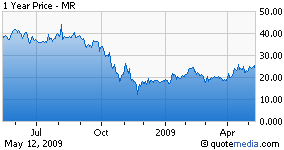 Mindray Medical International Limited (NYSE: MR), the Shenzhen maker of medical devices, announced Q1 revenues jumped 54% to $134.2 million. Net income, however, failed to keep pace with revenues, rising just 10% higher to $30.5 million on a non-GAAP basis and $25.3 million following GAAP rules. The numbers were a bit of a disappointment as analysts expected the company's revenues to be close to $145 million, though earnings came in slightly ahead of forecasts.

Year-over-year comparisons for Mindray continue to be misleading, because Mindray did not close its very significant $250 million purchase of Datascope's patient monitoring business until May of 2008. This explains why, following a 54% improvement in Q1 revenues, Mindray called for full-year 2009 revenues to show only a 10% increase over 2008.

Mindray management positioned its Q1 results as "a relatively strong quarter," given the economic downturn. The company reacted to a slower market by instituting cost controls and reducing operating expenses.

Patient monitoring & life support products segment revenues, buoyed by the Datascope acquisition, were the big winner in Q1: they jumped 97% to $58.6 million and 44% of the company's revenue.

Revenues from in-vitro diagnostic products were higher by a modest 9% at $32.2 million, which was 24% of total net revenues.

The company's medical systems segment produced a 33% gain. Its $35.7 million in sales constituted 27% of Mindray's total.

Other revenues, primarily comprised of extended warranty services, soared 525% to $7.6 million.

The relative underperformance of net income came, in part, as the result of higher selling expenses, which rose from 11.1% of revenues to 15%, and from G&A, which jumped from 2.3% to 5.7% of revenues.

On a per share basis, Mindray reported non-GAAP earnings of $0.27 fully diluted, a 2 cents per share increase from 2008. On a GAAP basis, eps were 23 cents, compared to 22 cents in Q1 of 2008.

Mindray also said that collection of revenue is slower than last year, no doubt a reflection of the economic crisis. Average accounts receivable days outstanding were 60 days, compared to 40 days in full-year 2008. Inventory turnover was 89 days compared to 60 days for full-year 2008.

Following the announcement, Mindray's stock price dropped 9%, sliding $2.28 to $23.20. Over the past 12 months, Mindray has traded in a range from $12.31 to $44.41. At its present price, Mindray has a market capitalization of $2.5 billion and a price/earnings ration (trailing 12 months) of 24.

Disclosure: none.