This week I wanted to return to Asian stocks, Japan in particular. Now that the precipitous decline in global manufacturing and trade is easing, I thought it would be appropriate to sift through the wreckage of the Tokyo stock market to see which companies have held up the best.
The main index for Japan is the Nikkei 225, which saw a more significant drop late last year but has seen a more significant rebound as compared to the U.S. market. The Nikkei approached the 40,000 level at the height of the bubble years in the 1980s but in the past has traded at levels similar to the Dow Jones Industrial Average. The Nikkei bottomed just below 7,000 in late October 2008, while the DJIA traded below 6,500 for two days in early March. The comparison of the two for the last year is below.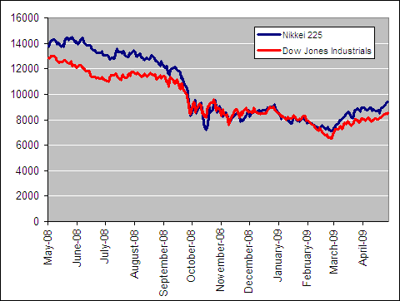 In addition to the Nikkei, the Tokyo Stock Exchange (TSE) keeps its own set of indices broadly known as TOPIX. The main TOPIX index tracks all the stocks on the first section of the TSE but there are many sub-indices as well. One of these, the TOPIX Core 30, is where I started my search for value. The TOPIX Core 30 contains thirty of the largest, most liquid stocks listed in Japan. Most of these have American Depository Receipts (ADR) either listed on the NYSE or traded over-the-counter.
Virtually all Japanese work on a fiscal calendar that begins April 1 and ends March 31 the following year. Thus we are now mostly through the earnings season following the close of their fiscal year. Through May 12, twenty of the companies have reported with many of those left to report, such as banks, forecasting losses. Pharmaceutical companies which report later this week are the exception here. The three pharma companies are not in my analysis but are profitable. Takeda Pharmaceutical (OTCPK:TKPHF) and Astellas Pharmaceutical (OTCPK:ALPMF) are worth a look due to their strong future prospects.
Of those that have reported, I sifted from these to find a set of companies that reported net profit for their latest fiscal year. The fifteen that reported some net profit for the year are listed in the table below. Only two companies, game maker Nintendo and telecom company KDDI (OTC:KDDIF), showed profit growth for the year. After reviewing the earnings of them all, I found five, including Nintendo (OTCPK:NTDOY) and KDDI, that are worth mentioning.
Code

Issue

ADR

Profit
(ROE)

Change in FY09
net income

2010FY Earnings Growth Guidance

P/B

P/E

1 Yr Return

2914

Japan Tobacco

-

6.8%

-48.3%

-19.0%

3.41

19.8

-49.94%

3382

Seven & I Holdings

SVNDY

4.9%

-26.6%

35.4%

1.48

23.1

-25.00%

4063

Shin-Etsu Chemical

SHECY

11.0%

-15.7%

No Forecast

1.53

13.6

-19.85%

5401

Nippon Steel

8.7%

-56.3%

Loss

1.33

14.7

-37.64%

5411

JFE Holdings,Inc.

JFEEY

13.7%

-25.8%

No Forecast

1.18

8.3

-42.84%

6301

Komatsu LTD.

9.3%

-62.3%

-46.3%

1.22

17.9

-53.29%

7267

Honda Motor

5.0%

-77.0%

-70.8%

1.29

37.8

-6.51%

7751

Canon Inc.

11.1%

-83.4%

-64.4%

1.65

13.6

-34.37%

7974

Nintendo

NTDOY.PK

22.5%

8.5%

7.5%

17.06

12.0

-52.59%

8031

Mitsui & CO.,LTD.

8.7%

-56.7%

-57.6%

0.98

12.2

-50.51%

8058

Mitsubishi Corporation

14.0%

-21.0%

-41.0%

0.96

5.7

-48.57%

8802

Mitsubishi Estate

3.8%

-47.8%

21.1%

1.73

40.2

-45.59%

9020

East Japan Railway

11.3%

-1.3%

-28.5%

1.41

11.9

-30.42%

9433

KDDI Corporation

12.4%

10.7%

6.0%

1.31

9.1

-30.18%

9437

NTT DoCoMo,Inc.

11.0%

-3.9%

4.5%

1.57

12.2

-7.63%

Nikkei 225

-31.36%
Honda: A Profitable Car Company. It is hard to believe that any car company has produced a profitable year. Everyone is well aware of the plight of the not-so-Big 3 car companies in the U.S. Yet even, Toyota (NYSE:TM), with its high quality and storied manufactured process, reported a loss for the year and is forecasting a loss for the fiscal year just underway. Honda Motor Company reported a profit, albeit a 77% drop in net income from the prior year. It is seeing losses in the most recent quarters, but its guidance for the full fiscal year ending March 31, 2010 is for a slight profit.
Much of the strength for Honda comes from its motorcycle business and its position in Asia (outside of Japan). In the automotive area, it has many of the same strengths as Toyota over its U.S. rivals (high quality vehicles and a portfolio of hybrid vehicles). However, unlike Toyota, it did not make an ill-timed plunge into pickup trucks and sport utility vehicles in the U.S. Honda faces many of the same headwinds plaguing other car companies but its results suggest that Honda rather than Toyota may be best in class. Honda trades in Tokyo under number 7267 and in New York under the highly liquid ADR ticker: HMC.
Canon, Inc. is one electronics maker holding in the face of the consumer retrenchment. It is one of the few Japanese companies that uses the calendar quarters so March 31 represented its 1st quarter of 2009. The maker of cameras, printers, and office copiers ended 2008 with a healthy profit, although it was down by 36% from 2007. Unlike Honda, Canon managed a profit in the most recent quarter. Canon compares well to other consumer electronics makers Sony (NYSE:SNE) and Panasonic (PC) as well as fellow camera maker Nikon (OTC:NINOF).
Cameras represent the strongest segment for Canon. While the forecast for the full year forecast of camera sales is still down by 13%, the trend on revisions is upward. The recent stabilization in trade and export markets is causing the company to be less pessimistic in its forecasts. This trend is fueled by high end cameras for the sports and professional markets, known as Digital SLR, which are the only product line showing positive unit growth throughout this entire recession period. Canon trades in Tokyo under number 7751 and in New York under the ADR ticker: CAJ, also reasonably liquid with an average volume of 850,000 shares traded daily.
Wii has made Nintendo very Fit. Nintendo took the consumer game market by storm in late 2006 with its release of the Wii game console and games like Wii Sports and Wii Fit. More than 50 million Wii consoles have been sold since then. Nintendo's handheld DS game system has initially been more popular in Japan but sales in the U.S. have continued to climb even during the recession. Sony and Microsoft (NASDAQ:MSFT) courted the hard core gamer, spending lavishly on development for high end graphics. Nintendo targeted the casual user with simple graphics and a user friendly interface. This resulted in big losses in gaming for Sony and Microsoft but a three fold increase in profits for Nintendo since 2006.
Forecasts for hardware and software are expected to plateau in the coming year, causing the stock to be cut in half over the last year (-53%). The question now is whether Nintendo has a new product pipeline to fuel growth from here. Nothing has been announced but, if you believe in its ability to bring new products to market, the stock could be cheap at a P/E of 12. Nintendo trades in Tokyo under number 7974 and trades over-the-counter (pink sheets) in the U.S. under ticker NTDOY. This ADR is quite liquid with an average daily volume of greater than 400,000 shares.
Mitsubishi Corporation, a play on the Nikkei and on commodities. As one of the original keiretsu companies (industrial conglomerates) in the post-war boom of Japan, the name is associated with everything from TV's to automobiles to banking to shipping. The company formerly at the center of that conglomerate is the giant trading company, Mitsubishi Corporation (OTCPK:MSBHY). Like its competitor Mitsui & Co., Mitsubishi was integral in facilitating all international trade from importing of raw materials to overseas sales and distribution of exports. As a result, trading companies have very diverse business lines. At their core they are financial companies placing a broad range of investments in petro-chemicals, mining, steel making, retail, and finance.
Mitsubishi Corporation trades at the lowest price-to-earnings (P/E) and price-to-book (P/B) ratios of all the companies listed. Much of its profit drop in the past year has been a result of marking-to-market the shares of the companies in its equity portfolio which will be marked back up as the Nikkei recovers. Much like General Electric is to the US, an investment in Mitsubishi is a play on the overall Japanese economy. Additionally, its strong participation in metals and mining makes it a resource play as well. Mitsubishi Corporation trades in Tokyo under number 8058 and trades over-the-counter in the U.S. under ticker: MSBHY.PK. However, this ADR is not very liquid with an average daily volume of less than 70,000 shares. This is OK for a long term holding but not for a short term trader.
KDDI's costs decline faster than revenue. KDDI, a telecommunications company, has always operated in the shadow of its bigger competitor, NTT. It competes head to head in the wireless services market with NTT DoCoMo and has often beat DoCoMo to market with technology and services. Telecom has become a stable industry around the globe against backdrop of housing, autos, and consumer electronics. It is no different in Japan.
The recession has had its impact with KDDI sales declining 5.0% in FY2009 and another 2.5% decline forecated in 2010. The latest operating results, though, show steady profit growth as KDDI is shedding the fixed costs of older networks at a rate that outpaces the sales decline. The discontinuation of legacy product lines is a most un-Japanese tactic. Most companies are loath to make such a move out of fear of consumer dissatisfaction. KDDI appears to be taking advantage of the recession period to shed costs to benefit shareholders. KDDI trades in Tokyo under number 9433 and trades over-the-counter (pink sheets) in the U.S. under ticker: KDDIY.PK. However, this ADR is effectively illiquid. For U.S. investors I suggest a global trading account from E*Trade, Schwab, or Interactive Brokers for this one.
Disclosure: No positions in any of the stocks discussed.