We've been following MathStar (NYSEARCA:MATH) for quite some time. Monday night during the last hour of trading in the market, MATH announced it had received a Tender Offer of $1.04 p/s from PureChoice, Inc. The last Tender Offer PureChoice made for MATH was back in November 2008 in which it offered $0.75 p/s. We believe MATH has a valuation based on its cash and equivalents alone of more than $1.30 p/s.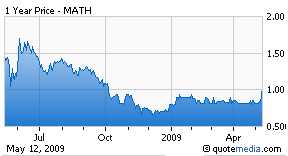 MATH is not followed by analysts and it has an institutional interest of only 2% with very little daily volume. MATH has two activist investors, Zachary McAdoo of The Zannet Group and Salvatore Muoio of S. Muoio & Co., who are urging the company to liquidate. The last time PureChoice made a tender offer, shares sored 25% above the tender offer price of $0.75 p/s. Although the new tender offer is significantly higher than their previous offer, it is still significantly lower than the value of MATH's cash minus all liabilities. We believe history may repeat itself. This is EXACTLY the kind of business we want to be involved in.
Here's the latest Tender Offer.
MathStar, Inc. (MathStar) was a fabless semiconductor company engaged in the development, marketing and selling of its programmable platform field programmable object arrays (FPOA) chips and design tools required to program its chips. On May 20, 2008, the Company suspended research and development activities. As of September 30, 2008, the Company had ceased all operations in Minnesota. As of December 31, 2008, MathStar had engaged a third party investment banking firm to explore the sale of intellectual property and patents and potential merger and acquisition alternatives.
Full Disclosure: We have a holding in MathStar, Inc. (MATH). This is neither a recommendation to buy or sell any securities. All information provided believed to be reliable and presented for information purposes only. Do your own research before investing in any security.