To say that Wall Street was disappointed with Great Atlantic & Pacific Tea Company's (
GAP
) 4
th
Quarter earnings is an understatement.
Horrified
is a better word as relentless selling brutalized its share price by a staggering 35%. The funny thing is, the results were really not that bad, especially if you factor in some of the positives that were unveiled (
full conference call transcript here
).
Tuesday's selloff may have been a typical overreaction associated with the irrational mentality of a "sell first" and "ask questions later" scenario. The Company still enjoys some of the most prime locations in the Northeast. The million dollar question is: Can GAP get its act together? It has in the past, and history has a tendancy of repeating itself.
The positives: (1) completed full integration of its Pathmark acquisition, achieving goal of $150 million of synergy savings (2) sales increased 4.5% from $2.2 to $2.3 billion (3) Gross profit margin improved 55 basis points from 30.35% to 30.90% (4) EBITDA rose 18% from $72 million to $85 million (5) cash position increased 75% from $100 million to $175 million (6) management made it clear that operational efficiencies are starting to take hold.
The negatives : (1) identical same store sales dropped 1.3% (2) operating and general administrative costs spiked 183 basis points from 31.22% to 33.05% of sales (3) Long term debt increased 8% from $1.26 billion to $1.36 billion (4) management seemed to put too much blame on the weak economy while other grocery retailers, such as Winn Dixie (NASDAQ:
WINN
) are flourishing (WINN rose 28% yesterday).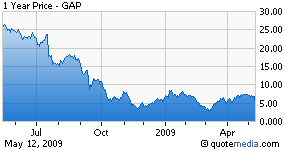 Bottom line:
Although GAP certainly laid an egg when reporting earnings, Mr. Market's overly negative reaction was certainly unwarranted. The results were just not that bad. The stock is now tremendously oversold and due for a nice bounce. Look for bargain hunters to swarm in to bottom fish, while those fortunate enough to be holding short positions, begin covering to book profits. The stock's 35% implosion presents a compelling buying oppportunity-take it before it quickly snaps back. A run back up to $6 by week's end is not out of the question.
Disclosure: Long GAP