Retailing stocks have gained considerable strength in the last two months as the market has rallied sharply from the March lows. Part of the strength is due to the panic fire-sale prices that marked the bottom. Stocks were so low, it was not difficult to imagine any good news - or even less than horrible news - providing for some sort of relief rally.
But as the market has given us a sustained period of strength, investors appear to be throwing caution to the wind and investing with much more confidence. Unfortunately, newfound confidence can often lead to disappointment, which is likely to be seen in many retail stocks in coming quarters. ZachStocks has already pointed out vulnerability in names such as Netflix, Inc. (NASDAQ:NFLX) and Buffalo Wild Wings (NASDAQ:BWLD), both of which have begun to consolidate.
Today, we're going to take a look at another retail name which has taken advantage of the recent buying frenzy but may have begun what could turn out to be a major retracement of some of those gains. The Buckle, Inc. (NYSE:BKE) has certainly been a strong stock in the last six months, rising from a low of $13.57 last November, to its recent swing high just over $39. Investors have been impressed with the company's ability to post strong sales despite the rough environment for consumers.
Buckle operates with a fiscal year end of January 31, so the most recent reporting period was for the company's fourth quarter 2009. Management reported that comparable store sales for the full year were up 20.6% and net sales for the entire company reached $792 million. Earnings were sharply higher as well at $2.30 per share - a nearly 40% increase over the previous year.
Part of the reason earnings per share were so high is because the number of shares outstanding decreased as the company repurchased 557,100 shares during the fourth quarter. These shares were bought at an average price of $16.76, or just over half of the current price of the stock. With a strong balance sheet, Buckle has no long-term liabilities in need of debt reduction. Management certainly used the company's strong financial position to benefit shareholders, and investors certainly cheered the move on March 11 when the report was issued.
But coming into the Summer months, I fear that the stock could begin to lose its momentum. Last week the company released sales figures for the month of April which turned out quite good. The company saw same store sales 18.2% higher, which should be very good news considering employment levels and the difficulty consumers are having with finances. But despite the positive number, BKE began sliding and is now more than 17% off its recent high.
Looking at the future growth of the company, analysts are handicapping Buckle to grow earnings by 13% for fiscal 2010 (ending in Jan 2010) and only 3% for the following year. It's hard to tell how accurate these projections will be, but if they are correct, it will be difficult for the stock to keep its "growthy" multiple when growth is no longer robust. Judging from the unemployment numbers I see continuing to rise, it wouldn't surprise me if the company had difficulty meeting these expectations.
Buckle will announce earnings a week from Thursday (May 21) with a conference call to take place at 11:30 AM. After such good news in the past, and with the stock beginning to roll after a strong run, I think it will be difficult for management to offer any information that will drive the stock higher. However, the chance for disappointment is great and so the opportunity to short the stock in front of the earnings announcement.
A move back to near $25 would not be out of the question and would bring the stock back to roughly 10 times expected earnings for 2010. If you are worried about the risk in shorting the stock, one could also buy the June 40 calls for roughly 85 cents to cap losses. The $40 level will be very difficult to work through on a technical level because of the selling in the same area back in September 2008.
The market is showing some signs of topping and while I'm not ready to make a bearish overall call here, I think it makes sense to begin adding short positions to a healthy portfolio of strong growth stocks. That way if we begin to decline, there are some positions which will show gains and potentially large gains at that. Consumer retail names could be especially hard hit so tread in this sector lightly. Remember, its always easier to make up for a lost opportunity, than to make up lost capital.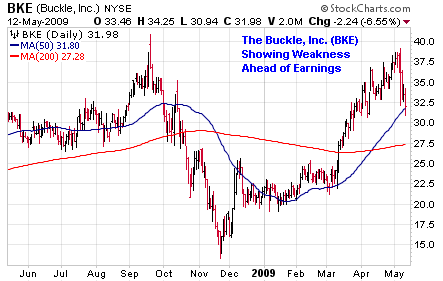 Disclosure: Author does not have a position in BKE.