When President Obama said on March 3rd that "what you're now seeing is profit-and-earnings ratios are starting to get to the point where buying stocks is a potential good deal if you've got a long-term perspective on it," he was probably talking about a company like Providence Service Corporation (NASDAQ:PRSC).
Regardless of your political affiliation, it's not hard to argue that the current administration is increasing both the size of the government and the amount that the government spends. In times like these, public companies that do business with the government stand to benefit. Providence Service (PRSC) couldn't have a better business model in place to benefit from Obama's plans.
PRSC provides privatized social services to individuals and families. The company's services are reimbursed by government programs such as welfare, juvenile justice, Medicaid or corrections. Providence owns no beds or facilities, preferring to provide its client care in home and community settings.
You don't have to look far to see that investors like PRSC in this environment. Of the 3,000 stocks in the Russell 3,000, PRSC is up the most year to date with a whopping gain of 863%. The next closest company is Borders (BGP) with a gain of 515%. The stock started the year at $1.45 and is currently at $14/share. As shown in the chart below, it just broke above key resistance Tuesday with its gain of $1.09 and now looks to fill a big down gap that occurred last July.
click to enlarge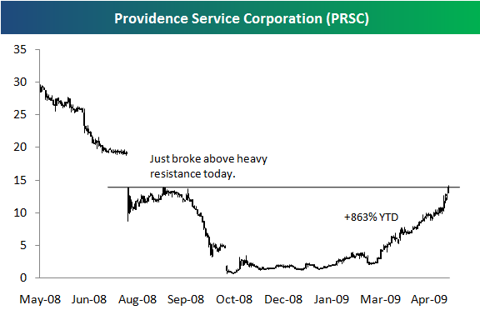 Click to enlarge