A few weeks back, I wrote an article about three companies that were trading for close to the cash on their balance sheets AND had potential for huge upside if everything went right.
I wasn't so much looking for the huge upside (which I would love), rather I was focused on the combination of the potential for a big winner along with significant downside protection that exists because of the cash supporting the valuation.
One of the companies I looked at was MGT Capital Investments (NYSEMKT:MGT).
At the time of my article, MGT Capital's share price was $2.91, and the cash on MGT's balance sheet was nearly equal to that.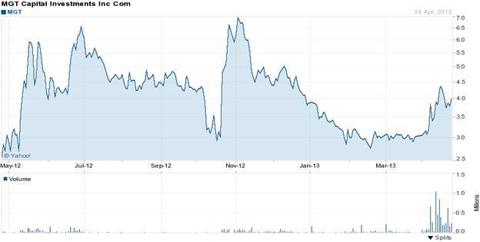 The potential for big upside that I saw in MGT is related to the ownership of an intellectual property.
That intellectual property relates to a new breed of slot machines that allow players to compete against the house as well as other players during special bonus rounds. This creates multiple levels of excitement and new ways to generate big wins. In short, group play slot machines are just a lot more fun than the old-style machines.
MGT has filed a patent infringement case relating to this intellectual property. The lawsuit claims infringement against Caesars Entertainment (NASDAQ:CZR), MGM Resorts (NYSE:MGM), WMS Gaming (NYSE:WMS) and Penn National Gaming (NASDAQ:PENN)
MGT is seeking an injunction against continued acts of patent infringement AND damages to compensate for the prior infringement.
The damages would relate to a reasonable royalty for the infringement plus interest and costs.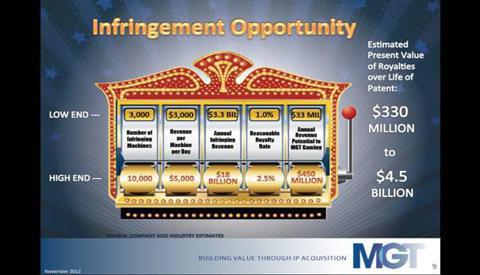 If successful in the lawsuit, the company believes the present value of the royalty stream over the life of the patent could be $330 million to $4.5 billion.
That outcome would be many, many multiples of the market capitalization implied by the current share price of MGT.
MGT's Stock Price Has Since Increased - Has The Company Changed?
Since I wrote my article, MGT's stock price has had a nice bounce from $2.91 to near $4.00.
So what has changed?
Quite a bit actually. MGT announced an acquisition that will provide a new line of business while still retaining its cash-rich balance sheet:
MGT Capital Investments, Inc. (NYSE MKT: MGT), announced today that its wholly owned subsidiary, MGT Sports, Inc., has reached an agreement to acquire a controlling interest in FanTD LLC, marking the Company's initial venture in the online and mobile gaming and wagering space.

Subject to customary closing conditions, including NYSE MKT approval, the Company expects to issue 627,500 shares of restricted common stock plus $200,000 in cash to acquire a 65% ownership interest in FanTD LLC. Closing is expected within two weeks.
As detailed earlier, MGT already owns an intellectual property in the gaming industry, but this acquisition, while also in the gaming realm, is quite a change of pace.
This acquisition is different for MGT in that it puts MGT into a role where it is in control of the actual operations of a gaming business rather than just owning a patent. And it is different in that business is online instead of casino slot machines.
In its acquisition press release, MGT describes the new business as follows:
On its website, www.fanthrowdown.com, FanTD hosts a socially interactive destination where users can participate in free or real money daily fantasy sports contests. Users select a roster of athletes across all popular sports, and winnings are determined by the same-day performance of these rosters. Daily fantasy sports compress the betting timeframe of traditional fantasy sports from multi-month seasons into 24-hour periods. FanTD generates revenue through a rake of the total amount bet.
What jumps out to me in that description is "daily fantasy sports." I've read enough to know that this is a high-growth market and could be a lucrative place to be operating in.
Comcast (NASDAQ:CMCSA) also recently jumped into the daily fantasy sports area by investing in market leader FanDuel, no doubt because of its potential for continued growth.
To give you an idea of just how fast this industry is growing, consider that in 2011 FanDuel paid out $10 million in winnings, and just one year later, that figure had increased five times to $50 million.
I went and had a look at the website for MGT's newest venture to try and learn more about the business. I see the following sports upon which a person can wager:
- NFL Football
- MLB Baseball
- NBA Basketball
- NHL Hockey
- NCAA Football
I have to say that this is one product "I get." I like watching sports, but when there is a little more on the line, I enjoy it more.
The "fantasy" part of fantasy sports is that individuals are betting on make-believe rosters of athletes with results determined by the stats those athletes produce. Daily fantasy sports takes fantasy sports betting from involving an entire season to betting on only one day.
That seems like a good idea in our world, where people love instant gratification.
Fantasy online sports works like an office sports pool. Fans compile teams of their favorite professional athletes and advance or fall back based on how the athletes perform in reality. Cash is paid out each day to the participants whose teams for that night include the highest-achieving individual players.
This isn't considered sports gambling, like Las Vegas casinos offer, because gamblers can't wager on scores or team wins or losses, and they can't create fantasy teams that mirror real-world teams. These are what-if teams, where individual performance is the most important factor.
The fantasy sports market is quite large, with 35 million players in the U.S. and Canada. And that market may soon get bigger, as New Jersey now allows casinos to offer daily fantasy sports games as an alternative.
That should help grow interest in the product.
MGT's Explanation For The Acquisition
MGT provided some rationale for the acquisition in its press release as follows:
Commenting on the announcement, Robert Ladd, MGT's President and CEO, stated, "It is hard to overstate the potential we see in legal online gambling, both now and in the near future, as states continue to relax prohibitions in pursuit of tax revenue. Betting on fantasy sports is legal in nearly all states and has a preferential carve-out on the Federal level under the Unlawful Internet Gambling Enforcement Act of 2006. Today's announcement is part of MGT's comprehensive strategy to add other games of skill over the next several months, with an emphasis on mobile applications and secure technologies. We look forward to providing investors an update via conference call within the next two weeks."
It sounds like this isn't going to be the only acquisition in this realm, and that MGT has some real long-term plans. The conference call in two weeks' time should be interesting.
I expect there must be considerable overlap from management's expertise related to its intellectual property and this move into the operating side of the industry.
Once this acquisition is completed, MGT will still be a company with a strong balance sheet but will now have two areas with potential to significantly reward shareholders instead of just one.
However, this is a small company, and the associated risks, such as an illiquid stock, less access to financing and smaller budget for internal controls must be considered.
Disclosure: I have no positions in any stocks mentioned, and no plans to initiate any positions within the next 72 hours. I wrote this article myself, and it expresses my own opinions. I am not receiving compensation for it (other than from Seeking Alpha). I have no business relationship with any company whose stock is mentioned in this article.