Can an individual investor find a golden nugget in a conference call? It is rare, but on occasion we can find something in a conference call that changes the value proposition (and the stock price) for that company. Tessera (NASDAQ:TSRA) is such a company. But before I go further, I'd like to thank Seeking Alpha for the tremendous work they do in transcribing conference calls so we can go back and review the specific details. Seeking Alpha provides the retail investor with the ability to study past conference calls, which adds a tremendous tool to our toolkit.
One of the questions in the recent Tessera Conference Call led me to dig a little deeper…and I think I have struck a very large gold deposit. I will get to the question and the answer that led to my discovery, but first we should review Tessera's Q1 Conference Call on April 30th.
Tessera had an excellent quarter in Q1 which included a one time payment of 64 million dollars from Amkor (NASDAQ:AMKR) for past production (this is its terminology for past payments of infringement when they sign a new patent royalty license). For the first quarter, Tessera had .98/share in non GAAP net income (.82/share GAAP net income). Tessera put an additional 85 million dollars in the bank this quarter, which is not bad for a company with only 49 million shares outstanding. They have 384 million dollars or approximately $8/share of cash in the bank and they have zero debt. Their image sensor/optics business is just starting to gain traction and should be in full swing in late 2009 and 2010. Hank Nothhaft (President and CEO) stated that the image sensor/optics revenue should be over 100 million in 2011. Tessera has a history of being conservative, and it appears it is being very conservative with this forecast. Last year, this business was just getting started, but now Tessera has broken it out as a separate business unit.
On the R&D front, Tessera has developed and tested a new ionic cooling technology. This past quarter, it demonstrated this technology and it performed 200% better than fans in cooling a notebook computer. This technology, which is ready to go to market, is a complementary technology to another relatively new technology called "uPILR", which is also designed to solve thermal management issues in miniaturized electronics. As data rates increase and electronics become smaller, heat dissipation and battery life become more and more important for cell phones, PDA's, and handheld gaming machines. Tessera has unique and patented solutions that will soon be commercialized. Since time to market is so important for many of these companies, potential customers are much more likely to license than to try to "reinvent the wheel". Tessera's success in patent litigation makes any company think twice about risking a patent infringement lawsuit by "borrowing" some of the patented features. Tessera does have a key patent expiring in September 2010, but they keep inventing and licensing new technology. When they license their IP, they package all their technologies into long term licenses.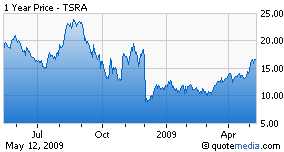 The only negative in the conference call was the macro economic factors that resulted in very poor sales for most semiconductor packaging companies during Q1. Since Tessera gets paid one quarter in arrears, its micro electronics royalty revenue in Q2 will be down sequentially from Q1. Other than that, everything is going great for the company. For example, litigation expenses are dropping like a rock. In 2007 litigation expenses were 22 million dollars. In 2008, Tessera had three active U.S. International Trade Commission patent cases on-going and litigation expenses had skyrocketed to 84 million. Tessera dropped the subcontractor ITC case (Case # 337-649), and the other two ITC cases are winding to a close (all the expensive tasks in these cases were completed in 2008). So, the litigation expenses this quarter were back down to ~8 million (from about 18 million last quarter and over 20 million in Q1 2008) and they are forecast to drop again next quarter. I should note that Tessera said in their 4Q 2008 CC that litigation expenses would be down slightly in Q1 2009, and they were down by over 50% (they are very conservative when they give guidance). Looking ahead it appears that litigation expenses will be close to the 2007 level in the future, if not below. This drop in litigation expenses alone adds approximately $1.25/share to non GAAP net income on a yearly basis going forward.
Getting back to the "golden nugget", there was a question asked near the end of the call by Michael Cohen of MDC Financial, a boutique firm that specializes in legal event driven stocks, such as those that have ongoing patent litigation. Here is the transcript from Seeking Alpha (with a couple of minor transcription errors corrected).
Operator

Your next question comes from the line of Michael Cohen with MDC Financial Research.

Michael Cohen - MDC Financial Research

Thank you for taking my call. I attended all the public portions of the wireless hearing in July last year in Washington. So, I had a lot of interest there. I was wondering, you dropped the 649 investigation against sub-contractors. I was just wondering if you could talk a little bit about the possibility of the general exclusion order you will be able to issue in the wireless investigation that could give you leverage against licenses against those sub-contractors?

Hank Nothhaft (Tessera CEO)

Yes, Michael there is a publicly available document available on the ITC website where the staff of the ITC has taken their position on the wireless case and in there is, they are quite clear that they believe that the ITC has the power and authority they issue a GEO, General Exclusion Order as well as a tailored General Exclusion Order. And ultimately they recommended that to the ITC commissioners that they issue a tailored General Exclusion Order on behalf of Tessera. So I will direct you to that document. I certainly, from my point of view, I totally agree with the ITC staff and what they recommended to the commissioners.
So, I went searching for this document on the ITC Web site. I couldn't find it, but a friend who was looking for the same document did find it….and, lo and behold, the ITC's Office of Unfair Import Investigations (OUII) has written a 73 page document that supports Tessera's position. In this document, they verified the ALJ's verdict that Tessera's '326 and '419 patents were valid, but they went one giant step further. They told the ITC Commission that the ALJ's ruling that Tessera had not proven infringement was clearly erroneous. The ITC staff took the position that infringement was proven and Tessera's request for an exclusion order was justified.
Based on the fact that the ITC Commission asked for briefs on exclusion orders, it appears that the ITC Commission agrees with their staff attorneys in the OUII, and will overturn the ALJ's Initial Decision of no infringement in the wireless case (Case #337-905). The deadline for this ruling is May 20th, but it possibly could come earlier, as the briefs were submitted in April. The defendants in this case (Motorola (MOT), Qualcomm (NASDAQ:QCOM), Freescale (NYSE:FSL), ST Micro, Spansion (SPSN), and ATI (ATYT)) may be forced to license sometime this summer or face a huge bond during the presidential review period. In their brief to the commission, the OUII recommended a bond of 3.5% of the value of the infringed products be placed on the companies during this review period. There could also be significant past production payments associated with these new licenses (Amkor paid past production payments of $64 million...and, in my opinion, the total from all the wireless customers would easily exceed that amount, perhaps by a factor of two or more).
Companies such as Texas Instruments (NYSE:TI), Samsung (OTC:SSNLF), Sony (NYSE:SNE), Toshiba (OTCPK:TOSBF), Hynix, NEC (OTC:NELTY), Fujitsu (OTCPK:FJTSY), Sanyo (OTC:SANYY), Casio (OTCPK:CSIOY), etc. etc. have been paying for Tessera's Chip Scale Packaging Technology, but the companies in this case (Motorola, Qualcomm, Freescale, ST Micro, ATI and Spansion) have not signed a license with Tessera. Amkor recently signed a license and paid past production payments of $64 million and they are now a paying customer.
What does all this really mean for Tessera? Well, in my opinion, it means that soon after the ITC issues a favorable ruling for Tessera overturning its own ALJ, most of these companies will quickly license. In fact, Motorola has already signed an arrangement with Tessera with a licensing option, should Tessera win the case at the ITC. Do you think Motorola would sign this agreement if they thought they would win the case? The deadline set by the ITC Final Determination is May 20th.
One other possible consequence of a favorable ruling for Tessera in the wireless case is a favorable ruling this summer in the DRAM case which involves the same patents and the same Administrative Law Judge. Tessera currently has Samsung, Hynix, Micron (NASDAQ:MU) and Qimonda (QI) licensed among the DRAM manufacturers. Qimonda recently filed bankruptcy, but the other three manufacturers represent about 65-70% of the DRAM market. If TSRA wins this case, Elpida (OTC:ELPDF) (the Japanese DRAM manufacturer who has about 14% market share) and the smaller Taiwanese manufacturers who represent the other 15-20% would all have to license or risk having any products with their chips impounded upon entry into the U.S.
Assuming Tessera wins these two cases and increases its wireless market penetration from about 35-40% to about 75-80% (my best guess based on listening to past conference calls) and its DRAM penetration increases from about 70% to about 90%, this would result in approximately $150 Million in additional on-going annual revenue (or about $3/share in non GAAP net income). With Tessera's business model, new licensing royalties simply drop to the bottom line as there are no new expenses associated with them (except maybe a few accounting expenses). Actually, it is even better than that, because the legal expenses associated with the lawsuits at the ITC will go away, so there could be savings of over 60 million per year in litigation expenses as compared to 2008.

I'll leave it to the experts and the market to evaluate the company's stock price. After Tessera has licensed 80% of the wireless market and 90% of the DRAM market, non GAAP net income would be approximately $6/share annually, in addition to their $8/share cash in the bank. If it also gets past production payments of 100 million as part of its new licenses, that would be an additional $2/share in non GAAP net income. A favorable Final Determination (FD) from the ITC Commission removes a tremendous amount of uncertainty for Tessera.
Disclosure: Long Tessera.