AgFeed (OTC:FEED), an animal feed and pork company based in China, announced its first-quarter results on Monday morning. Its quarterly earnings of $3 million or 8 cents per share were ahead of analysts' estimates for 5 cents.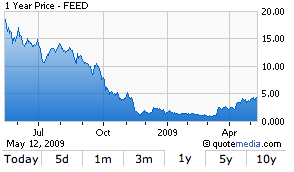 Even though revenue came in slightly light at $33.4 million instead of the $37.2 million expected, AgFeed's shares rallied as much as 15% before dropping back to about a 10% gain for the day in late trading. On a mostly red day across the board, AgFeed's results were encouraging.

Despite concerns about the H1N1 flu virus, which is still active globally, management sought to comfort nerves by pointing out the steps the Chinese government had taken to insulate the country from any risk.

Investors seemed to focus particularly on the comments from AgFeed's chairman pointing out the hog prices would rise in the second half of the year.

AgFeed has been on a tear since the start of the year, rising 170% year to date. Yet, currently, even after Tuesday's positive news on the latest quarter, the stock trades at an enterprise-value-to-EBITDA ratio of less than 5.

The primary risk facing the company is how the H1N1 virus continues to play out across the world. It has yet to really affect China, and pork remains one of the country's most popular dishes. In some ways, the H1N1 virus could benefit a vendor like AgFeed, which is selling nutrients to better protect that industry. Earlier in April, for example, AgFeed announced a partnership with the swine genetics provider Hypor. AgFeed is positioning itself as a must-have nutrient provider to any pork farmer in China.

However, in the short term, AgFeed's stock price will rise and fall with earnings expectations. Investors are presumably taking comfort from the company's announcement on Monday that first-quarter earnings were solid and that prices look set to rise at a healthy pace in the second half of the year, despite the current swine flu concerns.

The second major factor holding back the company is the "China discount." We see this in stocks such as Fushi Copperweld (FSIN - commentary - Cramer's Take) or any smaller-cap China stock. Many U.S. investors are concerned about AgFeed's governance and transparency.

To answer this, FEED is taking steps that are common to many other companies in their situation. It has opened a "corporate office" in the U.S. and also selected an American, Gerard Daignault, as chief operating officer. The company has also done its best to assemble a board of directors that shows that it is familiar with U.S.- and European-style governance standards. However, it's difficult to meaningfully differentiate AgFeed on this dimension in comparison with any other Chinese peer - at least not yet.

For the time being, an investor is left to weigh the upside of pricing, broad interest in agricultural stocks, Chinese demand for pork and the continued recovery of that country's domestic economy. When you weigh those against AgFeed's current valuation, I find it inexpensive and will continue to hold it for likely the rest of the year.

Disclosure: At the time of publication, Jackson's fund was long FEED.

Please note that due to factors including low market capitalization and/or insufficient public float, we consider FEED to be a small-cap stock. You should be aware that such stocks are subject to more risk than stocks of larger companies, including greater volatility, lower liquidity and less publicly available information, and that postings such as this one can have an effect on their stock prices.