With increased uncertainty in the civil aerospace market, Chris Murray, CIBC World Markets analyst, lowered his earnings outlook for CAE Inc. (CGT) on the eve of its fourth quarter results Thursday.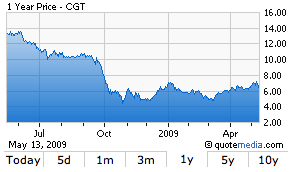 Both Boeing (NYSE:BA) and Airbus have indicated that they are making minor adjustments to their wide-body production rates, and Mr. Murray says he expects to see a "major" reduction in narrow-body deliveries occurring through 2010 as the airline industry suffers from dwindling demand for air travel.
CAE is the leading manufacturer of full-flight simulators, sales of which are closely linked to new aircraft sales.
"The outlook for the company's civil segments is characterized by increasing uncertainty," Mr. Murray said in a note to clients, where he reduced his sales forecast for full-flight simulators this year to 24 this fiscal year, from the 34 sold last year.
After incorporating this weaker outlook for civil segment, he lowered his earnings estimate as well this year to 66 cents a share, from his previous estimate of 81 cents a share.
His target price also drops to C$8 a share, from C$9.50, however, he maintained his "sector performer" rating on the stock.