Firm/Stock Overview
Electronic Arts (NASDAQ:EA) operates within the Multimedia and Graphics Software industry, developing, marketing, publishing and distributing gaming software and services that can be played and accessed over a variety of platforms. The firm develops a diverse range of brands and brand categories - action-adventure, sports, shooter, simulation, strategy, and social - that can be played on gaming consoles, tablets, mobile devices, and the Internet. Throughout its history, EA has set the standard specifically for sports gaming, with such titles as Madden NFL, NHL, NCAA basketball and football, and FIFA. The firm holds many other massively popular titles such as Mass Effect, Dead Space, Battlefield, The Sims, and Star Wars: The Old Republic. In the last 5 years, the firm has shown a tremendous drop in stock price from an early high of $53.17. Through the last 52-weeks, the firm has shown some growth in price (click to enlarge images):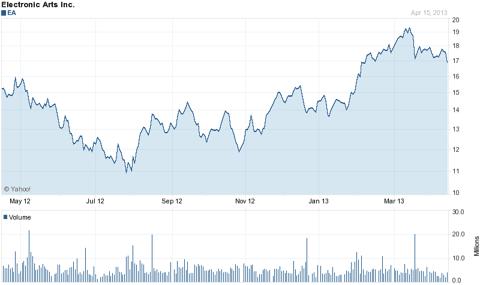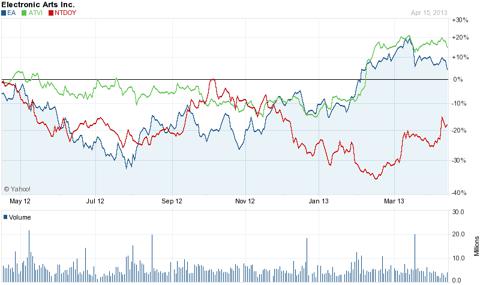 Source: Yahoo! Finance (As of April 16, 2013)
The 52-week range is $10.77 low to $19.51 high, and as of day's close April 16th, $16.91. In terms of YTD, EA, along with its biggest competitor Activision Blizzard (NASDAQ:ATVI) have risen into positive returns above its prior 52-week start. Nintendo (OTCPK:NTDOY), its second-largest competitor, has done relatively poorly during the last 52-weeks. EA's stock currently has a beta coefficient of 1.04, showing just 4% more volatility than the overall market. Smartmoney.com reports the industry average beta coefficient of 1.16. Its stock has weakened slightly recently, and the firm has received some bad press - there were issues with the release of the new SimCity as well as being named "Worst Company in America" by the Consumerist. Outside of these public relations issues, will this firm be able to recover and perform strongly in the future? Analysis of the firm's financial and operational strength and the outlook for the future show this firm as a strong buy.
Historical Financial Overview
The firm shows sustainable financial growth within the last 5 years.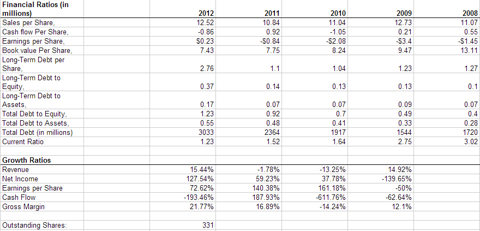 Source: Electronic Arts 2012 10-K Report
As seen from the ratios for the prior 5 years, sales have stayed relatively steady - with a slight increase in the last year - yet EPS has steadily increased. This may be reflecting the growth of digital content. Indeed, EA's 2012 10-K report shows a 47% increase in wireless, internet-driven, and digital advertising revenues from 2011-2012. Consumers are spending more time and money on entertainment they can access online or through mobile devices, and this type of content has shown to have higher margins. We can see the gross margin percentages steadily increase, and annual statements will show that the costs of revenues associated with products have decreased. Within the last 5 years, net income has shown tremendous growth and with the growing trend of digital content, we can expect the firm to become more and more efficient in its operations.
Overview of Growth

Source: CNBC
Within its industry, Electronic Arts does have a much higher P/E, however the forward estimated P/E shows this ratio leveling out. The firm shows a bit of a high PEG, however EPS is estimated to grow tremendously.
Profitability

Source: Morningstar.com
An initial look at the firm's profitability shows that EA has fallen much behind its competitors in Net Margin %, and in a way that is the case. Activision has shown continued strong performance, while EA shows only a net margin % of 1.83. Yet this chart is best understood when looked at in combination of the above historical ratios. We can see that the net income has continued to increase, and its EPS is forecasted to increase tremendously over the next year alone. The return on assets, return on equity, and return on invested capital have all climbed steadily. One point of concern may be its financial leverage. From the firm's 2012 10-K, we see that liabilities have increased greatly - especially the long term debt. This increase in long-term leverage, along with the firm's volatile cash flows (-$286 million in 2012), may be cause for concern for investors. Yet, this increase in debt and cash flow volatility are due to three main reasons: the firm's purchase of PopCap, $413 million repurchase and retirement of stock in accordance with the firm's Stock Repurchase Program, and the firm's expected restructuring expenses. The firm sold $617 million in 0.75% Convertible Senior Notes due in 2016, which is the cause for the major increase in debt. EA used $645 million in cash for the purchase of PopCap, and announced a plan of restructuring for digital transformation expecting to end in about $40 million in the next fiscal year. This acquisition, stock repurchases, and restructuring costs are not recurring phenomena, and the long-term debt associated with them is expected by the firm to be covered by cash-flow generated from operations and current cash and assets. Thus, the firm can be expected to have great growth in cash flow and net income.
Valuation Forecasting
In using the company's current and historical fundamental financial information, we are able to estimate growth rates for the future and forecast a future stock price range.

We can observe growth properly by comparing quarter revenues for each year. We'll compare growth rates in terms of the same quarter from year-to-year to observe true growth and avoid seasonal fluctuations. By looking at yearly revenues for the past 10 years, along with totaled quarterly growth rates for the year, we can determine which years have been good and which years have been bad - which have been driven primarily to the game releases and sales of those years. Once determined, we can compile a weighted average of the good, average, and bad years' quarter growth rates to determine estimated growth rates for the future whether it was a good, average, or bad year. These rates have been estimated at 16%, 10%, and .26%, respectively. We are able to apply these rates to the most current annual financial statements to create a pro-forma for the next year, as well as performance ratios for best, average, and worst case scenarios.

Price: $16.91 as of 4/15/13
Based on the estimated pro forma, we are able to calculate certain ratio, as well as a price range within each situation. By multiplying the current P/B by the future book value per share, the P/CF by the future cash flow per share, and the P/E by the future earnings per share, we can estimate the above prices. But as these give such wide ranges - for example, $101.06 with highest growth to $11.93 in low growth based on earnings - we can take this analysis a step further.

We now create a more accurate price range by comparing the probabilities of good, average, and bad years. This probability is taken from the quarterly earnings comparisons - it is the percentage of the sample size of each. By taking a weighted average of each estimated price, for each valuation factor, based on the probability, we are able create a more accurate range. We can see that, as of April 15th, the stock was selling just above the estimated price based on book value - which doesn't fluctuate very much. Since it's just barely selling above the stock price based on book value, we can forecast that the stock will tend to go up in value. Indeed, the stock has a great opportunity for growth, with a ceiling of more than triple its current price.
Conclusion
Electronic Arts shows signs of great continued growth in its operations and earnings. Although it has received some bad press recently in regards to its SimCity game and the "Worst Company" rating, its operations and financials show that the firm has been operating efficiently. The firm's growth in debt and cash flow volatility may deter investors, yet these factors are explained by restructuring and repurchasing expensive - isolated phenomena - that the firm expects to pay back through operating cash flow.
The most important factor in determining the company's future health is the games that it will bring to the market. The game manufacturer is contracting its physical product portfolio to core games that gamers already rush to, such as FIFA, Madden, and Battlefield, and NHL. These games continue to drive revenues, and although it has recently cut Facebook games, the firm is gravitating towards the higher-margin digital content. Its largest competitor, Activision Blizzard , had in 2012 launched new World of Warcraft and Diablo III games, while the most anticipated Q4 2012 release was Call of Duty: Black Ops 2. Recently, EA released a digital expansion of Star Wars: The Old Republic, as well as the highly anticipated Dead Space 3. One of the most important future events is the release of EA's NHL 2014 and FIFA 2014 games. These games are being renovated with new gaming creation engines for incredible realism and may be the best releases in their lines. Along with these games, and the recent release of, EA is anticipating the release of popular games Command & Conquer, Battlefield 4, Madden NFL 25, The Sims 3 Island Paradise, and Fuse.
One last factor that cannot be ignored is the coming releases of the Playstation 4 and the next Xbox, which are said to be released toward holiday season 2013. The release of these systems will undoubtedly result in high sales revenue for both EA and ATVI, and the forecasting of EA's stock shows great promise of growth. It is in light of these analyses that I recommend Electronic Arts as a strong buy.
Disclosure: I have no positions in any stocks mentioned, and no plans to initiate any positions within the next 72 hours. I wrote this article myself, and it expresses my own opinions. I am not receiving compensation for it (other than from Seeking Alpha). I have no business relationship with any company whose stock is mentioned in this article.