Shares of wireless giant Sprint (NYSE:S) are trading just a couple percent off their recent 52-week high, and are also more than 200% off their 52-week low. Sprint recently released their first quarter earnings report, and I'll briefly discuss that today, and discuss the updated quarterly balance sheet. I'll also look at the continued discount Sprint trades at, and discuss a few scenarios for longs going forward.
First Quarter results:
Sprint came in with more than $8.79 billion in revenues for the quarter, which was nicely ahead of $8.71 billion analysts were looking for. Analysts were actually looking for a decrease of about 0.25%, while Sprint came in at an increase of 0.68%. On the bottom line, Sprint lost $0.21 per share, which crushed analyst estimates for a loss of $0.32.
But the more important part in my opinion was Sprint's ability to control expenses during the quarter. The following table shows Q1 margins against last year's period, and I'll discuss the results after the table.

As I said, revenues were up 0.68% over a year ago. However, the cost of services decreased by $147 million, or 5.27%. As Sprint continues to shutdown its old Nextel network, it should hopefully realize more cost benefits. Sprint expects the Nextel network to be shut down by the end of the second quarter. The cost of products even edged down by 0.22% over the year ago period. That might not seem like much, but when you can cut your "cost of goods sold" while revenues are increasing, you will increase your gross margins. Sprint did nicely.
On the operating side, Sprint did even better. Selling and general expenses decreased by $100 million, or 4.11%. Depreciation and amortization expenses came down by $174 million, more than 10.4%, and that included accelerated depreciation of approximately $360 million. Unfortunately, this was partially offset by "other income" items, which swung from a $198 million gain to a $3 million loss. Overall, operating expenses declined by $73 million, or 1.87%. That helped Sprint to increase operating margins by 325 basis points over the prior year period, and to record an operating profit for the quarter.
Further down the income statement, things got a little worse. As Sprint's debt pile has increased, so have their interest expenses. Interest costs rose by $134 million, nearly 45%, over the year ago period. In the quarter, Sprint paid $432 million in interest. That's a lot of interest to pay in just one quarter. On the positive side, Sprint's equity losses improved by $71 million. Sprint lost $643 million for the quarter, a bit better than the $863 million they lost in last year's period. On a per share basis, the company lost $0.21 in the period compared to $0.29 a year ago.
A couple of other key numbers from Q1:
Adjusted OIBDA of $1.5 billion up 25% year over year, highest year over year increase in 6 years.
Sprint platform wireless service revenue of $7.1 billion is the highest ever and increased 9% year over year.
Best ever Sprint platform postpaid ARPU of $63.67, which was up 2% year over year.
Sprint platform subscriber base reaches highest ever level of 53.9 million.
Highest ever total prepaid subscribers at 16 million.
Sales of Apple's (NASDAQ:AAPL) iPhone exceed 1.5 million with 43 percent to new customers.
Network Vision gains momentum - Exceeded target of 12,000 sites on air by end of quarter, and currently have more than 13,500 sites on air.
The company also gave an update on its yearly forecast:
The company expects 2013 Adjusted OIBDA* to be at the high-end of the previous forecast of between $5.2 billion and $5.5 billion excluding the effects of the closing of strategic transactions.
Balance sheet update:
Sprint's balance sheet got a little weaker in Q1, and some key ratios are below. Dollar value in millions.

*Liabilities to assets ratio.
Sprint's current ratio and working capital weakened a bit. The amount of total debt rose again, to another new high. This has put the debt (liabilities to assets) ratio at its highest point, and shareholder equity at its lowest point. Sprint now has almost $3.80 in debt for every dollar in equity, and more than $6.84 in liabilities for every dollar of equity.
Sprint is looking to improve this balance sheet, and for a while, it was expected that Softbank's capital infusion would help with this process. Sprint was expected to use some of those funds to pay back debt. Remember, a lot of this debt carries high interest rates: 6%, 7%, 9%, and even 11.5%. In the Q1 results above I mentioned how the company's interest expenses ballooned over the year ago period. Paying back some of this debt, especially some of the higher rate notes, could significantly help results on the bottom line.
Sprint's relationship with Apple:
As mentioned above, Sprint sold more than 1.5 million iPhones in the quarter. This is roughly in-line with what they sold in Q1 last year, and the 43% to new customers was the highest percentage since the 44% in Q1 of last year. The table below shows Sprint's iPhone sales info since they started to sell the phone a year and a half ago.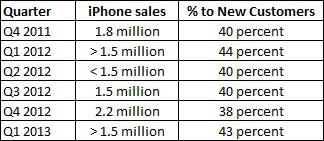 It's nice to see 43% to new customers, a bit ahead of the past few quarters. Sprint obviously is a long way behind AT&T (NYSE:T) and Verizon (NYSE:VZ) when it comes to iPhone sales, but remember, the deal with Apple may only be for a certain amount. If you go back to when Apple released the iPhone 5, many Sprint stores sold out rather quickly because they didn't get a large supply. Sprint has sold about 10 million iPhones in their first year and a half selling the phone. I'm sure that Sprint is thrilled about that, but so is Apple.
Now if you want to find a negative here, you might have liked to see a little growth in iPhone sales. When Apple reported their fiscal second quarter, they reported a nearly 7% rise in iPhone sales. Sprint's iPhone sales were basically flat over Q1 last year. We don't know if demand for Sprint phones was necessarily weak, or supply was limited. Sprint still has a long way to go to catch Verizon and AT&T, but at least Sprint did not see a year over year decline in iPhone sales. That truly would have been a negative.
Sprint trades at a huge discount:
Because of all the losses in recent years, the huge pile of debt, and even some concerns that bankruptcy was coming, Sprint's stock was crushed until about a year ago. The stock has rebounded nicely, going from barely over $2 to over $7 a share. Even after that massive run, Sprint still trades at a huge discount to its larger rivals. The following table shows price to sales comparisons, and well as a price to assets comparison. The sales numbers are based on current analyst expectations for each year, market cap is as of Thursday's close, and asset values is as of each company's Q1.

So even after shares have more than tripled, Sprint still trades at a considerable discount to AT&T and Verizon. Now, I'm not arguing that Sprint should be trading at well over 1.00 times price to sales or anything. But even if Sprint traded at half the average price to sales (between T, VZ), that would represented about 16.5% upside from here, based on 2013 numbers.
Let's make a deal:
Everyone has been waiting for several months for Sprint to complete the Softbank deal. However, a new wrench was thrown into this plan when Dish Network (NASDAQ:DISH) announced a merger proposal. Dish believes that their proposal represents a 13% premium to the Softbank deal, as Sprint shareholders will receive $4.76 per share in cash and 0.0595 DISH shares per Sprint share. Sprint provided the following comment on its conference call in relation to the two deal proposals.
We remain on schedule to close all three of our pending transactions with U.S. Cellular, with Clearwire, and with SoftBank by July 1. We will not discuss these pending or any proposed transactions on today's call. As our announcement on Monday said, the Sprint board of directors have formed a special committee of independent directors to review and carefully evaluate the proposal received from Dish with its financial and legal advisors. The special committee plans to evaluate the proposal and additional information that the committee has requested from Dish and provide its assessment to the full board in due course.
Sprint stated that management will continue to focus on operational performance while the committee analyzes the DISH deal. For now, it appears unlikely that Softbank will raise their offer. Sprint shares closed at $7.14 on Thursday, two percent above the $7 DISH offer. DISH shares have also risen since the offer announcement. Obviously, the best thing for Sprint longs would be a bidding war, as longs hope for an eventual deal price of say $8 to $10.
Final Thoughts / Possible scenarios:
Sprint reported a very good Q1. Revenues beat and were up over last year's period. Losses came down and significantly beat estimates. The company sold a fair amount of iPhones, and reported some solid overall metrics. The balance sheet got slightly worse, but it will with this company losing as much as it is. So where does Sprint go from here? Well, I think that there are a few scenarios to discuss, and I'm focusing on the long side here.
The first scenario is that both deals fall through. This is the least likely scenario. If this happens, you probably will see Sprint stock tank right away, but at that point it might be a great value. They are still improving their results, and the valuation would be ridiculously low. You'd then probably get a new offer coming back in at some point, which would push shares right back up.
The second scenario is that Sprint goes through with the Softbank deal. A couple of weeks ago, this seemed rather likely, but now we are not totally sure. If this deal goes through, Sprint can start to pay back some of its debt, which will significantly help the bottom line. They can also use some of the capital to continue the network buildout. Between the Nextel shutdown and decrease in interest expenses, Sprint could get to profitability a lot faster.
The third scenario is that Sprint goes with the DISH offer. Everyone believes that this offer is superior, so this would be best for shareholders. With DISH shares rising, it boosts the offer price for Sprint, and JP Morgan has argued that this puts a $7 floor in Sprint stock for the near future.
The final scenario is that a bidding war does break out. At this point, it seems unlikely. However, look how many names went out after Dell (NASDAQ:DELL) after the initial bid. If a bidding war breaks out, I would think that the lowest price settled on would be $8. That's a nice bit of upside from here, but again, a bidding war seems unlikely right now.
Disclosure: I have no positions in any stocks mentioned, and no plans to initiate any positions within the next 72 hours. I wrote this article myself, and it expresses my own opinions. I am not receiving compensation for it (other than from Seeking Alpha). I have no business relationship with any company whose stock is mentioned in this article.
Additional disclosure: Investors are always reminded that before making any investment, you should do your own proper due diligence on any name directly or indirectly mentioned in this article. Investors should also consider seeking advice from a broker or financial adviser before making any investment decisions. Any material in this article should be considered general information, and not relied on as a formal investment recommendation.