Ryland Group's (NYSE:RYL) strong revenue and earnings results came on the heels of Meritage Homes (NYSE:MTH) bullish report, adding insight into how the quarter shaped up across the broader homebuilding (NYSEARCA:XHB) basket.
Last week, I wrote how completions data suggested home builders such as D.R. Horton (NYSE:DHI) and KB Home (NYSE:KBH) would post strong Q1 results.
At Ryland, those completions helped closings climb 60.4% in the quarter, driving revenue up 73.6% year-over-year.
New orders for Ryland homes increased 54.4%, with the value of new orders increasing 75.3%, as tight housing inventory supported price increases. Average selling prices were up 8.2% to $277k.
This order and pricing strength brought Ryland's unit backlog 57.2% higher. The value of the company's backlog increased an impressive 75.1%.
More important, those higher unit completions were leveraged against recessionary cost cuts to boost gross margin to 19.4% from 17.5% a year ago. Selling, general & administrative costs dropped to 13.8% of sales, down from 17.8%.
Sales and earnings growth was broad based.
The company saw earnings in its West segment increase to just shy of $8 million versus a $1.7 million dollar loss last year. Texas remained strong, with earnings of $5 million, up from $3.5 million. The company also generated $4.3 million in earnings from financing, up from just $645k the prior year.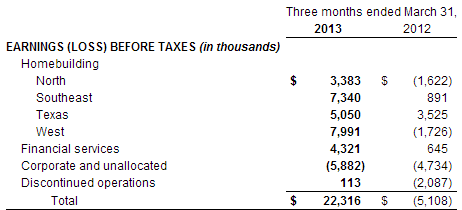 Ryland's West segment results reinforced bullish California results from Meritage. Ryland closed 269 new homes in its West segment, up from just 82 the year before.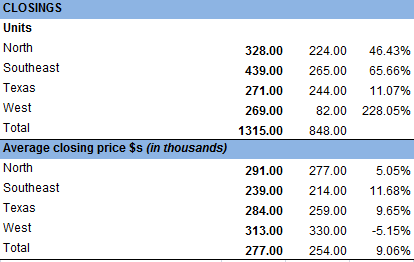 And, while average prices in the West dipped 5% in the quarter, the average price of homes outstanding on contract improved to $353k, up from $336k. This suggests Q2 results will be equally strong.
Nationwide, housing tailwinds remain in place.
Future growth for the industry remains supported by permits, which grew 17.3% year-over-year in March, and housing starts, which were up 46.7% from a year ago.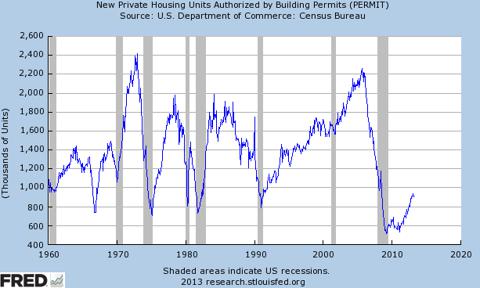 Click to enlarge
Additionally, mortgage rates remain at multi decade lows.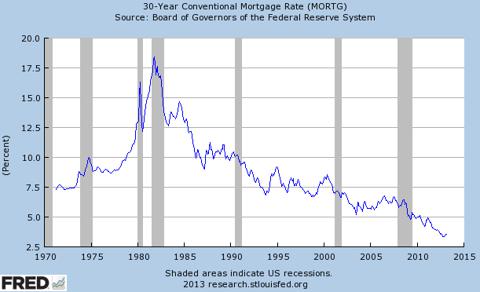 Click to enlarge
As the economy continues to expand, albeit slowly, low mortgage rates offer plenty of incentive for new home owners.
As long at unemployment trends continue to improve, its likely industry players such as Ryland will offer investors above average sales and profit growth, suggesting the group remains attractive.
Disclosure: I am long RYL, DHI, KBH. I wrote this article myself, and it expresses my own opinions. I am not receiving compensation for it (other than from Seeking Alpha). I have no business relationship with any company whose stock is mentioned in this article.