While the economy begins to show some signs of a recovery, including modest gains in consumer confidence, the auto industry continues to struggle as sales remain at historic lows. As more and more car and truck owners opt to keep their vehicles longer than originally planned, the need for auto service has grown. Among the many things that need to be replaced on an aging car are its tires. To quantify the business ramifications of this trend, Compete analyzed consumer behavior on the top tire sites as well as the search behavior of consumers that contributed to site visits.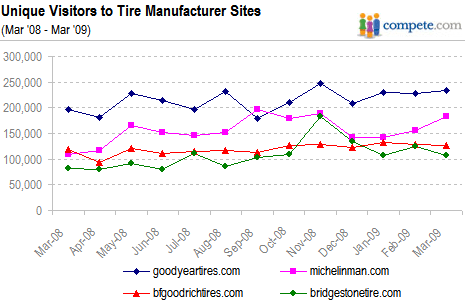 As the economy worsened and people decided to put off buying new vehicles the need to maintain their current ride increased as seen in a rise in traffic to tire sites. Traffic to the 4 major tire manufacturer sites has increased across the board year-over-year. The biggest gainer has been Michelin whose site traffic is up 67% from a year ago. At the same time, the most visited site – goodyeartires.com – is up 19% while Bridgestone traffic is up 31% and BFGoodrich is up 6%. Traffic definitely jumped in the 4th quarter of 2008 just as the auto industry and the economy began to nose dive.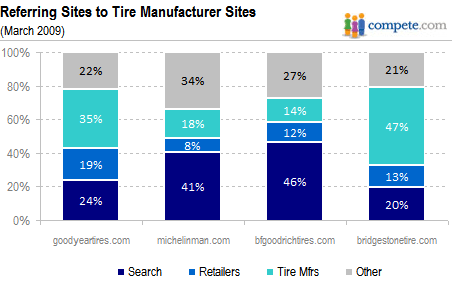 We also found that search plays an integral role in driving site traffic, but more for some tire makers than others. Nearly half of all the traffic to the Michelin and BFGoodrich sites is referred from search (Google, Yahoo!, MSN). But what's going on with Goodyear (NYSE:GT) and Bridgestone (OTCPK:BRDCY)? Why does search play less of a role in driving traffic to those sites? It could be because Goodyear and Bridgestone do a better job of navigating traffic between their corporate sites and their tire sites. In fact, the bulk of tire manufacturer referrals to those two sites come from goodyear.com (to goodyeartires.com) and firestone.com (to bridgestonetire.com). For these two tire manufacturers, managing intra-brand site traffic may be as important a marketing tool as search.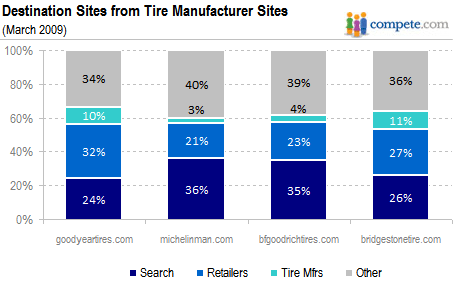 So what happens after someone reaches a tire site? You can shop and you can find out where a retailer is but you can't buy a tire at any of these sites. So it's important to understand where prospects go once they leave the manufacturer site. Michelin and BFGoodrich visitors go right back to search, but Goodyear and Bridgestone prospects are as or more likely to visit a tire retailer site. Again, this suggests a multiple site strategy for those two brands. The primary destination site for Goodyear visitors is goodyeardealers.com and for Bridgestone it's firestonecompleteautocare.com. Retailer destination sites for the other two, Michelin and BFGoodrich, are spread out between Tire Rack, Discount Tire, Sears (NASDAQ:SHLD), Wal-Mart (NYSE:WMT) and Costco (NASDAQ:COST). Goodyear and Bridgestone appear to do a better job of keeping customers engaged with their brand.
The ability of Goodyear and Bridgestone to drive traffic to their own retailers may mean a greater potential for driving tire sales. Both tire manufacturers need to maximize that potential by turning that opportunity into sales while Michelin and BFGoodrich need to understand how they can more effectively drive online shoppers to remain focused on their brands.
Evaluating consumer online shopping behavior is always critical but it's especially important now as the economy begins to slowly recover. As it recovers, consumers may buy fewer replacement tires. On the other hand, there may be a bank of consumers that have even postponed tire purchases and who will re-enter the market. Staying on top of consumer behavior dynamics is the best way to effectively manage your marketing strategy and drive sales.