American automaker Ford (NYSE:F) reported fantastic first quarter results Wednesday morning. Revenue jumped 10% year-over-year to $35.8 billion, which was significantly better than consensus estimates. Earnings were modestly higher, growing 5% year-over-year to $0.41 per share, which was also much better than consensus expectations. The firm also generated $700 million in automotive operating cash flow, making it the twelfth consecutive quarter of positive cash flow performance-a drastic departure from where the company was five years ago.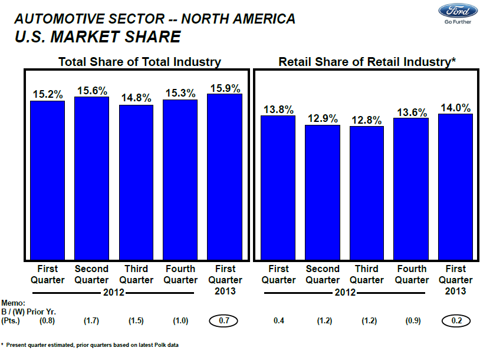 Image source: Q1 2013 Ford Investor Presentation
The standout performer during the first quarter was once again North America. Automotive operating profit jumped 14% year-over-year to $2.4 billion driven by a 20% increase in revenue to $22.3 billion. Operating margins declined 50 basis points year-over-year to 11% which was attributable to the firm investing in its business. Nevertheless, North American operating profit was an all-time high for a single quarter. The firm also captured additional market share in the US (shown above), reflecting the strength of the company's product offerings, particularly the Fusion. With an increase in net pricing, the first quarter suggests Ford's competitive position is fantastic.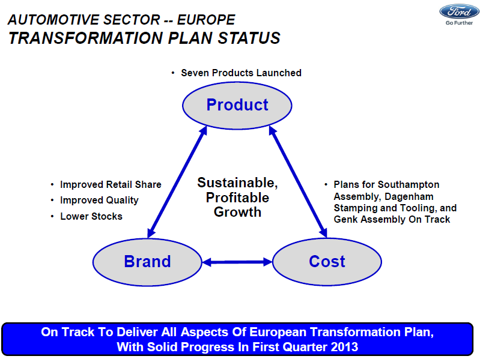 Image source: Q1 2013 Ford Investor Presentation
Although revenue fell just 7% year-over-year to $6.7 billion, results in Europe were very poor, in our view. The company lost $462 million as the firm accelerated depreciation charges and worked to bring new products to market. Transforming the European business will cost Ford over $2 billion this year, but we believe the company knows the appropriate roadmap after going through a similar restructuring in its North American business. On the positive side, Ford gained 20 basis points of market share in the region, and the plan to achieve profitability by mid-decade seems plausible.
South America was challenging for Ford as the currencies of Venezuela and Argentina devalued and sales remained flat. Although management believes the segment will achieve breakeven in 2013, plenty of exogenous risks could throw a wrench in Ford's plans. Since the firm will continue its One Ford plan in the region, we feel optimistic that the segment can become profitable in the next few years. CEO Alan Mulally added some positive commentary, stating:
"Well most of the volume that's sold there is actually built because of the very high tariff barriers that they have in place in all the key markets. We are rolling out all new products, global products that will replace our legacy products. We're planning to increase our market coverage from 67% today to about 82% by 2015."
Ford Asia-Pacific squeezed out a profit of $6 million, boosted by a 13% increase in segment revenue. Market share in China increased 1 percentage point to 3%, and we think China will eventually become a blockbuster sales market for Ford. While management reiterated its guidance for breakeven, we're willing to be patient as we wait for the company's investments to yield returns. The growth of automobile demand in China and India could be spectacular over the next decade, so establishing a presence in the new markets is paramount.
While often neglected, Ford Credit posted a solid 10% increase in operating profit, contributing $503 million of pretax earnings. As sales improve, as should Ford Credit's profitability, particularly as it packages its receivables to yield-hungry investors.
Overall, we were quite pleased with Ford's first-quarter performance, and we can only wonder how fantastic earnings would be if business in European was only bad instead of catastrophic. Still, Ford is on track to become a significantly more profitable company in just the next few years. Incremental profitability gains in South America and Asia will help propel growth, lest we forget that the US economy's growth is still weak, and demand for new vehicles could be strong for the next several years. We're holding on to shares in the portfolio of our Best Ideas Newsletter, and we anticipate further upside from current levels.
Disclosure: I am long F. I wrote this article myself, and it expresses my own opinions. I am not receiving compensation for it (other than from Seeking Alpha). I have no business relationship with any company whose stock is mentioned in this article.
Additional disclosure: Ford is included in Valuentum's Best Ideas Newsletter portfolio.