In the March 27th (2013) issue of Kiplinger's Eleanor Laise wrote:
Rebalancing - the process of selling your winners and buying losers - is never as simple as it sounds. At a gut level, nobody wants to sell stocks when they're soaring or buy them when they're plunging. And now, investors confront the prospect of rebalancing from stocks into bonds, whose low yields generally look unattractive.
Laise went on to say that investors should:
...resist the urge to plow money taken from stocks into higher-yielding junk debt or longer-term bonds. Junk bonds have already had a big run, and investors should consider rebalancing out of these riskier holdings too.
I completely agree with Laise's approach and I would go as far to say that REIT investors should also consider staying away from the riskier mortgage REITs and instead focusing on more risk-averse blue chip REITs.
As Ralph Block explained in his book, Investing in REITs:
The blue chip REITs take you safely through the ups and downs in the sector's cycles and deliver consistent, rising, long-term growth in FFO (funds from operations) and dividends. Because they are financially strong and widely respected, they will always have access to the additional equity and debt capital that fuels the engine. They will not always provide the highest dividend yields or even, in many years, the best total returns, nor can you buy them at bargain prices - but they should provide years of double-digit returns with a high degree of safety. These are the REITs least likely to shock investors with major earnings disappointments, and will provide very satisfying returns.
In a recent Seeking Alpha article, Tim McAleenan explained that the difficulty that investors face when looking for blue chip alternatives.
Most forms of diversification for blue-chip dividend investors reeks of "diworsification." It's hard to beat the best-in-class blue chip stocks.
Only when the tide goes out do you discover who's been swimming naked
It appears that REITs are becoming increasingly attractive today as evidenced by the significant amount of capital flowing into the securitized "brick and mortar" sector. What is even more interesting is the fact that most REITs are becoming better equipped to handle the fragile economic outlook and the potential for rising interest rates. As Philip Kibel, Vice President of Moody's explained (in a new report):
We do not expect a robust economic recovery given the uncertain environment, and the primary risks for REITs are potential excess supply and shocks that derail the economic recovery…REIT management teams remain concerned about frail job growth in the US. Further concerns include US sequestration, weakness in Europe and conflict in the Middle East.
It's clear to see that the blue chip REITs that managed to maintain their dividend payments during 2008 and 2009 should be even better prepared for the uncertain times that are ahead. As Kibel went on to say:
REITs, especially investment-grade REITs, continue to show the strength that allowed them to operate through the recession without jeopardizing their market presence…Future rating actions will be mainly driven by company-specific events.
Kibel pointed out that since the Great Recession, REITs have been able to access multiple capital sources, including bank, bond and preferred markets at historically low rates that have lengthened their debt maturity profiles while also boosting earnings and fixed-charge coverage ratios. As he explained:
For the remainder of 2013, we are less concerned about liquidity than we are about the REITs' core earnings strength and their ability and willingness to maintain solid credit metrics.
That also means that REIT supply and demand fundamentals - construction levels that are near cyclical lows - should prove to be meaningful as new construction begins to pick up. As Kibel adds:
Bountiful capital coupled with low capitalization rates could prod builders into becoming increasingly active.
I telephoned Brad Case, Ph.D., CFA, CAIA and Senior Vice President of Research & Industry Information with NAREIT to get his feedback on Moody's REIT outlook. As he explained:
A study published in late 2011 by the Research Director of the Pension Real Estate Association found that listed REITs have an advantage over other real estate investors because of their access to capital when credit is tight, and the Moody's upgrade is a reflection of that advantage. Listed REITs have steadily reduced their leverage since March 2009, strengthening their balance sheets so they'd be able to take advantage of their access to all parts of the capital market-public and private, equity and debt-to acquire good assets at good prices from troubled investment managers in private real estate. This is good news, but it's not unexpected.
Case is right. REITs are getting stronger today and especially the blue chip REITs. They are like battleships and they are better prepared for the future risks and they are perhaps even stronger after experiencing the effects of the latest Recession. Overall, the blue chip REITs continue to strengthen their portfolios as evidenced by the key metrics or, as we/some say, their vital signs. As Warren Buffett says:
Only when the tide goes out do you discover who's been swimming naked.
In Search of a Blue Chip REIT with an Adequate Margin of Safety
As intelligent investors know, the "margin of safety" strategy of buying stocks at below their calculated value came from Benjamin Graham, noted economist who is considered to be the Father of Value Investing. Graham's philosophy was framed around the notion that investors must wait patiently for storms to subside, while waiting on a sunnier and more plentiful time to resume investing activities.
As Graham believed, buying companies trading below intrinsic value leaves a cushion for error, thus giving you a margin of safety in case your analysis of the stock's value is too high. Because Warren Buffett advises holding stocks for the long-term, an investor with a cheap blue chip stock pick has the luxury of waiting it out until the price goes up again.
Most investors - though not all - should own blue chip REITs. Those seeking a well-established, financially sound blue chip REIT are much less likely to face serious threats that involve deteriorating dividend safety and even cuts (which make any price too high).
But wait a minute. Blue chip REITs are trading at outrageous pricing levels. Should we wait for a correction before we put money to work? Or, should we ease valuation standards and look for small cap REITs even though they lack the fortress balance sheets and untested management teams possessed by the blue chip REITs?
Graham's methods greatly minimize such risk by filtering out disadvantageously positioned securities from the outset
One of my favorite methods for filtering out disadvantageously-positioned REIT stocks is by using FAST Graphs. (Disclosure: Chuck Carnevale did not pay me to say this). Before I provide a few of my favorite blue chip REITs, let me say that I consider the most important hallmark for a blue chip REIT to be experienced management. That all important ability of recognizing and controlling risk is a core component for a blue chip REIT and it is also one of the reasons that many of the blue chips are trading at higher multiples today.
I explained that in a previous Seeking Alpha article (Do Realty Income Shares Warrant A Valuation Premium Due To Exceptional Risk Management?) :
REITs that possess superior management teams often warrant premium pricing. I find it interesting that companies that trade at premium levels and leave no cushion for error (or margin of safety) are often managed by experienced leadership teams with "blue chip" credentials.
As my friend Chuck Carnevale would say, "it's not the CEO's fault that a REIT's valuation is expensive." He often preaches to me that "the CEO may in fact be doing a fantastic job and Mr. Market is simply rewarding him (the CEO) for his hard work."
Realty Income (NYSE:O). It should come to no surprise that I find Realty Income to be one of my favorite blue chip REITs today. With a $9.713 billion market cap, Realty Income's stock price has continued to climb to new levels. The stock closed Thursday at $49.51 and shares hit another (almost weekly now) all-time high of $49.57 on April 23rd. The company's P/FFO multiple of 20.9x makes the shares moderately expensive; however, the dividend yield of 4.39% is still fairly cheap when compared with other risk-adjusted blue chip companies.
In terms of management, Realty Income is by far one of the best managed REITs around. The company released earnings Thursday and here is a comment from Tom Lewis, Realty Income's CEO:
I'll start with just the general comment that was in the release which is obviously the first quarter was the best quarter I think operationally in the company's history and each facet of the business had solid results.
We all know Realty Income as "The Monthly Dividend Company" and with a streak of 19 years in a row of dividend paid and increased, the stalwart REIT is living up to its reputation as a reliable source of dividend income. In fact, Lewis mentioned the company's dividend on the earnings call today:
We remain optimistic that we'll be able to continue to increase the dividend. Obviously had nice movement in that in the first quarter as Paul mentioned and we look forward to have additional increases over the year.
The FAST Graph below illustrates Realty Income's moderately expensive pricing (closed at $49.51) and the shaded light below area clearly indicates the extraordinary success of the dividend history.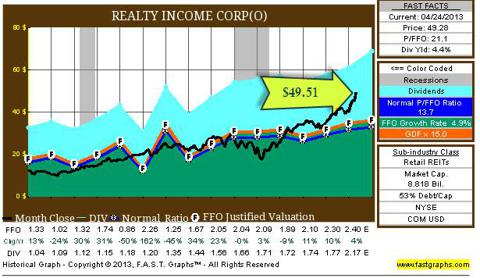 Click to enlarge
Ventas, Inc. (NYSE:VTR). A few weeks back, I wrote an article on Ventas and although I truly appreciate the success of the CEO's (Deborah Cafaro) amazing turnaround, I believe that Mr. Market has provided her company with a premium report card. Ventas also hit an all-time high this week of $79.60 (April 23rd) and shares closed Thursday at $78.60. Ventas has a $22.95 billion market cap and the dividend yield is 3.41%.
Like Realty Income, Ventas shares are trading at premium levels and I suspect that the best entry point would be closer to $65.00. There is very little margin of safety with Ventas today and the risk-adjusted yield - compared with other healthcare REITs - is less attractive.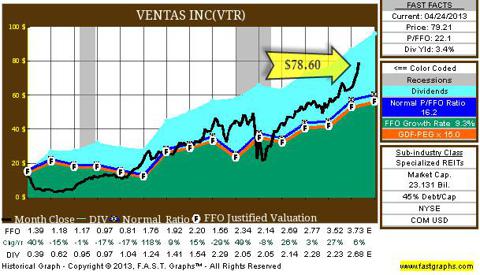 Click to enlarge
Kimco Realty (NYSE:KIM). As the largest owner of shopping centers in the nation, Kimco has an extremely well-balanced portfolio with a fortress balance sheet. The $9.45 billion REIT is one of my top picks due to the company's flexible capital stack that includes common, preferred, and JV components. Kimco hit a 52-week high on April 11th when shares hit $23.58 and they closed Thursday at $23.14.
Retail planned store openings hit a 5-year high as explained by RBC Capital Markets:
Planned store openings over the next 12 months by the 2000+ retailers in our database reached a five year high in March of 41,713 stores. The 24 month outlook fell only 325 stores short of the five year high at 81,575 stores. The continued strong demand by this large group of retailers comes despite fluctuations in overall consumer activity, increased payroll taxes, a modest GDP outlook, and slow improvement on the employment front - another testimony to the long term view taken by successful retailers. As such, we find little reason to suspect that planned store openings will pull back in any meaningful way in the near term. Instead, we think the more pertinent question is - where will the industry put all these new stores?
Kimco appears to be well-positioned to benefit from the retail expansion. Kimco is trading at a P/FFO of 17.6x with a dividend yield of 3.63%.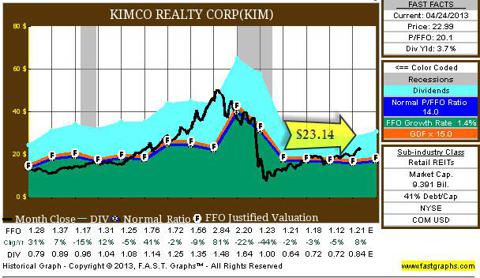 Click to enlarge
Simon Property Group (NYSE:SPG). Simon's dominant footprint in the Regional Mall sector can't be unnoticed. With a massive $54.57 billion market cap, Simon is the largest retail REIT with an impressive portfolio of 589 properties. Simon shares have also been climbing as the recent close price was $176.01. With a modest dividend yield of 2.61% and a P/FFO multiple of 20.5x, I feel as though Simon says let's wait on pull back and then load up the truck.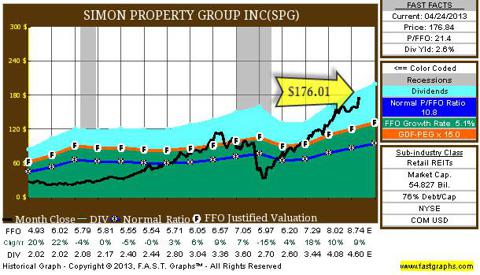 Click to enlarge
Tanger Factory Outlets (NYSE:SKT). Early this week, I wrote an article on Tanger. As I summarized:
Given the current price of Tanger shares today it is not very likely that Buffett (or even the legendary Ben Graham) would pull the trigger now. It is clear that Tanger is doing a terrific job increasing its "wide moat" and Mr. Market favors the established Tanger brand for its high quality income stream.
Tanger, much like Realty Income, has a very reliable and predictable dividend record; nonetheless, the current price of $36.79 does not justify an entry today. With a P/FFO of 20.4x and a dividend yield of 2.45%, I believe a patient investor would look for a dip with a risk-adjusted target price closer to $32.00. However, I wouldn't call you foolish for taking immediate action as Tanger has a high growth model that should continue to grow and produce sound income and growth.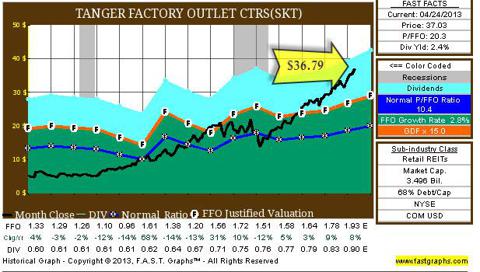 Click to enlarge
Federal Realty (NYSE:FRT). Federal is one of the most expensive REITs today. With a current price of $114.57, Federal has a $7.5 billion market cap and a P/FFO multiple of 25.0. The company owns very high quality retail sites and that is reflected in the impressive track record of 45 years (in a row) of dividends paid and increased. Like several of the other blue chip REITs, I don't see the 2.55% dividend yield as attractive and I believe the modest margin of safety fundamentals are reflected in the FAST Graph illustration below: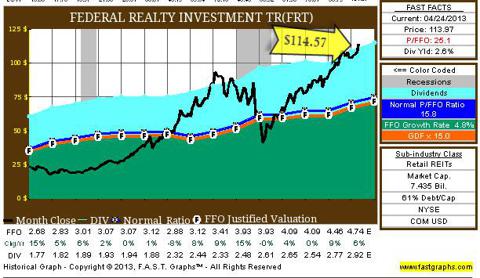 Click to enlarge
Digital Realty (NYSE:DLR). One final blue chip worth considering is Digital Realty. In a previous article, I explained:
I recommend Digital Realty shares at the current price of $65.40. Digital is indeed the "big dog" of the Data Center space. In addition, Digital has a proven track record for paying and maintaining dividends, and with considerable demand for high-quality data storage, the big dog has plenty of room to run. Digital Realty barks louder than the smaller peers as the San Francisco-based REIT has a beastly dividend yield of 4.46%. But get ready; Digital Realty should be a valuable REIT companion in 2013 as I expect continued dividend increases as well as strong appreciation.
Digital is trading at a fair valuation level of 14.9 P/FFO with a current dividend yield of 4.34%. Digital has a $9.23 billion market cap - the dominant REIT in the data sector. I like Digital today and I believe that there is an adequate margin of safety in the shares today.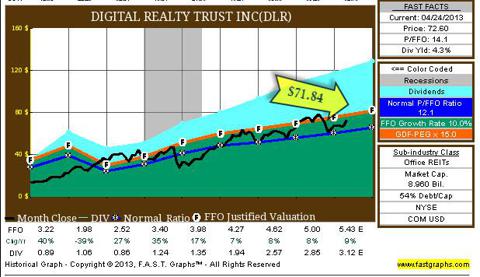 Click to enlarge
I was planning to include Public Storage (NYSE:PSA), Taubman Centers (NYSE:TCO), and Essex Property Trust (NYSE:ESS) in the FAST Graph filtering process; however, all three of these REITs are trading at P/FFO multiples of 20x or higher and I did not see the reason for including the charts.
Buy a High Quality REIT Franchise at a Moderate Price
Clearly, there is a demand for high quality REITs and intelligent investors should be ready to "seize the day" when there is a fluctuation in pricing. We all know that the present price is simply based upon a mix of unpredictable factors - a combination perhaps of emotion and psychology. But we also know that no one can predict how far prices will go up, but we also know that they will, at some point, come down.
At the end of the day, blue chip REITs can provide terrific SLEEP WELL AT NIGHT income; however, investors must approach these securities much like the legendary investor Ben Graham would. Simply said, he would not look so much to buy them cheaply but perhaps he would look to "buy a wonderful business at a moderate price."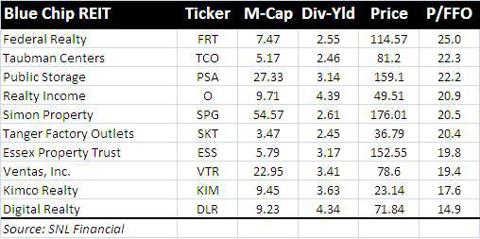 Click to enlarge
Sources: SNL Financial and FAST Graphs
Disclosure: I have no positions in any stocks mentioned, and no plans to initiate any positions within the next 72 hours. I wrote this article myself, and it expresses my own opinions. I am not receiving compensation for it (other than from Seeking Alpha). I have no business relationship with any company whose stock is mentioned in this article.