Regeneron Pharmaceuticals (NASDAQ:REGN) is one of the premiere mid-sized biotechnology companies in the Pharmaceutical industry. REGN specializes in human antibody technologies having built a pipeline of antibody drug candidates targeting diseases ranging from cancer to rheumatoid arthritis and hypercholesterolemia.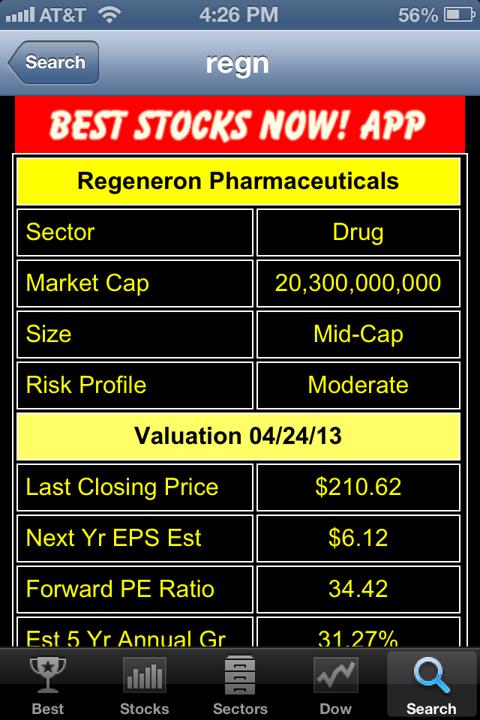 Click to enlarge
Data from Best Stocks Now App
Regeneron's macular degeneration drug, Eyelea was approved by the FDA back in November of 2011. Wet age-related macular degeneration, a common cause of blindness in older people, affects more than 200,000 people every year.
The stock is one of the superior growth stocks of the last decade: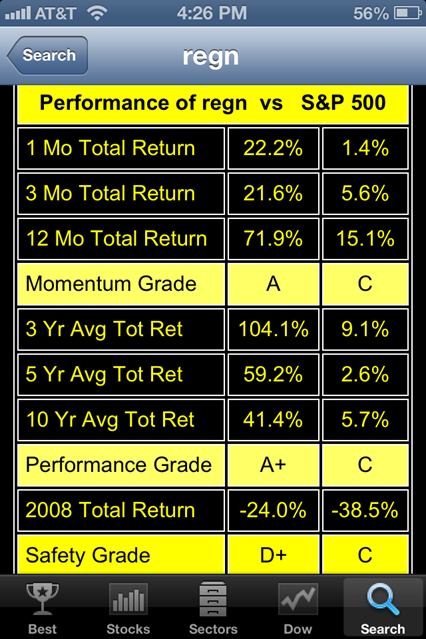 Data from Best Stocks Now App
Over the last ten years, the stock has returned an average of 41.4% per year. During the same period of time, the S&P 500 has delivered 5.7% per year.
Over the last three years, the stock has delivered a breathtaking 104% per year, while the market has delivered 9.1% per year.
Over the last twelve months Regeneron is up 71.9 percent, while the S&P 500 is up 15.1%.
When I compare the return of the stock against the more than 3,300 stocks that I rank daily, Regeneron receives a performance grade of "A+".
Regeneron has been on fire lately, the stock is up another 22.2% over the past month. It currently earns a momentum grade of "A".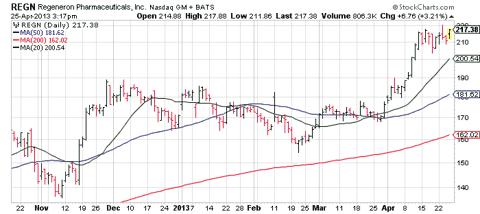 Click to enlarge
As you can see, the stock has a very healthy stock chart right now. In fact, it recently broke out again to all-time highs.
What about valuation, however? Performance and momentum are great attributes for a stock to possess, but I have seen way to many "momentum" darlings blow up over the years, due mostly to astronomical valuations.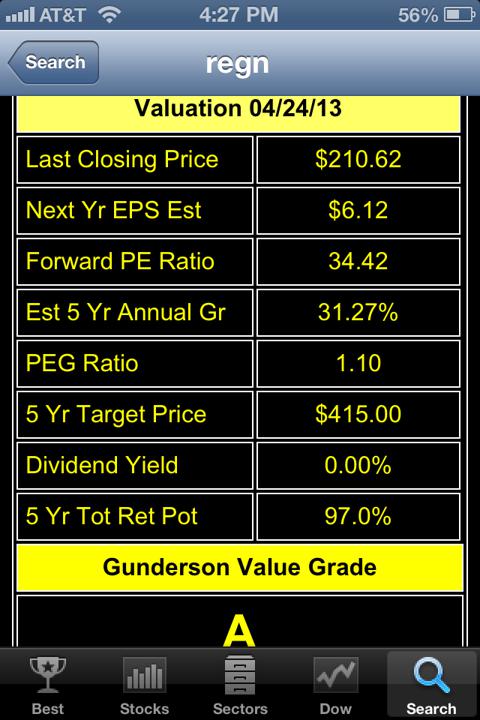 Click to enlarge
Data from Best Stocks Now App
REGN is currently trading at 34.4 times forward earnings, but it is expected to grow by 31.3% per year over the next five years! This makes for a PEG ratio of 1.1.
This is not exactly nosebleed type territory.
Next, I take next year's EPS estimate and extrapolate it out over the next five years at 31.3% per year. I then apply a multiple that I think is appropriate and come up with a five-year target price of $415.00.
This gives REGN upside potential of a whopping 97% over the next five years and a Gunderson Value grade of "A".
Now I have performance, momentum, and value-which can be a nice trifecta. In addition to this, the stock is in my number 1 ranked sector right now-biotech.
The biotech sector has been at or near the top of my sector ranking for over one year now.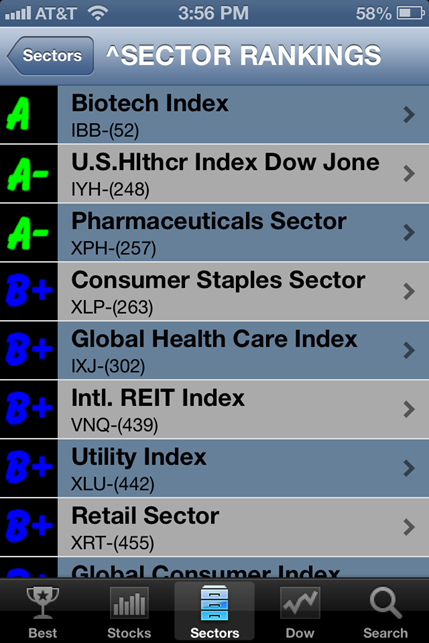 Data from Best Stocks Now App
When I combine performance, value, and technicals, Regeneron is currently the top ranked stock in my system. Clients of Gunderson Capital Management are long the stock.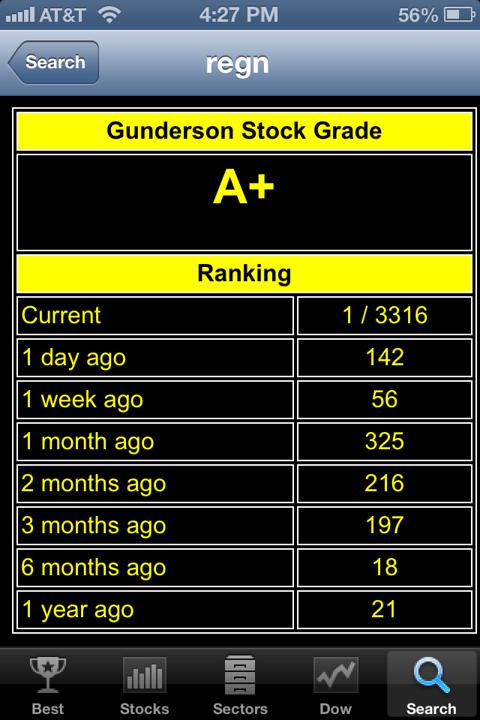 Click to enlarge
Data from Best Stocks Now App
Disclosure: I am long REGN. I wrote this article myself, and it expresses my own opinions. I am not receiving compensation for it. I have no business relationship with any company whose stock is mentioned in this article.