By Ucilia Wang
BrightSource Energy said Wednesday it has inked a deal with the Pacific Gas and Electric (NYSE:PCG) to sell the utility electricity from solar-thermal power farms with a total of 1.31 gigawatts in capacities.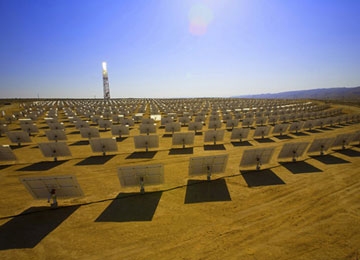 The agreement would replace the one PG&E previously signed with BrightSource last year for up to 900-megawatts of solar-thermal power, both companies said. The new agreement calls for building seven solar-thermal plants.
The new agreement is another coup for the Oakland, Calif.-based startup, which also has a deal to build 1.3 gigawatts worth of power plants and deliver the electricity to Southern California Edison.
BrightSource would own and operate the power plants and sell power to Edison and PG&E via long-term agreements. The solar-thermal power developer has declined to disclose the costs of building these power plants.
BrightSource is developing solar-thermal power plants with what's called a "power tower" design that uses a field of mirrors, or heliostats, to concentrate the sunlight and heat the water atop of a central tower for steam generation. The steam is then piped to turn a turbine for electricity production.
This approach is more novel than the design that uses parabolic troughs to focus and direct the sunlight to fluid-containing tubes that carry the heated fluid to a heat exchanger to generate steam for electricity production. Companies that are developing parabolic trough technologies include Solar Millennium in Germany and Abengoa Solar in Spain.
The startup is developing the power projects in the Mojave Desert in California, in the town of Ivanpah, and recently secured more land in Nevada through an agreement with real estate development firm Coyote Springs Land (see BrightSource Locks Up Nevada Land for Solar Thermal).
To fulfill its contracts with PG&E, BrightSource said it would build the first of the power projects in Ivanpah. The 110-megawatt project would begin operation in 2012.
California's investor-owned utilities such as PG&E and Edison are under a state mandate to include 20 percent of its power mix with renewable electricity. Edison was able to add renewable power to nearly 16 percent of its power mix by the end of 2007. PG&E followed with 11.4 percent and San Diego Gas & Electric with 5.2 percent.